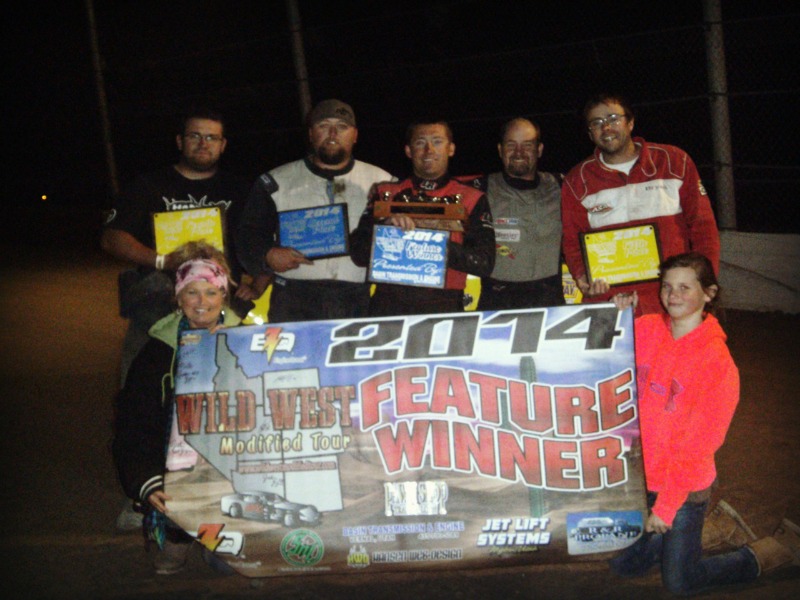 ATOMIC CITY, Idaho (Aug. 23) – Michael Hale was quick to credit the track crew at Atomic Motor Raceway with an assist following his Saturday night EQ Cylinder Heads Wild West Tour victory.
The Friday night event for traveling IMCA Xtreme Motor Sports Modifieds had been lost to rain, which left flooded track and pit conditions in its wake.
A long day of work made the 1/3-mile dirt oval raceable, however. The chief beneficiary of those efforts was Hale, who restarted at the back after exiting early in the 30-lapper to fix a broken tie rod.
Fastest down the backstretch, he quickly worked his way toward the front to challenge leader Tony Steward, taking the lead and bringing the 20th starting Casey Delp along into second near midway.
"The car worked really well coming out of (turn) two," Hale said of his career third Wild West Tour checkers. "It was a fun race and I appreciate how much work went into getting the track ready. I'm glad they were able to get it in."
The victory paid $1,000 and put Hale on the ballot for the 2015 Fast Shafts All-Star Invitational. He pulled away from Delp as the race wound down. Steward, Chase Hansen and Bryan Wordelman rounded out the top five.
The 2014 EQ Cylinder Heads Wild West Tour ends with a Friday and Saturday, Sept. 12-13 doubleheader at Sweetwater Speedway in Rock Springs, Wyo.
Feature results – 1. Michael Hale; 2. Casey Delp; 3. Tony Steward; 4. Chase Hansen; 5. Bryan Wordelman; 6. Chris Clark; 7. Travis Metz; 8. Bert Beech; 9. Don Baisch; 10. Rick Fierro; 11. Mike Yost; 12. Ron Moser; 13. Dan Waldemar; 14. Reed Payne; 15. K.C. Perez; 16. Jason Donnelly; 17. Heath Denney; 18. Jake Donnelly; 19. Blake Lyle; 20. Butch Vernon; 21. David Soulek; 22. Mickey Stubbings; 23. Ward Amberson.
Heat winners were Metz, Amberson, Beech and Wordelman.