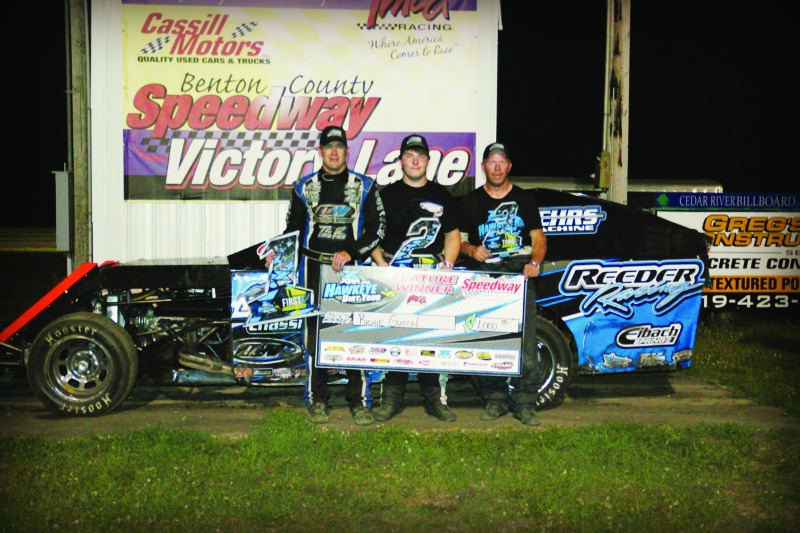 VINTON, Iowa (Aug. 18) – Richie Gustin raced to his career seventh XSAN Hawkeye Dirt Tour feature win on the night Tyler Droste nearly raced to his first.
Gustin caught Droste with two circuits left in Monday's 30-lapper for IMCA Xtreme Motor Sports Modifieds, then pulled ahead to take the $1,000 checkers by four car lengths. He's now the eighth different winner in as many tour events this season.
Defending series champion Ronn Lauritzen, early leader Vern Jackson and Joe Docekal completed the top five.
Jackson started outside the front row and led the first 19 laps. Droste had drawn the pole and wasn't much more than half a car length off the pace much of that distance.
Getting a good run out of the fourth turn, Droste took the lead on lap 20, right before a quick succession of three yellow flags.
Gustin sped along the lower line. After a restart with four laps left, he went to the top side of the oval and finally caught up with Droste with two to go.
Newly-qualified for the 2015 Fast Shafts All-Star Invitational ballot, Gustin is the winningest driver in tour history.
The ninth of 10 events on the 2014 XSAN Hawkeye Dirt Tour schedule is Tuesday, Aug. 19 at Cedar County Raceway in Tipton. That feature also pays $1,000 to win and is an All-Star ballot qualifier.
Pit gates open at 4:30 p.m. and the grandstand opens at 5:30 p.m. Hot laps are at 6:30 p.m. and racing starts at 7 p.m.
Also winning Monday features at Vinton were Damon Murty in the IMCA Sunoco Stock Cars, Tony Olson in the Karl Chevrolet Northern SportMods and Justin Wacha in the IMCA Sunoco Hobby Stocks.
Feature results – 1. Richie Gustin, Gilman; 2. Tyler Droste, Waterloo; 3. Ronn Lauritzen, Jesup; 4. Vern Jackson, Waterloo; 5. Joe Docekal, Dysart; 6. Jeremy Mills, Garner; 7. J.D. Auringer, Waterloo; 8. Kyle Brown, Kellogg; 9. Mike Van Genderen, Newton; 10. Joel Rust, Grundy Center; 11. Jesse Sobbing, Glenwood; 12. Cayden Carter, Oskaloosa; 13. Jeff Waterman, Quincy, Ill.; 14. Derek Reimer, Marshalltown; 15. Troy Cordes, Dunkerton; 16. Jacob Murray, Hartford; 17. Zach Less, Hopkinton; 18. Scott Hogan, Vinton; 19. Tyler Groenendyk, Oskaloosa; 20. Jesse Belez, Marengo; 21. Trent Jackson, Marshalltown; 22. Patrick Flannagan, Cedar Rapids.
1st heat (top four redraw) – 1. Auringer; 2. Gustin; 3. Brown; 4. Rust; 5. Waterman; 6. Reimer; 7. Cordes; 8. Sobbing. 2nd heat – 1. Docekal; 2. Mills; 3. Groenendyk; 4. Vern Jackson; 5. Less; 6. Murray; 7. Trent Jackson. 3rd heat – 1. Droste; 2. Flannagan; 3. Lauritzen; 4. Van Genderen; 5. Hogan; 6. Belez; 7. Carter.
Stock Cars – 1. Damon Murty, Chelsea; 2. Scott Pippert, Elberon; 3. Norman Chesmore, Rowley; 4. Justin Stander, Shellsburg; 5. Mike Galli, Urbana; 6. Ryan Coleman, Vinton; 7. Adam Gebel, Cedar Falls; 8. Mitchell Evens, Independence.
Northern SportMods – 1. Tony Olson, Cedar Rapids; 2. Kip Siems, Cedar Falls; 3. Sam Wieben, Dysart; 4. Kyle Olson, Cedar Rapids; 5. Troy Burkhart, Urbana; 6. Jenae Gustin, Marshalltown; 7. Curt Hilmer, Dysart; 8. Austin Kaplan, Ankeny; 9. Jim Buhlman, Cedar Falls; 10. Dave Schulze, Keystone; 11. Matt Petrzelka, Norway; 12. Ross Neal, Marion; 13. Joey Schaefer, Waterloo; 14. Dave Burrell, Dysart; 15. Ryan King, Montour; 16. Danny Dvorak, Vinton; 17. Colby Heishman, Brooklyn.
Hobby Stocks – 1. Justin Wacha, Vinton; 2. Jacob Keiser, Marengo; 3. Brian Happel, Vinton; 4. Matt Pohlman, Keystone; 5. Scott Siems, Cedar Rapids.