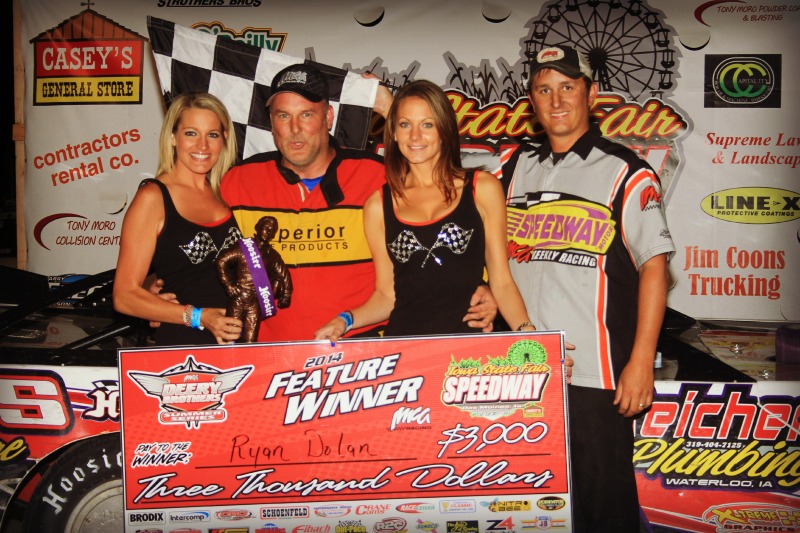 DES MOINES, Iowa (Aug. 11) – Ryan Dolan took home one of the biggest prizes from the Iowa State Fair Monday night: A check for $3,000.
Dolan won his career first Deery Brothers Summer Series event, topping the 35-lap IMCA Late Model tour event at the State Fairgrounds Speedway.
"My dad (Roger) has won races at Des Moines. If you're going to win a Deery Series race, that's the one," said Dolan, who started outside Joel Callahan on the front row. "It was just a fantastic night of racing."
"I followed Callahan for a couple laps and took the lead when he pushed up," he continued. "The track was fast and I thought with the way the car was handling, I'd be tough to pass."
Scott Fitzpatrick was a career-best second. Darrel DeFrance finished third, point leader Justin Kay was fourth and Callahan ended in fifth.
The fast-paced feature was delayed just twice by caution, when Josh Most slowed on lap 17 and again when Jason Rauen's engine expired with eight laps left.
Dolan's previous Deery career best finish was third last September, on night two of Farley Speed­way's Yankee Dirt Track Classic. Driving for Rick Dralle, he had finished outside the top 10 just once in his previous eight series starts this season.
"We've been close but always outside the top five," Dolan said. "We hit on something at Independ­ence getting ready for that (later rained out) Deery show then went to West Liberty and also applied what we learned there to Des Moines."
Callahan was the $250 Sunoco Race Fuels feature qualifier drawing winner.
Mark Elliott was first in the IMCA Sunoco Stock Car feature and Ty Griffith topped the Karl Chevro­let Northern SportMod main.
Highlights from the Monday night race program are scheduled to be broadcast on Iowa Public Television at 10:30 p.m. Aug. 13, 9 and 10:30 p.m. Aug. 14, and 4 and 5 p.m. on Aug. 17.
Next stop for the Deery Brothers Summer Series is the Tuesday, Aug. 19 show at Cedar County Raceway. The XSAN Hawkeye Dirt Tour for IMCA Xtreme Motor Sports Modifieds is also at Tip­ton that evening.
Feature results – 1. Ryan Dolan, Lisbon; 2. Scott Fitzpatrick, Urbandale; 3. Darrel DeFrance, Marshalltown; 4. Justin Kay, Wheatland; 5. Joel Callahan, Dubuque; 6. Ray Guss Jr., Milan, Ill.; 7. Ty­ler Bruening, Decorah; 8. Matt Ryan, Davenport; 9. Jeff Aikey, Cedar Falls; 10. Charlie McKenna, Clear Lake; 11. Andy Eckrich, Oxford; 12. Ryan Griffith, Webster City; 13. Greg Kastli, Waterloo; 14. Sterling Perkins, Lamoni; 15. Jonathan Brauns, Muscatine; 16. Jason Rauen, Far­ley; 17. Josh Most, Red Oak; 18. Richie Gustin, Gilman; 19. Al Johnson, Story City; 20. Jay John­son, West Burlington; 21. Brian Harris, Davenport; 22. Ben Nading, Ankeny; 23. Paul Glenden­ning, Mount Ayr; 24. Spencer Diercks, Davenport.
1st heat (top three) – 1. McKenna; 2. Guss; 3. Fitzpatrick; 4. Brauns; 5. Harris; 6. Craig Jacobs, Urbandale; 7. Diercks; 8. Jeremy Grady, Story City.
2nd heat – 1. Callahan; 2. Bruening; 3. DeFrance; 4. Rauen; 5. Eckrich; 6. Jay Johnson; 7. Kastli.
3rd heat – 1. Most; 2. Kay; 3. Aikey; 4. Al Johnson; 5. Gustin; 6. Todd Johnson, Mitchellville; 7. Paul Nagle, Nevada.
4th heat – 1. Griffith; 2. Dolan; 3. Ryan; 4. Glendenning; 5. Nading; 6. Ryan Giles, Grimes; 7. Per­kins.
1st "B" feature (top four) – 1. Brauns; 2. Harris; 3. Al Johnson; 4. Gustin; 5. Jacobs; 6. Diercks; 7. Todd Johnson; 8. Nagle; 9. Grady.
2nd "B" feature – 1. Eckrich; 2. Rauen; 3. Nading; 4. Glendenning; 5. Jay Johnson; 6. Perkins; 7. Kastli; 8. Giles.
Hard charger – Perkins. Point provisionals – Dierks, Jay Johnson and Kastli.