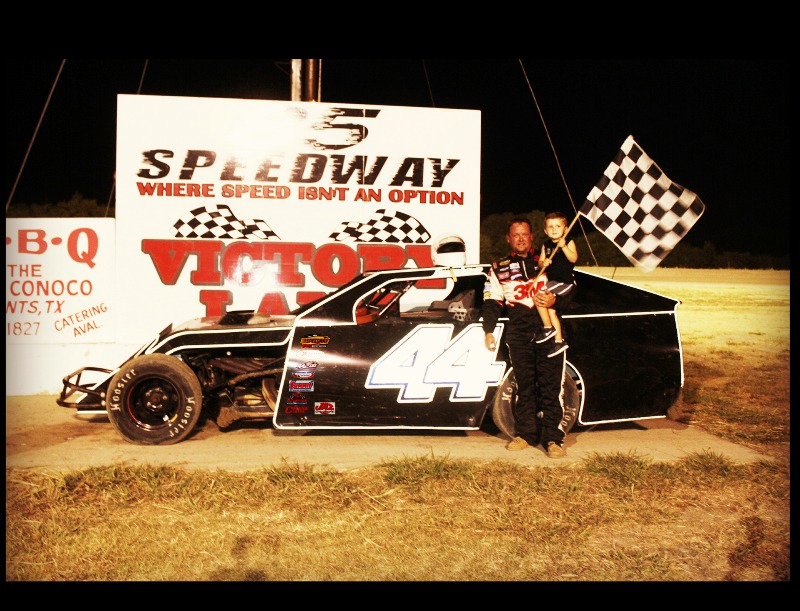 SCURRY, Texas (Aug. 9) – A guy who never intended to be a race car driver drove to his 100th IMCA Xtreme Motor Sports Modified career win Saturday night.
Scotty Brown cruised to the landmark checkers at 85 Speedway. He's the 40th driver in division history and the fourth to do so this season.
Very possibly, Brown is also IMCA's first 100-time feature winner who got into the sport with no intention of ever actually racing.
"I really got into this by accident," he explains. "I had never been around racing until I was about 17 and a friend I met at high school asked me to help him."
"We were at the track when his mom found out what he wanted to do. She let us know that he would not be racing," Brown continued. "I was handed the keys, I jumped in the car and I've been hooked ever since. That's how it all started."
The Scurry speedster cut his teeth in the street stock class at Crandall, then moved to the sanc­tioned Modified class in 1995.
Brown won a single-season best 19 features in 2008. He's a four-time track champion and quali­fied for the main event at the IMCA Speedway Motors Super Nationals on three occasions.
"Probably the biggest race I ever won was the Ice Bowl at Talladega in 2001," he said. "That was the first year I went and I ended up winning it. We were thinking it was going to be cold because they called it the Ice Bowl and it was in January. We ended up wearing T-shirts and shorts and I came home with a sunburn."
Brown is running a limited schedule at Ennis, where he finished in the top six in all half-dozen of his 2014 starts.
Everything fell into place in his seventh outing. Armed with a perfect setup, Brown started 10th and was quickly up to third. The front pair encountered trouble on the track and once in the lead, it was smooth sailing to win number 100.
"I've had a lot of people call or congratulate me on social media," he said. "It's been pretty neat."
While Brown doesn't feel he has anything left to prove on the track, he isn't ready to hang up his helmet any time soon.
"I've learned by observing others that sometimes the best thing to do is just take a break. I don't race every weekend and I'm not out racing for points. If there's something else on the weekend we want to do as a family, that's what we do," Brown said. "My days of full-time racing are over but I'm going to race until I kick the bucket."