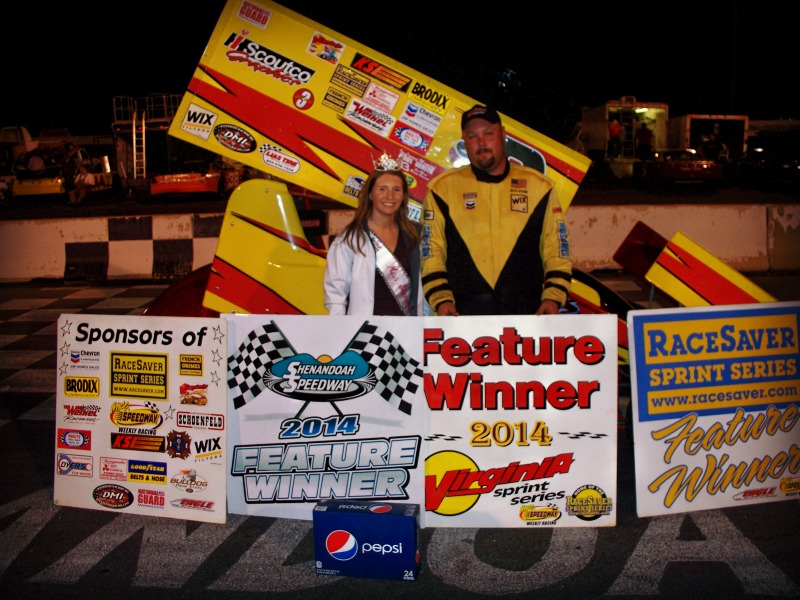 By Jim Haines
SHENANDOAH, Va. (Aug. 9) – After 10-year-old Caleb Harris pedaled to second by inches in a photo finish in the kids' bike race, his father Tony topped a wild Virginia Sprint Series feature Saturday at Shenandoah Speedway.
Chris Ware and Anthony Linkenhoker paced the IMCA Eagle Motorsports RaceSaver Sprint Car field to green with Linkenhoker out first and Harris right behind.
Harris was in front by lap three and pacing the field in an effort to save tires, which is a pavement necessity. Tom Humphries made his way to second. Jerald Harris, French Grimes and Brian Lawson were all right there after a yellow for a slowing car.
When the green waved it was on again with Humphries slicing to the front and Jerald Harris second as Tony Harris stayed close in third.
Jerald Harris made a hard charge to the front as Humphries was getting loose and soon the top five were all over each other every lap.
It all came apart with five to go for Humphries as he got too loose and spun, restarting in the rear.
Tony Harris was now second with better tires and just waiting for an opening. It only took two laps for him to go around Jerald Harris and back to the lead, then onto the checkered flag for his first win of the year.
Feature results – 1. Tony Harris; 2. Jerald Harris; 3. French Grimes; 4. Brian Lawson; 5. Tom Humphries; 6. Anthony Linkenhoker; 7. Chris Ware; 8. Carl Simmons; 9. Ron Moyers; 10. Charlie Ware.