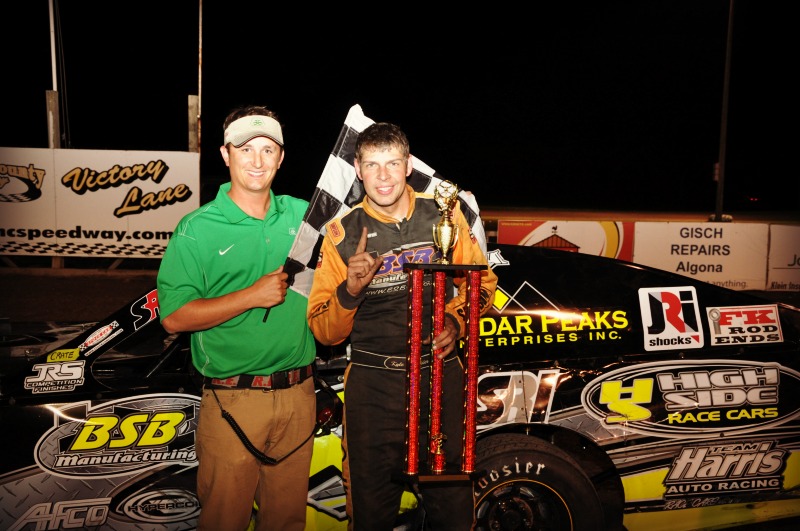 BRITT, Iowa (Aug. 8) – Last year's Night of 1,000 Stars winner took home the top check from this year's Night of 10,000 Stars special at Hancock County Speedway.
Kyle Strickler caught Adam Larson on the 16th of 50 circuits, then worked his way through lapped traffic in taking the Friday night IMCA Xtreme Motor Sports Modified victory.
"Once we got to the front, I wanted to set the pace and focus on working my way through the lapped cars," said Strickler, who earned $8,000 for the win at Britt. "We put on new tires and tweaked the setup a bit during the pit stop at midway. Then we put the car back up on the cushion and hoped for the best."
Defending race winner Benji LaCrosse ran out of laps in his efforts to reel in Strickler and finished five car lengths off the pace while "B" feature qualifiers Jordan Grabouski and Ryan Ruter advanced 16 and 24 positions, respectively, to finish third and fourth.
Larson completed the top five after taking the initial lead from his outside front row start and pulling to a half-straightaway lead in just two laps. Strickler started sixth and broke free from Kyle Brown to take over second on lap four.
Larson still had a half-straightaway lead by the time he encountered his first lapped car on lap 11. Strickler caught Larson in heavy traffic three laps later.
Strickler went low and pulled even, but was unable to make the pass.
Both Larson and Strickler were running the high side again until traffic forced Larson low. Strickler worked the top side off turn four to take the lead at the line on lap 16.
The front two pulled away from the pack with Larson close to Strickler until the mandatory lap 25 caution.
LaCrosse, who restarted in row two of the three-wide start for the final 25 laps, quickly made his way to second and dropped to the low side.
Grabouski raced the low side into the top five shortly after the start of the second half. Ricky Stephan also raced the low side into the top three, but a broken left front eventually forced him to the pits on lap 36).
Strickler enjoyed a full straightaway lead when he ran into traffic on lap 33 which allowed LaCrosse to close.
LaCrosse was within 10 car lengths with five to go and closed the gap a little more when Strickler encountered side-by-side lapped cars off four on the final lap.
Strickler chased the lapped cars across the stripe for the win.
"This was a phenomenal win for my entire team," said Strickler, newly-qualified for the 2015 Fast Shafts All-Star Invitational ballot. "It was a great field to start with. To see some of the people who didn't make the show was crazy."
In addition to $7,000 first place money, Strickler banked another $1,000 for having won the Night of 1,000 Stars last year.
Damon Murty scored the $1,000 IMCA Sunoco Stock Car victory. Ryan Hiscocks was first in the $500 to win Karl Chevrolet Northern SportMod feature and Andrew Borchardt raced to the $400 IMCA Sunoco Hobby Stock checkers.
Feature results – 1. Kyle Strickler, Mooresville, N.C.; 2. Benji LaCrosse, Green Bay, Wis.; 3. Jordan Grabuski, Beatrice, Neb.; 4. Ryan Ruter, Kanawha; 5. Adam Larson, Ames; 6. Jacob Murray, Hartford; 7. Troy Jerovetz, Green Bay, Wis.; 8. Todd Shute, Des Moines; 9. Kurt Kile, Muscatine; 10. Kyle Brown, Kellogg; 11. Jason Cummins, New Richland, Minn.; 12. Tyler Droste, Waterloo; 13. Richie Gustin, Gilman; 14. Scott Olson, Blairsburg; 15. Jeff Waterman, Quincy, Ill.; 16. Tad Reutzel, Burt; 17. Cayden Carter, Oskaloosa; 18. Jay Marks, Bakersfield, Calif.; 19. Rob Rose, West Des Moines; 20. Todd Stinehart, Waseca, Minn.; 21. J.J. Wise, Garner; 22. Jamie Anderson, Mason City; 23. Levi Nielsen, Mason City; 24. Mark Noble, Blooming Prairie, Minn.; 25. Clayton Christensen, Spencer; 26. Jeremy Mills, Garner; 27. Eric Dailey, Armstrong; 28. Rob Hughes, Humboldt; 29. Ricky Stephan, South Sioux City, Neb.; 30. Jason Schneiders, Sioux City; 31. Jay Noteboom, Hinton; 32. Kevin Stoa, Clear Lake; 33. Austin Wolf, Algona; 34. Stacey Mills, Webb; 35. Jimmy Gustin, Marshalltown; 36. Clint Hatlestad, Glencoe; 37. Josh Ruby, Lakota.
1st heat – 1. Larson; 2. Dailey. 2nd heat – 1. Schneiders; 2. Hughes. 3rd heat – 1. Olson; 2. Murray. 4th heat – 1. Stacey Mills; 2. Ruby. 5th heat – 1. Strickler; 2. Cummins. 6th heat – 1. Noble; 2. Droste. 7th heat – 1. Brown; 2. Kile. 8th heat – 1. Richie Gustin; 2. Shute. 9th heat – 1. LaCrosse; 2. Wise.
1st "B" feature (top four) – 1. Grabouski; 2. Stephan; 3. Jerovetz; 4. Ruter. 2nd "B" feature – 1. Reutzel; 2. Rose; 3. Jimmy Gustin; 4. Jeremy Mills. 3rd "B" feature – 1. Waterman; 2. Wolf; 3. Noteboom; 4. Carter.
Sponsor provisionals – Stinehart, Anderson, Nielsen, Christensen, Stoa and Hatlestad. Long tow provisional – Marks.