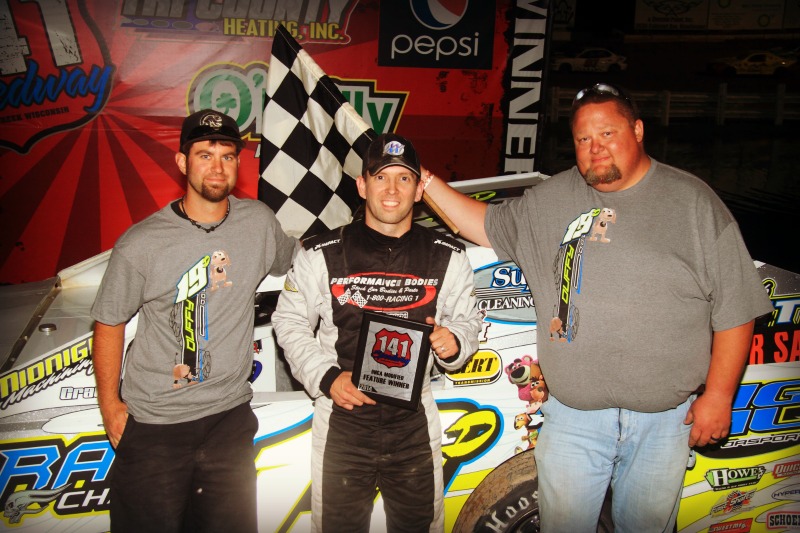 By Greg Aregoni
FRANCIS CREEK, Wis. (Aug. 9) – Darin Duffy has traveled from Urbana, Iowa, to 141 Speedway and back four times this season. That 40 hours of driving time paid off as Duffy captured the track's Red, White and Blue Series for IMCA Xtreme Motor Sports Modifieds.
Duffy won the Saturday night feature and picked up his second $1,000 payday of the three-race series. He had finished second in the opening race and was thus one win away from scoring the clean sweep in the series.
He receives the coveted crate motor courtesy of Gandrud Chevrolet along with the 2015 Fast Shafts All-Star Invitational ballot berth.
Tim Czarneski started up front and led early in a feature that saw five cautions in all. Russ Rein­wald snuck into the lead briefly but Czarneski came flying back up top. Czarneski led through a few more cautions with Johnny Whitman hot on his heels.
Following a lap 11 restart, Whitman got a good jump coming off of turn two and Czarneski tried to sneak through up high and slammed hard into the wall, ending his night. The final restart was on lap 12 with Duffy in second.
Duffy stayed patient and finally found his line right up top, cruising into the lead on lap 15 and lead­ing the final six laps.
Whitman finished second, chased by Josh Long, Shawn Kilgore and R.M. Van Pay.
Feature results – 1. Darin Duffy; 2. Johnny Whitman; 3. Josh Long; 4. Shawn Kilgore; 5. R.M. Van Pay; 6. Eric Mahlik; 7. Brad Lautenbach; 8. T.J. Smith; 9. Randy Markwardt Jr.; 10. Troy Jerovetz; 11. Dave Zeitler; 12. Kyle Kudick; 13. Jeremy Jacobs; 14. Shawn Frelich; 15. Sean Jerovetz; 16. Brad Theys; 17. Russ Reinwald; 18. Lance Arneson; 19. Tim Czarneski; 20. Jay Matthias.