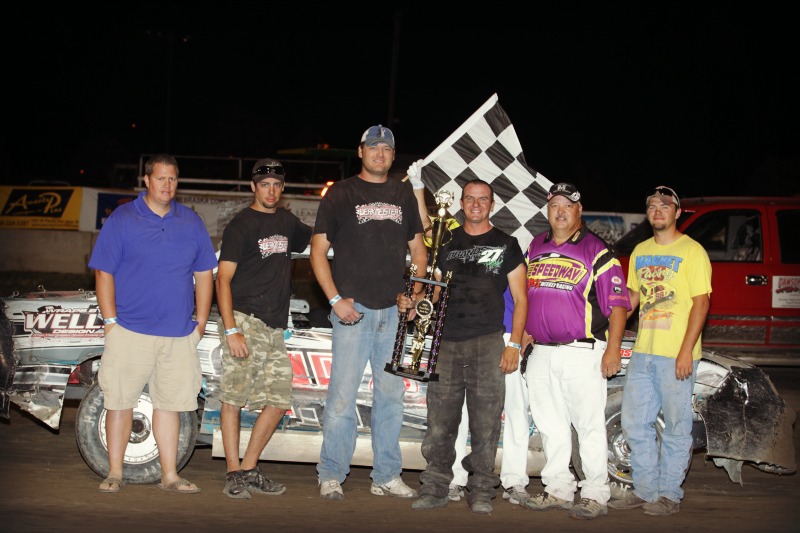 By Kelly Ninas
LEXINGTON, Neb. (Aug. 3) – Completing the sweep was easier said than done but Casey Werkmeister was $1,800 richer after he accomplished the feat.
Werkmeister won his heat and the pole dash, then raced from 12th starting to win Sunday's Dirt Track Central Jax Sports Grille Great Plains Series feature at Dawson County Raceway.
He opted for the $500 pole dash check and to invert the top 12 spots in the starting grid for IMCA Sunoco Stock Cars.
"I took the money and started 12th. I didn't figure there'd be any guarantee I'd beat (series point leader) Mike Nichols but I passed him for the lead with about five laps to go," Werkmeister said. "It turned out to be a fun little race. Obviously it's a fun night whenever you win."
The feature win was good for $1,300 and that added up to Werkmeister's biggest career payday. He'd also won the May 26 series feature at WaKeeney.
Three cautions slowed the main event, the first of them early on and the other two after Werkmeister had taken over the lead.
He primarily used the lower line to work through traffic. Nichols ran the high side and was scored first across the stripe for four laps before giving way to Werkmeister.
Nichols, Lance Borgman, Jason Rogers and Kyle Werkmeister completed the top five.
Feature results – 1. Casey Werkmeister; 2. Mike Nichols; 3. Lance Borgman; 4. Jason Rogers; 5. Kyle Werkmeister; 6. Angel Munoz; 7. Kyle Clough; 8. Jason Wilkinson; 9. Perry Meisner; 10. Nolan Remus; 11. Jason Davis; 12. Casey Woken; 13. Nick Tubbs; 14. Bob Chalupa; 15. Jeff Whiting; 16. Jed Williams; 17. Bob Hoing; 18. Sara Klein; 19. James Sheldon; 20. Jarod Brooks; 21. Mikey Dancer; 22. Jeff Tubbs; 23. Justin Bussell; 24. Colton Osborn.
Heat winners were Nichols, Casey Werkmeister, Jeff Tubbs and Kyle Werkmeister.