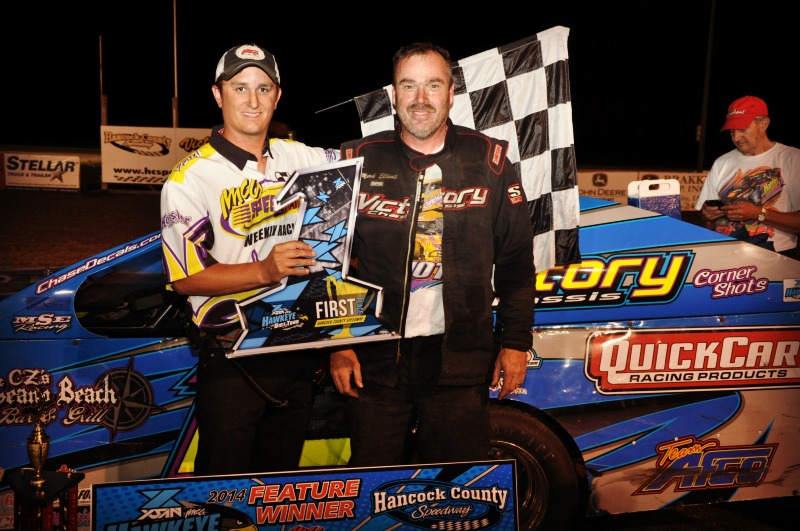 BRITT, Iowa (Aug. 7) – Mark Elliott exorcised a lot of race demons Thursday night.
Elliott led every lap in winning the Night of 1,000 Stars special for IMCA Xtreme Motor Sports Modi­fieds at Hancock County Speedway. His share of the purse totaled $7,000, including $3,500 for the victory and $2,500 in lap money, plus another $1,000 for leading at halfway.
The top-paying event of the 2014 XSAN Hawkeye Dirt Tour drew 84 entries from 10 states and Canada.
"What really helped us win tonight was a long month of July. We did the Dakota Classic Tour, then Speedweeks, and missed five of the shows," the new 2015 Fast Shafts All-Star Invitational ballot qualifier said. "We went back to work on the car and everybody, my crew, my family and my sponsors, stayed focused on winning."
"Maybe the stars aligned," he added. "We had the right amount of luck and it all worked out for us."
Also the 2006 and 2009 race winner, Elliott won his heat race despite a back row start and then drew the outside front row spot for the main event.
He drove past Kevin Stoa and Clayton Christensen and was still in front when the race was stopped for the mandatory front stretch pit stop halfway through the 50-lapper.
"We were prepared to change everything but the kitchen sink. I've got a veteran crew that's been with me a long time. They added fuel, checked my tires and told me I was good," Elliott said. "I didn't even get out of the car. I sat there thinking that we'd had a pretty good first half of the race and wished that it had been the second half."
Benji LaCrosse pressured Elliott before the break but wound up repeating as the Night of 1,000 Stars runner-up.
Ryan Ruter, defending race winner Kyle Strickler and hard charger Jeremy Mills completed the unofficial top five.
Mills made the main event field as a provisional starter and advanced 26 positions.
Randy Brands was the $700 IMCA Sunoco Stock Car feature winner. First place was good for $500 for Ben Kates in the Karl Chevrolet Northern SportMods and Andy Boeckman in the IMCA Sunoco Hobby Stocks.
Friday's Night of 10,000 Stars special at Britt boasts a guaranteed $7,000 and a total possible $10,000 to the IMCA winner.
The 2011 tour champion, Elliott became the seventh different winner in as many Hawkeye Dirt Tour events this season. The Thursday checkers were his HDT career fifth.
Next up for the Hawkeye Dirt Tour are shows on Monday, Aug. 18 at Benton County Speedway in Vin­ton and Tuesday, Aug. 19 at Cedar County Raceway in Tipton.
Unofficial feature results – 1. Mark Elliott, Webster City; 2. Benji LaCrosse, Green Bay, Wis.; 3. Ryan Ruter, Kanawha; 4. Kyle Strickler, Mooresville, N.C.; 5. Jeremy Mills, Garner; 6. Todd Shute, Des Moines; 7. Mike Jergens, Plover; 8. Hunter Marriott, Brookfield, Mo.; 9. Kevin Stoa, Clear Lake; 10. Jimmy Gustin, Marshalltown; 11. Clayton Christensen, Spencer; 12. Sean Jerovetz, Sobieski, Wis.; 13. Tad Reutzel, Burt; 14. Kurt Kile, Nichols; 15. J.J. Wise, Garner; 16. Eric Dailey, Armstrong; 17. Jesse Sobbing, Glenwood; 18. Jeff Ignaszewski, Wells, Minn.; 19. Mike Van Genderen, Newton; 20. Levi Nielsen, Mason City; 21. Tim Ward, Gilbert, Ariz.; 22. Greg El­liott, Webster City; 23. Rob Rose, West Des Moines; 24. Brandon Blochlinger, Concordia, Kan.; 25. Brandon Beckendorf, Danube, Minn.; 26. Jeff Dolphin, Britt; 27. Troy Swearingen, Thompson; 28. Andrew Schroeder, Keswick; 29. Richie Gustin, Gilman; 30. Dustin Smith, Lake City; 31. Troy Jerovetz, Green Bay, Wis.; 32. Mark Noble, Blooming Prairie, Minn.; 33. Aaron Turnbull, Estevan, Sask.; 34. Stacey Mills, Webb; 35. Mike Mullen, Green Bay, Wis.; 36. Scott Hogan, Vinton; 37. Jay Marks, Bakersfield, Calif.
Heat winners were Jimmy Gustin, Wise, Smith, Stoa, Hogan, Christensen, Mark Elliott, La­Crosse, Kile and Ruter.
1st "B" feature (top three) – 1. Nielsen; 2. Blochlinger; 3. Reutzel. 2nd "B" feature – 1. Noble; 2. Turnbull; 3. Richie Gustin. 3rd "B" feature – 1. Marriott; 2. Beckendorf; 3. Greg Elliott. 4th "B" feature – 1. Mullen; 2. Shute; 3. Ignaszewski. 5th "B" feature – 1. Rose; 2. Dailey; 3. Schroeder. 6th "B" feature – 1. Strickler; 2. Sean Jerovetz; 3. Troy Jerovetz.
Tour provisionals – Van Genderen and Sobbing. Sponsor provisionals – Jeremy Mills, Stacey Mills, Swearingen, Ward, Dolphin and Jergens. Long tow provisional – Marks.