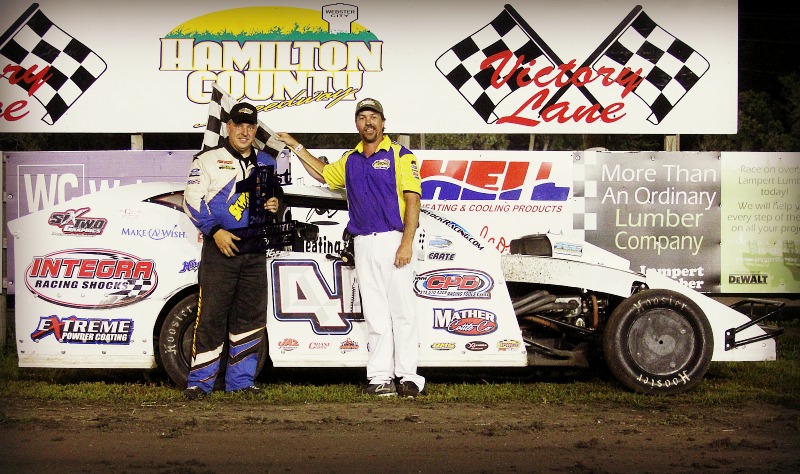 WEBSTER CITY, Iowa (July 28) – Kelly Shryock, Jason Hahne and Jenae Gustin all became $1,000 feature winners after Thursday Night Thunder became Monday Night Mayhem.
Shryock topped the 2015 Fast Shafts All-Star Invitational ballot qualifier for IMCA Xtreme Motor Sports Modifieds, Hahne paced the IMCA Late Models and Gustin rang up the Karl Chevrolet Northern SportMod win dur­ing the rescheduled fair special at Hamilton County Speedway.
After starting third, Shryock raced with Mark Elliott early in the Modified 20-lapper before taking over up front.
"We were in pretty good shape after that," he said. "(Teammate) Andrew Schroeder started 11th and ran second and we always like to see that, of course."
Elliott, Jeremy Mills and Tyler Prochaska completed the top five.
With new daughter Ella among the onlookers, Hahne started on the pole and led every lap in the Late Model contest.
"We're getting the car figured out. We broke the motor a couple weeks ago and AEM Race En­gines got one of our old ones back in shape," he said. "It was a good night for us. The car was really good."
Ryan Griffith, Al Johnson, Jeremy Grady and Darrel DeFrance were next to the checkers.
Gustin drew the outside row one start and led every lap of the Northern SportMod main.
She stayed consistent on the higher groove until getting out of line on the final circuit. Ty Griffith kept the race clean and ended in second, a car length back.
"He raced me clean and I couldn't ask for anything more," Gustin said. "I thanked Ty for that after the race."
Nate Hughes was third, Taylor Musselman was fourth and Jonathan Logue was fifth.
Andy Boeckman was the $750 IMCA Sunoco Hobby Stock winner, earning another $100 for tak­ing the checkers with a built motor. Matt Mundt, Justin Nehring, Myles Michehl and Kyle Schmauss were scored next.
Jay DeVries pocketed $400 for the Mach-1 Sport Compact victory, ahead of Drew Johnson, Da­vid Moorman, Cory Flanigan and Tyler Thompson
Feature Results
Modifieds – 1. Kelly Shryock; 2. Andrew Schroeder; 3. Mark Elliott; 4. Jeremy Mills; 5. Tyler Prochaska; 6. Jimmy Gustin; 7. Kyle Brown; 8. Racer Hulin; 9. Joel Rust; 10. Greg Elliott; 11. Rob Hughes; 12. Brandon Leeman; 13. Rob Rose; 14. Chase Ellingson; 15. Richie Gustin; 16. Scott Olson; 17. Jon Snyder.
Late Models – 1. Jason Hahne; 2. Ryan Griffith; 3. Al Johnson; 4. Jeremy Grady; 5. Darrel De­France; 6. Craig Jacobs; 7. Bobby Hansen; 8. Bill Crimmins; 9. John Emerson.
Northern SportMods – 1. Jenae Gustin; 2. Ty Griffith; 3. Nate Hughes; 4. Taylor Musselman; 5. Jonathon Logue; 6. Brayton Carter; 7. Matt Northrop; 8. Jack Housley; 9. Jake McBirne; 10. Cory Rose; 11. Brandon Brinton; 12. Colton Livezey; 13. Nate Whitehurst; 14. Aaron Benson; 15. Jerid Ratzke; 16. Trevor Chaplin; 17. Paul Price; 18. Jon Reed; 19. Paul Atchison; 20. Shawn Albers; 21. George Gilliland; 22. Bob Sutherland; 23. Nick Meyer; 24. Travis Staley; 25. Brandon Toftee.
Hobby Stocks – 1. Andy Boeckman; 2. Matt Mundt; 3. Justin Nehring; 4. Myles Michehl; 5. Kyle Schmauss; 6. Chance Hollatz; 7. Craig Graham; 8. Bryce Sommerfeld; 9. Randy Embrey; 10. John Watson; 11. Jeff Lyon; 12. Jason Roper; 13. Ryan Boland; 14. Dustin Graham; 15. Logan Terranova; 16. Danny Ayers; 17. Travis Staley; 18. Bill Bonnett; 19. T.J. Mortenson.
Sport Compacts – 1. Jay DeVries; 2. Drew Johnson; 3. David Moorman; 4. Cory Flanigan; 5. Tyler Thompson; 6. Danny Sassman Jr.; 7. John Gill; 8. Ryan Bryant; 9. Kaytee DeVries; 10. Lyle Oberhelman; 11. Nick Hogan; 12. Tommy Beekman; 13. Oliver Monson; 14. Cullen Gossage; 15. Matt Oberhelman; 16. Cody Thompson; 17. Justin Fors.