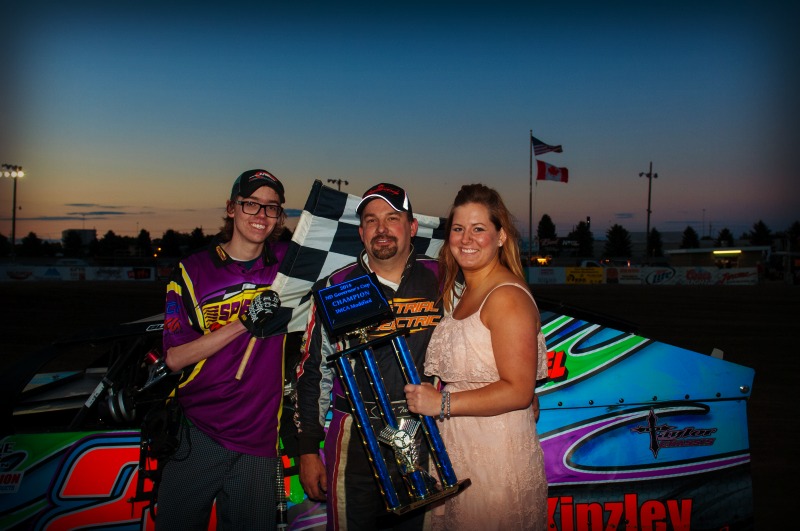 MANDAN, N.D. (July 26) – The champion of the Dakota Classic Tour is also the winner of Da­cotah Speedway's Governor's Cup special for IMCA Xtreme Motor Sports Modifieds.
Jeff Taylor earned $1,600 for his efforts at the 24th annual event. Aaron Turnbull was in front briefly on the final turn before Taylor ducked in low and won the sprint to the checkers.
"Aaron passed me clean. He's a heck of a racer," said Taylor, who had drawn the pole start while Turnbull drove his way up from seventh. "He wanted to win it and I wanted to win it."
Hank Berry, Jerad Thelen and Jeremy Keller rounded out the top five.
Taylor had damaged his own car during qualifying for the Kupper Chevrolet Dakota Classic Tour date at Mandan and wound up 14th, his lowest finish of the July 6-11 tour, in a borrowed ride.
The Arkansas pilot was in Quentin Kinzley's Modified for his Governor's Cup quest.
"I really like it up there. I've got a lot of customers up there," said Taylor, already on the 2015 Fast Shafts All-Star Invitational ballot, "and they have a lot of tracks with big sweeping curves."
Kurt Deters earned $200 for his Mach-1 Sport Compact win.
Feature Results
Modifieds – 1. Jeff Taylor; 2. Aaron Turnbuill; 3. Hank Berry; 4. Jerad Thelen; 5. Jeremy Keller; 6. Allan Kent; 7. Tracy Domagala; 8. Spencer Wilson; 9. Robert Hellebust; 10. Jett Big Eagle; 11. Drew Christianson; 12. Jarrett Wold; 13. Tim Perkins; 14. Mark Dahl; 15. Travis Olheiser; 16. Brad Lisafeld; 17. Jordan Huettl; 18. Shawn Anderson; 19. Jason Wolla; 20. Masen Big Eagle; 21. Jamall Wold; 22. Brian Swenson; 23. Mike Hanson; 24. Steve Pfeifer; 25. Shawn Strand.
Sport Compacts – 1. Kurt Deters; 2. Jason Roehrich; 3. Brandon Anderson; 4. Kody Stoxen; 5. Chance Seelye; 6. Michaelle Stoxen; 7. Austin Hoffman; 8. Nic West; 9. Alex Thompson; 10. Stan Thompson; 11. Dylan Sandberg.