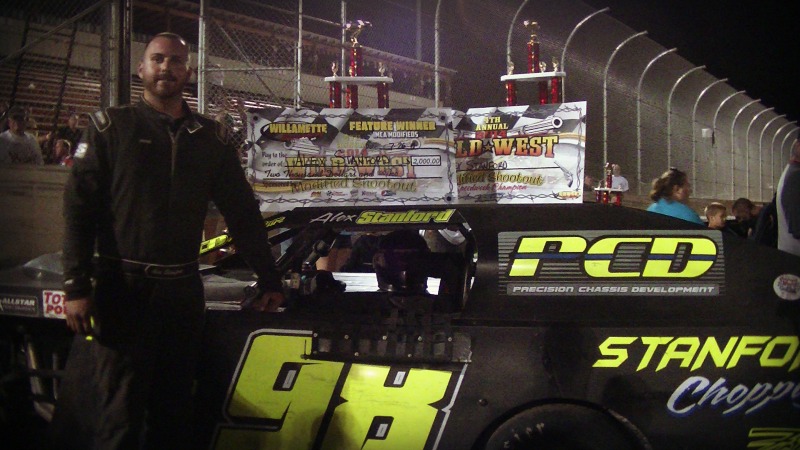 By Ben Deatherage
LEBANON, Ore. (July 26) – Alex Stanford's third Wild West Speedweek victory made him the first driver from outside the state of Oregon to win the IMCA Xtreme Motor Sports Modified tour title.
The $2,000 victory came Saturday at Willamette Speedway. Travis Peery, who ran in front as late as lap 32 before Stanford got the lead back, ended in second.
Jesse Williamson, Collen Winebarger and Dustin Cady were next across the stripe.
Greg Walters led the opening lap before a caution quickly bunched the field back up. Winebarger took advantage of the ensuing restart to take over the front spot.
Winebarger was quick for much of the first half of the race but was passed by Stanford on lap 14.
The California visitor set sail and appeared uncatchable before a caution for debris on lap 25 re­sulted in what proved to be the final restart of the night. Stanford maintained a tenuous lead be­fore Peery stepped up to challenge.
Peery beat Stanford to the line on lap 32 but Stanford was scored first the next time around the track. He led the rest of the distance to score his third 2014 Wild West Modified Speedweek win along with the tour crown.
A total of thirty Modifieds were sign in for the sixth and final Speedweek event, representing Ore­gon, Washington, California, and North Dakota.
Feature results – 1. Alex Stanford; 2. Travis Peery; 3. Jesse Williamson; 4. Collen Winebarger; 5. Dustin Cady; 6. Greg Walters; 7. Jerry Schram; 8. Craig Cassell; 9. Matt Mitchell; 10. Monte Bischoff; 11. Rob Ireland; 12. Kinzer Cox; 13. B.J. Wild; 14. Ricky Ashley; 15. Dane Smith; 16. Kyle Yeack; 17. Rod McCombs; 18. Steven Sturdevant; 19. Sam Potter; 20. Mark Wauge