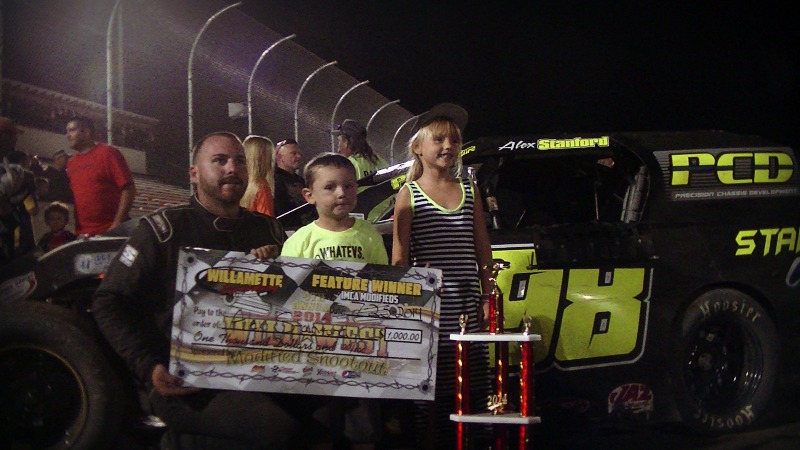 By Ben Deatherage
LEBANON, Ore. (July 25) – When the checkers flew Friday at Willamette Speedway, Alex Stan­ford was the first repeat winner in the Wild West Modified Speedweek.
Stanford chased down Jesse Williamson on the 33rd circuit for the $1,000 IMCA Xtreme Motor Sports Modified victory. He'd raced his way onto the 2015 Fast Shafts All-Star Invitational ballot with his July 22 Speedweek feature victory at Cottage Grove Speedway.
Williamson had been fast out of the gate as he grabbed the lead on the initial start in and looked very dominant in the early goings.
The entire field raced hard but clean, producing three- to four-wide action all over the track. It looked like the race would go caution free but a yellow came out on lap 26 due to debris. This caution bunched the field up just as the leaders were dealing with lapped traffic.
On the ensuing restart Williamson was just nine laps away from the victory but was chased down by what seemed like a pack of wolves. At one point all of the top four cars were battling for the lead with Stanford, who restarted fifth, going elbows up in the final circuits to overtake Williamson on lap 33.
Stanford held on to become the first repeat feature winner during Speedweek and earn his fourth career Speedweek victory. It was also the second consecutive time he had visited victory lane at Willamette after scoring the win in the 2013 edition of the series.
Collen Winebarger, Williamson, Travis Peery and Cory Sample rounded out the top five.
Feature results – 1. Alex Stanford; 2. Collen Winebarger; 3. Jesse Williamson; 4. Travis Peery; 5. Cory Sample; 6. Dustin Dittman; 7. Craig Cassell; 8. Jerry Schram; 9. Rob Ireland; 10. Kyle Yeack; 11. Matt Mitchell; 12. Monte Bischoff; 13. Robert Duncan; 14. Jesse Bailey; 15. Mark Wauge; 16. Jeff Lovell; 17. Rod McCombs; 18. Kelly Williamson; 19. Sam Potter; 20. Don West; 21. David Schmidt; 22. David Day.