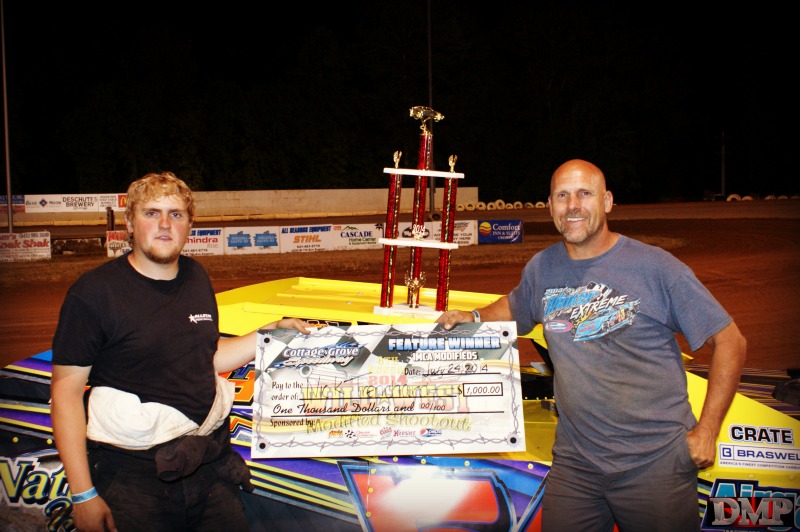 By Ben Deatherage
COTTAGE GROVE, Ore. (July 24) – The fourth night of the Wild West Modified Speedweek saw a fourth different driver in victory lane.
Nick Trenchard got the best of early jockeying for the lead and drove to the $1,000 IMCA Xtreme Motor Sports Modified victory Thursday at Cottage Grove Speedway.
The checkers put Trenchard on the ballot for the 2015 Fast Shafts All-Star Invitational.
There were four lead changes in the first four circuits with Trenchard eventually securing the posi­tion. Driving for car owners Rich and Nicky Biehn, he established a decent advantage before run­ning into heavy lapped trafdic during a long green flag run.
Trenchard made several decisive moves as he cut through the slower traffic while trying to stay in front of the fast company behind immediately him.
A lap 27 caution bunched the field up one final time. Trenchard mastered the restart and led the final eight circuits to cruise to his career first Wild West Modified Speedweek victory.
Jesse Williamson, Alex Stanford, Cory Sample and Rob Ireland rounded out the top five.
Wil West Modified Speedweek will continue at Willamette Speedway on Friday, July 25 with rac­ing scheduled to get underway at approximately 6:30 p.m.
Feature results – 1. Nick Trenchard; 2. Jesse Williamson; 3. Alex Stanford; 4. Cory Sample; 5. Rob Ireland; 6. Collen Winebarger; 7. Braedon Hand; 8. Monte Bischoff; 9. Jake Mayden; 10. Craig Hanson; 11. Craig Cassell; 12. Travis Peery; 13. Ricky Ashley; 14. Kreg Britton; 15. Curtis Towns; 16. Jesse Bailey; 17. Steven Sturdevant; 18. Kelly Williamson; 19. Kinzer Cox; 20. Tom Berry Jr.