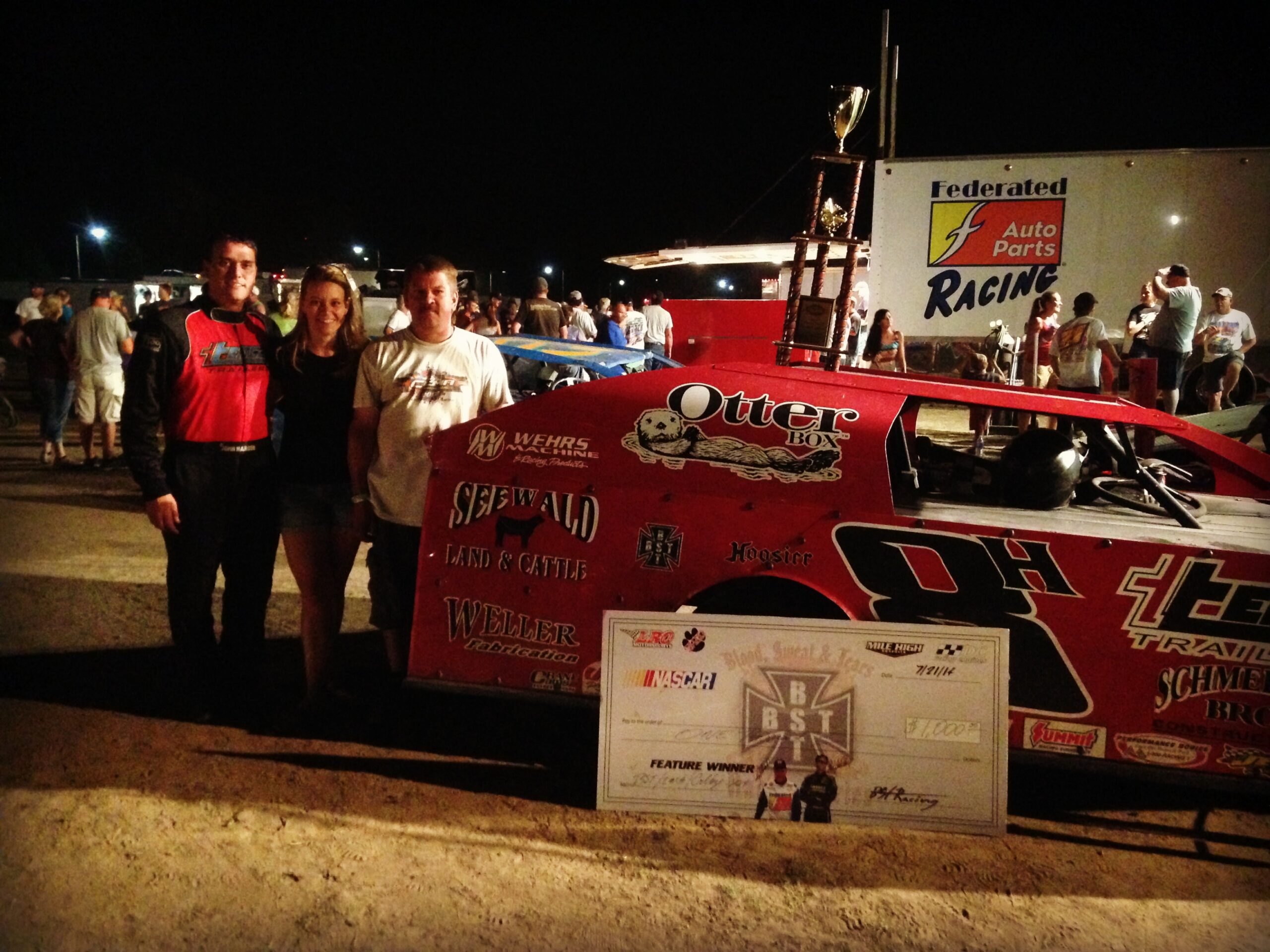 COLBY, Kan. (July 20) – A rare visit to a favorite speedplant resulted in a second Precise Racing Products BST win in three nights for John Hansen.
Hansen started ninth and was in the lead for good by the 10th circuit in the Sunday night IMCA Xtreme Motor Sports Modified 25-lapper at Thomas County Speedway. The win paid $1,000.
"We've won a few fair specials here the last couple years. Thomas County is definitely a favorite track, we just don't get here enough," Hansen said. "The track was really racy. There was plenty of room to race on the high side and that's where a lot of the passing was done."
Up to third by lap eight, Hansen took charge after the ensuing restart.
One more caution slowed action over the last half of the race as Hansen eased away to take the checkers ahead of Jeremy Frenier, Scott Drake, Saturday winner Ken Schrader and Eddie Belec.
The series win was Hansen's third of the season.
Angel Munoz topped the Addiction Chassis BST Series headliner for IMCA Sunoco Stock Cars ahead of Bruce Plumisto and B.J. Wagoner.
Dustin Daniels scored the Leary Racing Products BST Series for Karl Chevrolet Northern SportMod main event victory. Austin Carter was second and Daniel Gottschalk ran third.
Feature Results
Modifieds – 1. John Hansen; 2. Jeremy Frenier; 3. Scott Drake; 4. Ken Schrader; 5. Eddie Belec; 6. Dylan Sherfick; 7. Jesse Taylor; 8. Kenny Wallace; 9. David Murray Jr.; 10. Nate Moore; 11. Adam Morris; 12. Dominic Ursetta; 13. Ryan Gaylord; 14. Bill Brack; 15. Ronnie Hill; 16. Eddie Edwards; 17. Darren DeLoach; 18. Wheat Lippelmann; 19. Clay Sellard; 20. Michael Wadel; 21. Cody Gearhart; 22. Danny Concelman; 23. Jeff Hunter; 24. Ronnie Wallace.
Stock Cars – 1. Angel Munoz; 2. Bruce Plumisto; 3. B.J. Wagoner; 4. Jeff Tubbs; 5. Nick Tubbs; 6. Casey Woken; 7. Perry Misner; 8. Eric Munoz; 9. Wheat Lippelmann; 10. Jason Rogers; 11. Kevin Wagoner; 12. Justin Lewis; 13. Tyler Tipton; 14. Brent Moss; 15. Michael Pepper; 16. John Luck; 17. Ondre Rexford; 18. Mike Meyer; 19. Lloyd Meeske; 20. Cody Zimmerman; 21. Mike Giesenhagen; 22. Cody Pancake; 23. Jason McIntyre.
Northern SportMods – 1. Dustin Daniels; 2. Austin Carter; 3. Daniel Gottschalk; 4. Clay Money; 5. Brandon Clough; 6. Chad Dolan; 7. Bryan Harkness; 8. Ryan Moser; 9. Jacob Fehler; 10. Josh Appel; 11. Henry Henderson; 12. Thomas Nelson Jr.; 13. Kenny Schmidt; 14. Andy Borton; 15. Allen Snethen; 16. Ryan Stevenson; 17. Tristen Borton; 18. Ryan Work.