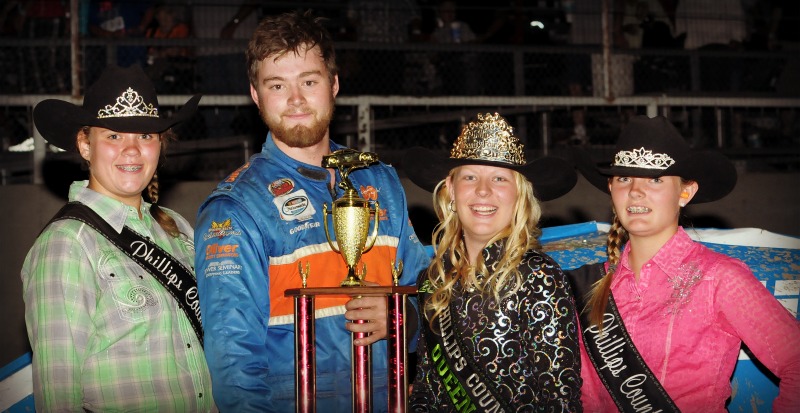 HOLYOKE, Colo. (July 21) – Ryan Gaylord's journey to victory lane Monday night at Phillips County Raceway got its start two nights before in the tech area at Calhan.
"I had been struggling and they found the left side wheelbase was way off at Calhan," Gaylord explained after his $1,000 IMCA Xtreme Motor Sports Modified feature win in the Precise Racing Products BST show at Holyoke. "That was a blessing in disguise because it really helped us turn the car around."
Gaylord ran seventh at El Paso County Speedway and worked out some kinks with a mid-pack finish Sunday at Thomas County Speedway. He wrapped up the four-night BST swing with his first feature win of the season.
"We needed this one. It seems like we've been getting a lot of seconds," Gaylord said. "My brother Tripp was crewing for Kenny Wallace, too, and made the changes to my car and told me just to worry about driving."
After drawing the outside row one start, Gaylord stayed on the higher line and eventually caught Ken Schrader for the lead just after midway in the 25-lap main event.
He motored to the win ahead of Schrader, Dominic Ursetta, Eddie Belec and Jake Adler.
"I think that was one of the best drives of my life," the new 2015 Fast Shafts All-Star Invitational ballot qualifier said. "I'd been doing a lot of stupid things on the track, making stupid mistakes. This time I stayed focused and did what I needed to win."
Angel Munoz, Nick Tubbs and Ondre Rexford ran 1-2-3 in the Addiction Chassis BST Series feature for IMCA Sunoco Stock Cars.
Chad Dolan was the winner for the fifth time in six Leary Racing Products BST Series outings for Karl Chevrolet Northern SportMods. Bryan Herrick and Brandon Clough were next across the stripe.
Feature Results
Modifieds – 1. Ryan Gaylord; 2. Ken Schrader; 3. Dominic Ursetta; 4. Eddie Belec; 5. Jake Adler; 6. Beau Speicher; 7. John Hansen; 8. Greg Gustus; 9. Jesse Taylor; 10. Kenny Wallace; 11. Bill Brack; 12. Jeremy Frenier; 13. John Burrow Jr.; 14. Greg Sharpe; 15. James Krehmeyer; 16. Garrett Sporhase; 17. Danny Concelman; 18. Jeff Hunter.
Stock Cars – 1. Angel Munoz; 2. Nick Tubbs; 3. Ondre Rexford; 4. Jason Noyes; 5. Gregory Gutt; 6. Kurt Trusty.
Northern SportMods – 1. Chad Dolan; 2. Bryan Herrick; 3. Brandon Clough; 4. Ryan Moser; 5. Tom Nelson Jr.; 6. Henry Henderson; 7. Mike Lininger; 8. Tom Quint; 9. Brian Cross; 10. Trevor Geist.