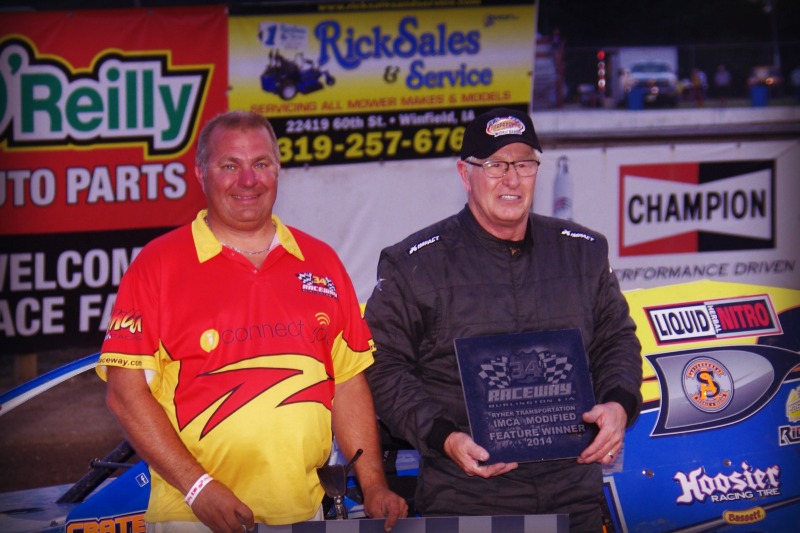 By Dana Royer
WEST BURLINGTON, Iowa (July 19) – Dean McGee picked up his first Ryner Transportation IMCA Modified feature of the season at 34 Raceway on Saturday night.
Darrow Lillie and Dustan Fenton sat on the front row but it was McGee taking the lead on the first lap of the 20-lap race. McGee led the entire race, first holding off Mitch Morris, then Jeff Waterman.
The yellow flag came out with one lap to go. With Bill Roberts in the third spot behind McGee and Waterman, the yellow worked to his advantage as he moved into the second spot and challenged McGee on the final lap.
The two crossed the finish line bumper to bumper with McGee holding off Roberts for the win.
The Pepsi IMCA Stock Cars capped off the night with a thriller. Jake Wenig took the lead from Randy Wachter on lap four of the 15-lap contest. Tom Bowling moved into the second spot and it was a battle from there on with the two racing bumper-to-bumper and side-by-side.
Bowling was able to get by Wenig on lap nine but wouldn't hold it as Wenig got the lead back on the same lap. On lap 12 the leaders ran into lapped traffic but Wenig was able to move around them and went go on to take the checkered flag with Bowling on his bumper.
Joey Gower took the lead following a lap seven restart and topped the Casebine Credit Union IMCA Northern SportMod feature.