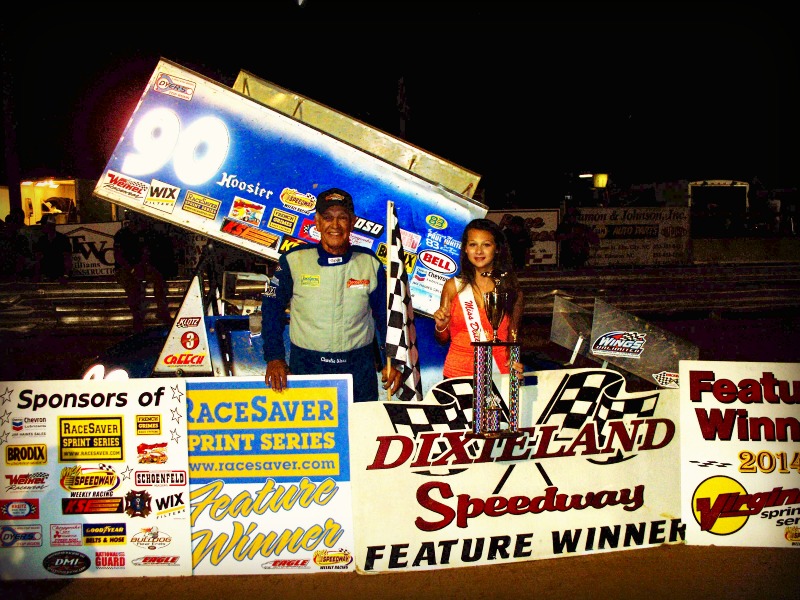 By Jim Haines
ELIZABETH CITY, N.C. (July 18) – Charlie Ware made the most of a fast ride and track that suited him by taking his first feature win in his own car in Friday's Virginia Sprint Series feature at Dixieland Speedway.
Chris Ware and Charlie Ware paced the IMCA Eagle Motorsports RaceSaver Sprint Car field to the green with Charlie out first bring Glenn Worrell along with him.
Tony Harris was third, right on Worrell, as Charlie Ware stayed on the cushion staying smooth lap after lap. Halfway came and a car did a 360 degree spin, then drove up the track causing some bumps and blocking the track, which bunched up the field for a dash to the checkers.
Charlie Ware took off with Worrell and Tony Harris right behind and Troy Severin and Jerald Harris filling the top five. With three to go Worrell went low to take a shot at the lead but he ended up doing a slow spin and gave the field one last try at the front runner.
The green waved and Severin went around Tony Harris, but Charlie Ware stayed strong and flashed under the waving checkered flag first.
Next week it's back to Natural Bridge, Va., Speedway in Natural Bridge, Va. on Saturday, July 26.
Feature results – 1. Charlie Ware; 2. Troy Severin; 3. Tony Harris; 4. Jerald Harris; 5. French Grimes; 6. Brian Lawson; 7. Tom Humphries; 8. Chris Ware; 9. Kevin Fletcher; 10. Glenn Worrell; 11. Mattie Feldman; 12. Anthony Linkenhoker; 13. Eliah Omwake; 14. Carl Simmonds.