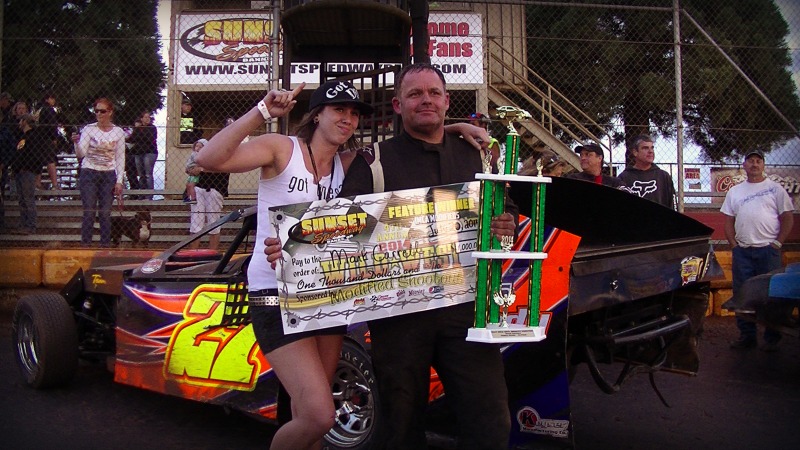 By Ben Deatherage
BANKS, Ore. (July 20) – His first Wild West Modified Speedweek paid $1,000 to Mark Carrell.
Travis Peery had looked to make it two IMCA Xtreme Motor Sports Modified tour wins in a row at Sunset Speedway Park. He started on the front row and was dominant for much of the race. In the first 15 laps, five cautions would take place resulting in Peery having to deal with an open race track.
Peery set a rapid pace and as the lap count dwindled he showed no signs of slowing down. But he used up too much of his tires and briefly got out of shape on lap 27, allowing Carrell to make the pass for the lead.
Carrell led the remaining distance for the win and accompanying 2015 Fast Shafts All-Star Invita­tional ballot berth.
Rounding out the top five were Peery, Jesse Williamson, Cory Sample and Alex Stanford. Twenty-eight entries from five states returned for the second of six Wild West Speedweek install­ments.
Next up are Tuesday, July 22 and Wednesday, July 23 dates at Cottage Grove Speedway.
Feature results – 1. Mark Carrell; 2. Travis Peery; 3. Jesse Williamson; 4. Cory Sample; 5. Alex Stanford; 6. Jeremy Shank; 7. Rob Ireland; 8. Craig Cassell; 9. Braedon Hand; 10. Doug Lock­wood; 11. Collen Winebarger; 12. Robert Duncan; 13. Monte Bischoff; 14. Kyle Casson; 15. Nick Trenchard; 16. Jake Mayden; 17. Kelly Williamson; 18. Jake Vanortwick; 19. Mark Wauge; 20. Tom Berry Jr.