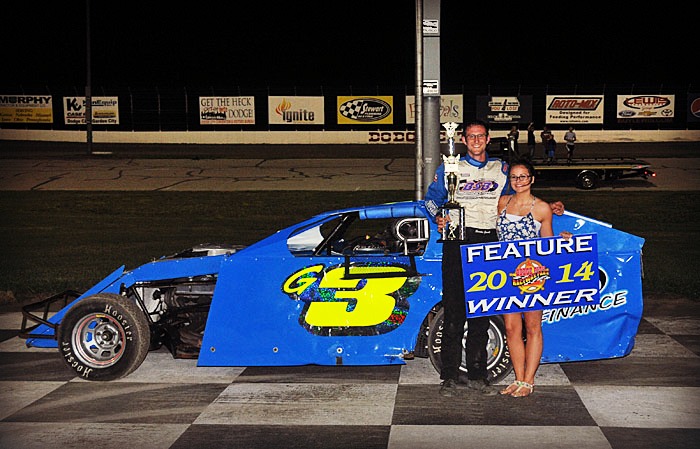 By Lonnie Wheatley
DODGE CITY, Kan. (July 19) – Brendon Gemmill picked off his second Dodge City Raceway Park triumph of the year by posting a $1,200 victory in Saturday night's second annual IMCA Xtreme Motor Sports Modified Stampede.
Gemmill raced past his father Troy 13 rounds into the 30-lapper before holding off Eddie Belec over the closing circuits for his second consecutive DCRP score.
"I really didn't feel comfortable out there, it was the first time we've had this car out this year," Gem­mill commented from victory lane following the 2015 Fast Shafts All-Star Invitational ballot qualifier. "Sometimes the fastest car doesn't win. This is one of those times."
Troy Gemmill gunned into the lead at the outset of the main event from his front row outside start­ing position with Brendon Gemmill chasing from the third starting position.
Brendon moved in to challenge after eight laps before finally slipping underneath Troy for the lead en­tering turn one on the 13th lap.
With the father-son Gemmill duo out front, 11th-starter Belec and 10th-starter Scott Drake moved to third and fourth by the 11th lap and made it four-way race for the point in short order.
Belec finally made his way around Troy Gemmill on the 20th round and pulled alongside Brendon Gemmill in a battle for the lead before a caution flew for Mike Lunow with 23 laps in the books.
Brendon Gemmill took off on the restart and kept Belec several car-lengths back the rest of the way with Troy Gemmill outlasting Drake for the show position. Jeff Hunter raced from 14th to round out the top five.
Feature results – 1. Brendon Gemmill; 2. Eddie Belec; 3. Troy Gemmill; 4. Scott Drake; 5. Jeff Hunter; 6. Mike Petersilie; 7. Cole Traugott; 8. Beau Davis; 9. Randy Wilson; 10. Cale Osborn; 11. Austin Allen; 12. Jesse Richter; 13. Nick Link; 14. Joel Lane; 15. Ryan Heger; 16. Mike Wadel; 17. Mike Lunow; 18. Cody Gearhart; 19. Clay Sellard; 20. Tracy Link.
Heat winners were Austin Allen, Joel Lane, Nick Link and Troy Gemmill. "B" feature winners were Wadel and Hunter.