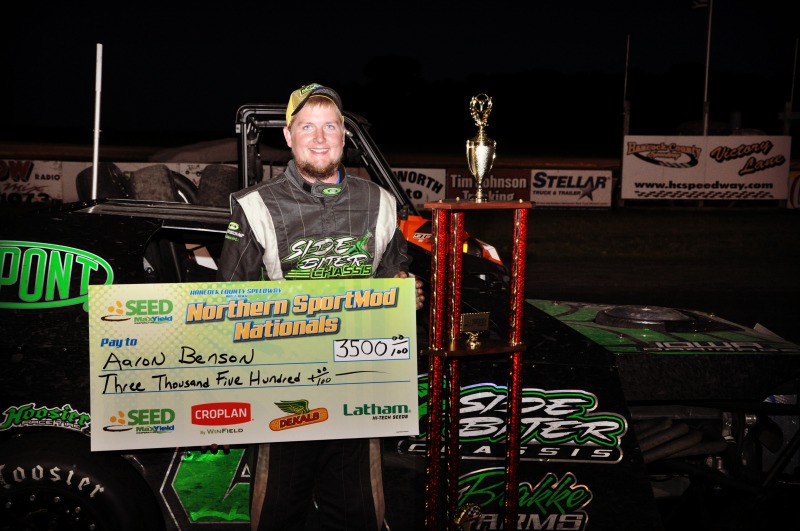 BRITT, Iowa (July 4) – Aaron Benson finished first on The Fourth.
As a result, he drove out of the pit area at Hancock County Speedway with a check for $3,500 and a trophy taller than himself.
Benson led all 25 laps from the pole in the twice-rescheduled, MaxYield Seed-sponsored Karl Chevrolet Northern SportMod Nationals. The victory was good for $2,500; Benson also got $500 bonuses for having won previously this season at Britt and for racing at least three times there previously in 2014.
"I've been second at big-money races before. We finally got a big win here," said Benson, at 5-8 four inches shorter than the hardware he took home. "There were a lot of good cars lined up be­hind me. It was good to win in front of friends, family, my car owner and sponsors at my home track."
Shane Swanson, George Nordman, Greg Sidles and Matt Lettow completed the top five.
Benson built a straightaway lead by the 10th circuit and the first 17 laps clicked off caution-free.
Cautions late in the contest bunched the field back up but Benson held off Swanson & Co. follow­ing the final green, white, checkered restart.
Sidles was the MaxYield Seed hard charger award recipient after starting 18th.
The Northern SportMod Nationals were rained out after qualifying for 40-plus entries on June 26 and could not be held on the original rain date of June 27 because of wet track conditions.
Feature results – 1. Aaron Benson; 2. Shane Swanson; 3. George Nordman; 4. Greg Sidles; 5. Matt Lettow; 6. Bob Sutherland; 7. Nick Meyer; 8. Brandon Williams; 9. Phil Ricke; 10. Cody Knecht; 11. Nate Whitehurst; 12. Johnathan Logue; 13. Levi Chipp; 14. Alex Zwanziger; 15. Doug Smith; 16. Logan Swearingen; 17. Matt Hoeft; 18. Austin Moyer; 19. Benjamin Chukuske; 20. Ben Kraus; 21. Nate Hughes; 22. Doug Cook; 23. Colby Fett; 24. Matt Looft; 25. Justin Medler; 26. Eric Pollard; 27. Ben Schultze; 28. Jeff Brunssen.