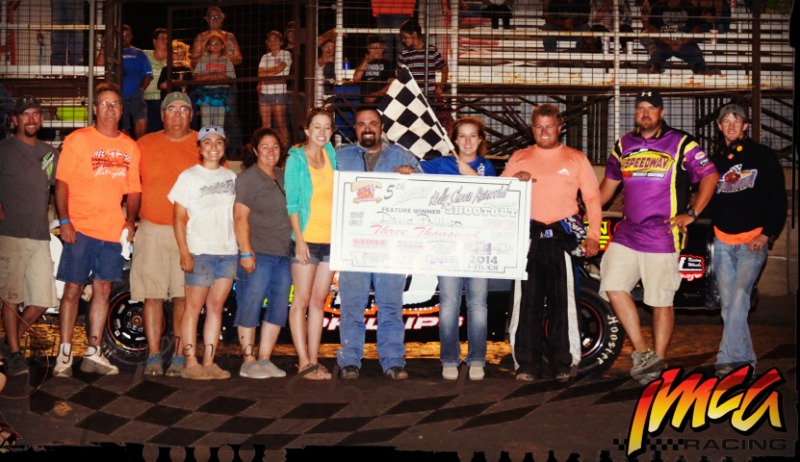 EUNICE, N.M (July 5) – David Phillips was a runner-up at last year's Kelly Sheen Memorial Topless Shootout at Cardinal Speedway.
He was a winner at this year's event, taking the $3,000 checkers in Saturday's headliner for IMCA Sunoco Stock Cars.
"This was a pretty cool race to win," he said, after watching the video. "It's an honor to win it, based on what this show is."
Phillips started fifth and needed seven laps to get the lead. He pulled away from the field following two restarts later in the 30-lapper.
Second in the 2013 Scoggin-Dickey Parts Center Southern SportMod main event at Eunice, Phillips is running a very part-time schedule in the Stock Car this season. Now the winner of three of five starts, he and wife Caitlin are expecting their first child in September.
Cary White, two-time defending race winner Michael Therwanger, Brandon Hopper and Dustin White completed the top five.
Other Sheen Memorial winners were Phillip Houston, who earned $2,000 along with a spot on the ballot for the Fast Shafts All-Star Invitational for his IMCA Xtreme Motor Sports Modified victory; Bradley Poor in the Southern SportMods and Cody Stone, who repeated in the IMCA Sunoco Hobby Stocks.
Houston was running in front of a multi-car tangle that brought about an early restart in the Modified main. He took the green from outside the front row and led all 20 laps.
"This was the biggest win of our career," said Houston, a little over a straightaway faster than Chris Elliott at the finish. "It was a pretty good race and it was pretty clean, other than that one incident."
Completing the top five were Toby Herring, 13th starting Slade Johnston and Austin Huskey.
Poor's wire-to-wire victory in the Southern SportMod main wasn't even his most exciting race of the weekend: He'd taken the Friday qualifier despite running with both right side wheels on the wall after a nudge from another car.
He survived contact with a lapped car after midway in the big show, then pulled away after a restart with 12 to go.
"I had a weekend I won't ever forget," Poor said. "It was a blessing to win a big race like this. That $1,500 never hurts anybody."
Second went to Justin Shaw, with Chance McDaniel third, 12th starting Cory Williams fourth and Dustin Robinson fifth.
Stone chased Justin Lathram into lapped traffic midway through the Hobby Stock 20-lap main. When Lathram went low, Stone found his way to the front higher up and led the rest of the way for a $1,200 payday.
"Winning this race the second time is way better than the first time," he said. "You go out there to win and it's a great feeling to be able to do it two years in a row."
Lathram, Jerrad Steele, Eddie Ledbetter and Kaden Jarrel were next across the stripe.
Feature Results
Stock Cars – 1. David Phillips; 2. Cary White; 3. Michael Therwanger; 4. Brandon Hopper; 5. Dustin White; 6. Jeremy Montgomery; 7. Dan Day; 8. Keith Cagle; 9. Mark Lord; 10. Dillon Hill; 11. Michael Lang; 12. Colby Deming; 13. Jody York; 14. Colin Deming; 15. Travis Graves; 16. Michael Sheen; 17. Jason Adcock; 18. Jordan Lathram; 19. Tim Pfalzgraf; 20. Sam Hodges.
Modifieds – 1. Phillip Houston; 2. Chris Elliott; 3. Toby Herring; 4. Slade Johnston; 5. Austin Huskey; 6. Trent Crawford; 7. Triston Sikes; 8. Neal Flowers; 9. Eric Hughes; 10. Cory Davis; 11. Bob Sikes Jr.; 12. Blake Hoten; 13. Butch Reid; 14. Travis Graves; 15. Monte Bolton; 16. Jerry Harpole; 17. Tommy Fain; 18. Trey Melton; 19. Caleb Stone; 20. Bob Sikes.
Southern SportMods – 1. Bradley Poor; 2. Justin Shaw; 3. Chance McDaniel; 4. Cory Williams; 5. Dustin Robinson; 6. Alec Smith; 7. Brian Ray Flowers; 8. Jordan Lathram; 9. Brian Heard; 10. Allen Montgomery; 11. Rodger Pierce; 12. Shane Helton; 13. Robby Crabtree; 14. Jake White; 15. Allen Scott; 16. Chad Villeneuve; 17. Dave Swafford; 18. Doug Easterling; 19. Jim Pierce; 20. Joey Young; 21. John Reid.
Hobby Stocks – 1. Cody Stone; 2. Justin Lathram; 3. Jerrad Steele; 4. Eddie Ledbetter; 5. Kaden Jarrel; 6. Gerald Spalding Sr.; 7. Clint Day; 8. Barrett Hutchison; 9. Jaron Boone; 10. Jon McGowan; 11. Wayne Chadwell; 12. Lee Riley; 13. Wilson Neal; 14. Ryan Wilkerson; 15. George Ross; 16. Michael Maraschick; 17. Scott Sullivan; 18. Shawn Wright; 19. Jill Thompson; 20. Johnathan Garcia; 21. Ricky Thomas; 22. Lance Moore; 23. Gerald Spalding.