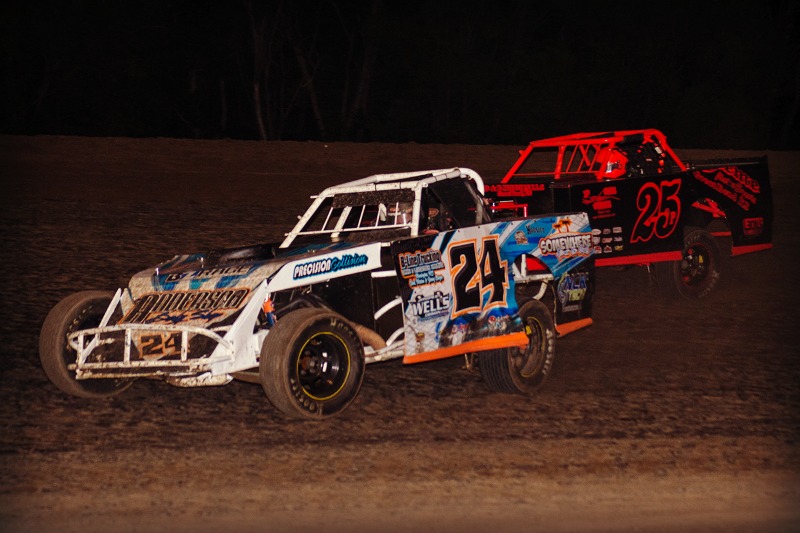 By Larry Lowrey Jr.
SALINA, Kan. (July 4) – By his standards, Corey Lagroon was struggling coming into Friday night's Topless Challenge at Salina Speedway.
Lagroon has finished consistently near the front almost every single night. But the former IMCA Xtreme Motor Sports Modified track champion is out to win and victory lane had avoided him all season long.
Until Friday evening, that is.
Lagroon took the lead away from Danny Morrison Jr. on the fifth lap and led to the finish, earning $1,000 and a spot of the Fast Shafts All-Star Invitational ballot.
Morrison and Josh Blumer led the topless field to the green flag. Morrison got the jump at the start but Lagroon made all the right moves as he got by Morrison. As he completed the pass, it was evident this was going to be Lagroon's night.
He checked out once in the lead while the crowded tussle for second continued behind him.
Morrison held on for second while Mike Petersilie finished third. Point leader Joe Cleveland and Jesse Richter rounded out the top five.
Tyler Frye raced from 12th starting to win the Karl Chevrolet Northern SportMod main.
Leader Nate Ginest fended off all challenges until Frye made his move on the white flag lap.
Fireworks on The Fourth followed the fourth annual Topless Challenge.
Feature Results
Modifieds – 1. Corey Lagroon; 2. Danny Morrison Jr.; 3. Mike Petersilie; 4. Joe Cleveland; 5. Jesse Richter; 6. Clay Sellard; 7. Scott Brown; 8. Corey Burch; 9. Brian Knoell; 10. Josh Blumer; 11. Shannon Johnson; 12. Jason Caldwell; 13. Cliff Shepard; 14. Larry Sutton; 15. Heath Myers; 16. Kenny Sweet; 17. Justin Jurgens; 18. Craig Colgin.
Northern SportMods – 1. Tyler Frye; 2. Clay Money; 3. Greg Metz; 4. Nate Ginest; 5. Daniel Gottschalk; 6. Marlin Farr; 7. Kurtis Pihl; 8. Mark Franklin; 9. Josh Appel; 10. Chad Markley; 11. Taylor Metz; 12. Jeremy Sigler; 13. Kamren Gruber; 14. Tyler Post; 15. Don Morris; 16. Jeff Olson; 17. Fred Traskowsky; 18. Hunter Cantrall; 19. Brenden Damon; 20. Austin Carter.