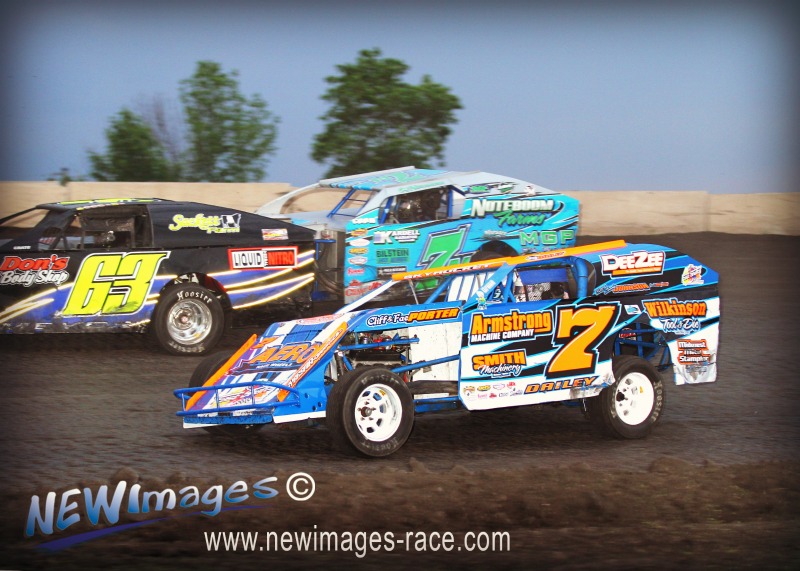 FAIRMONT, Minn. (July 4) – Eric Dailey became the surprise winner of a rain-shortened Redline Racing Parts North Star Series feature for IMCA Xtreme Motor Sports Modifieds Friday at Fairmont Raceway.
He'd started fifth and was up to third before lining up on the outside for a lap five restart. He slowly reeled in Jeff Ignaszewski and then Roger Nielsen for the lead and was still in front when rain forced an early end half way through the scheduled 20-lapper.
"I just came around and there were the double checkers," Dailey said. The victory was his division-leading sixth in the series and tour career third at Fairmont.
Nielsen, Ignaszewski, Jay Noteboom and Josh Rogotzke rounded out the top five. Noteboom raced to fourth from 12th starting.
Dan Mackenthun won for the third time in his tour career in the IMCA Sunoco Stock Cars. Justin Remus paced the Karl Chevrolet Northern SportMods, Cory Probst was best in the IMCA Sunoco Hobby Stock main and Nate Coopman collected the Mach-1 Sport Compact checkers.
Mackenthun only led one lap but it was the most important one. He went from fourth to the Stock Car lead in the first turn when frontrunners Jake Masters and Ken Tietz got together, driving past Trent Schroeder as well.
The feature had been red-flagged to set up the green, white, checkered finish. Tietz, Jim Larson, Schroeder and Luke Sathoff completed the top five.
Remus won for the first time in his North Star Series career after starting fourth and taking over the lead three laps into the Northern SportMods' 15-lapper.
He had a straightaway lead before a caution wiped out that big advantage with five to go.
Nick Dieter advanced nine positions to second. Lyle Sathoff was third, Dalton Sathoff was fourth and Dan Paplow ended in fifth.
Backed by a one-woman pit crew – his mom, Sandy – Probst sped to his division-leading seventh Hobby Stock win after passing Malik Sampson with three trips around the track remaining.
Sampson finished second after starting outside the fifth row. Jamie Songer, Justin Luinenburg and Trevor Holm were next to the checkers. Probst had also won the May 9 North Star feature at Fairmont.
Coopman continued his North Star success by winning from the third row. The victory was his series career 18th and 28th of the season.
Rounding out the top five were Jay DeVries, Stephanie Forsberg, Jordan Rogotzke and Terry Blowers.
Feature Results
Modifieds – 1. Eric Dailey; 2. Roger Nielsen; 3. Jeff Ignaszewski; 4. Jay Noteboom; 5. Josh Rogotzke; 6. Andrew Timm; 7. James Slawson; 8. Josh Ruby; 9. Ken Odegaard; 10. Denny Anderson; 11. Dustin Larson; 12. Justin Anderson; 13. Greg Jacobsen; 14. Josh Meyer; 15. Dalton Magers; 16. Brandon Beckendorf; 17. Jesse Rogotzke; 18. Mark Gartner; 19. Nate Zimmerman; 20. Travis DeBoer.
Stock Cars – 1. Dan Mackenthun; 2. Ken Tietz; 3. Jim Larson; 4. Trent Schroeder; 5. Luke Sathoff; 6. Andy Altenburg; 7. Dan Thate; 8. Gary Mattison; 9. Brent Reierson; 10. Devin Smith; 11. Jake Masters; 12. David Wickman; 13. Dean Nething; 14. Jerry Coopman; 15. Mark Munsterman; 16. Matt Allen; 17. David Reisdorfer; 18. Scott Adams; 19. Doug Jenkins; 20. Levi Feltman.
Northern SportMods – 1. Justin Remus; 2. Nick Dieter; 3. Lyle Sathoff; 4. Dalton Sathoff; 5. Dan Paplow; 6. Travis Greenfield; 7. Matthew Looft; 8. Randy Winter; 9. Dustin Wiederhoeft; 10. Carter Shumski; 11. John Albrecht; 12. Eric Larson; 13. Cole Ignaszewski; 14. Nathan Chukuske; 15. Bruce Egeland; 16. Eric Bassett; 17. Eric Boler; 18. Ben Ruby; 19. Justin DeBoer; 20. Randy Larson; 21. Kyle Steuber.
Hobby Stocks – 1. Cory Probst; 2. Malik Sampson; 3. Jamie Songer; 4. Justin Luinenburg; 5. Trevor Holm; 6. Chad Lanremn; 7. Jeff Senne; 8. Britten Swanson; 9. Riley Songer; 10. Daniel Smith; 11. Eric Gillette; 12. Wes Jahnz; 13. Kevin LaTour; 14. Logan Kelly; 15. Marc Janssen; 16. Ryan Grochow; 17. Nathan Simpson; 18. Sarah Voss; 19. Dakota Robinson; 20. David Clinton; 21. Chelsea Simpson; 22. D.J. Clinton; 23. Bryant Johnson; 24. Nate Harris; 25. Zach Thoms; 26. Austin Jahnz; 27. Ben Peterson.
Sport Compacts – 1. Nate Coopman; 2. Jay DeVries; 3. Stephanie Forsberg; 4. Jordan Rogotzke; 5. Terry Blowers; 6. Kyle Ewert; 7. Duwayne Berndt; 8. Joe Bunkofske; 9. Kyle Hansen; 10. Ed Connell; 11. T.J. Dalton; 12. Dan Knish; 13. Nathan Sukalski; 14. Kaytee DeVries.