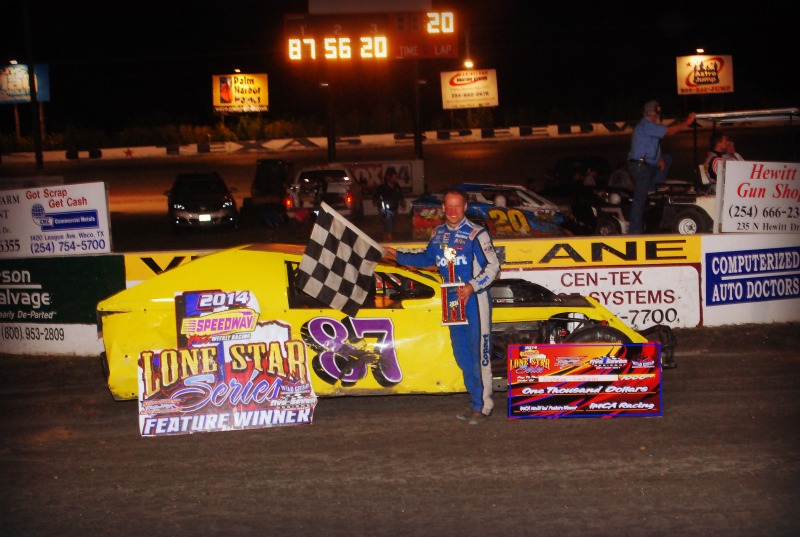 By J.M. Hallas
WACO, Texas (July 5) – Nicholas Littlejohn finished 16 positions better on night two of the Lone Star Series Texas Nationals twinbill than he did on night one.
That improvement paid $1,000 and put him on the ballot for the upcoming Fast Shafts All-Star Invitational.
Littlejohn won Saturday's IMCA Xtreme Motor Sports Modified feature at Heart O' Texas Speedway after race-long leader Dean Abbey suffered mechanical problems following a late restart.
Abbey looked to become the only weekend double winner but a stopped car brought the caution out on lap 18. As the green flag waved again, Abbey broke a hub on the left rear wheel stacking up the field and collecting three other cars.
Cass took a look low on Littlejohn for the lead, but not able to get by. On the final lap Cass tried one last time, but came up short as Littlejohn took home the victory.
"Dean (Abbey) was fast. It was his to lose," said Littlejohn. "I got a little bit of him after the studs pulled out of the hub. It was just one of those deals and when it came apart he just turned sideways in front of us. I was fortunate enough to clear it and keep going."
Sid Kiphen, who was off on his setup Friday, had it dialed in on Saturday. He was never headed as he went wire to wire for the Scoggin-Dickey Parts Center Southern SportMod win.
Kiphen was chased early by James Guyton, but pulled away leaving the others behind. Jacob Pirkle got close on a restart, but wasn't able to keep up with Kiphen as he rebuilt a nice margin at the finish.
After a disappointing night Friday when he got together with Tristan Carman racing for the lead, Jason Batt rebounded to take the IMCA Sunoco Stock Car feature.
Batt got two good breaks, the first when his wife Robin spun while leading and the second when Dillon Smith broke and slapped the wall while way out in front. That put Batt in the catbird seat just before midway.
Another local racer scored the victory in the IMCA Sunoco Hobby Stock feature when Brandon Geurin got the lead after early leader Joe Williams got sideways and then spun a lap later.
Geurin was hounded by Ray Kemp Jr. until he looped it with two laps to go. After shaking Kemp, Geurin cruised unchallenged.
Unofficial Feature Results
Modifieds – 1. Nicholas Littlejohn; 2. Justin Cass; 3. Mike McCarthy; 4. Pat McGuire; 5. Keith Green; 6. Josh McGaha; 7. Justin Radcliff; 8. Joe Spillman; 9. Eric Tomlinson; 10. Hardy Henderson; 11. Ben Ketteman; 12. Keith White; 13. Dean Abbey; 14. Johnny Sheets; 15. Chad Melton; 16. Billy Bachmeyer; 17. Sam Cox; 18. Darryl Campbell; 19. Glen Hibbard; 20. J.P. Dowell.
Southern SportMods – 1. Sid Kiphen; 2. Jacob Pirkle; 3. James Guyton; 4. Chris Cogburn; 5. Timothy Cummings; 6. Chris Florio; 7. Don Painter; 8. T.J. Green; 9. Jake Upchurch; 10. David Goode Jr.; 11. Jeffrey Abbey; 12. Jarrett Roberts; 13. Brad Shirley; 14. Jeff Sheppard; 15. Johnny Torres; 16. Mark Patterson; 17. Garett Rawls; 18. Steve Hayes; 19. J.C. Howell; 20. Clark Warren.
Stock Cars – 1. Jason Batt; 2. Tristan Carmen; 3. Billy Wade; 4. Sam Sovey; 5. John Riechard; 6. Tony Hamil; 7. Damon Hammond; 8. Brandon Taylor; 9. Dennis Bissonette; 10. C.J. Gray; 11. Jeff Bauser; 12. Anthony Otken; 13. Charles Cosper; 14. Trevor Sparkman; 15. John Frydrych; 16. Brandon Hood; 17. Chad Estes; 18. Robin Batt; 19. Dillon Smith; 20. Joe O'Bryan; 21. Chris Cockrell.
Hobby Stocks – 1. Brandon Geurin; 2. Daniel Van Haitsma; 3. Jeremy Oliver; 4. Jamie Herring; 5. Westin Abbey; 6. Mark Geurin; 7. Chase Breese; 8. April Phillips; 9. Joe Williams; 10. A.J. Dancer; 11. Richard Shields; 12. Halie Brown; 13. Stacey Robinette; 14. Corey Samford; 15. Chad Bowman; 16. Ray Kemp Jr.; 17. Andy Roller; 18. Shannon Dulock; 19. Ronnie Gregory; 20. Tommy Phillips.