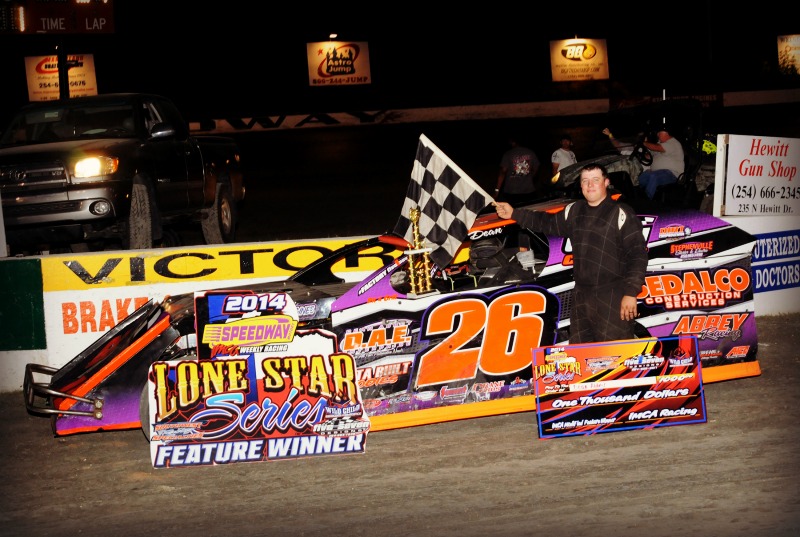 By J.M. Hallas
WACO, Texas (July 4) – First-year IMCA Xtreme Motor Sports Modified driver Dean Abbey had the run of his life in picking up the $1,000 Lone Star Series Texas Nationals win Friday at Heart O' Texas Speedway.
For two-thirds of the race Abbey chased veteran Keith Green until finally making the bottom work on a restart. If that wasn't pressure enough, a late caution set up a green, white, checkered finish that put former IMCA national champion Keith White and his brother Paul, a past USAC Silver Crown champ, on his tail.
Abbey was able to get a good jump on green and got some breathing room while the White broth­ers exchanged slide jobs on each other. Abbey went unchallenged while Paul beat Keith in the second place battle. Josh McGaha was fourth by all of one one-thousandth of a second over Sam Cox.
"The bottom finally worked out for me," said Abbey, already a Fast Shafts All-Star Invitational bal­lot candidate. "We've been here twice this year in the Modified and raced Keith Green for the win then too. I was fighting for the bottom last time and he got the win with us getting second. We had a different outcome tonight and I was able to get by him."
Jake Upchurch methodically worked his way up from his 10th starting spot to win the Scoggin-Dickey Parts Center Southern SportMod main.
After making the top five at halfway, Upchurch picked them off one by one and caught leader Greg Frazer with two to go. In a last lap move, Upchurch drove it to the bottom, made it stick, and edged Frazer coming to the checkers to score the victory.
Frazer took the runner-up spot, with Chris Cogburn third, Jacob Pirkle fourth and Garett Rawls rounding out the top five.
Chad Estes for himself at the right place at the right time to inherit the lead of the IMCA Sunoco Stock Car feature.
Estes took over the lead after early leader Tristan Carmen and Jason Batt made contact battling for the top spot. Estes had a ringside seat in third when two traded paint, flats and damage enough to see them both stop on track and then head pitside.
"I hung in there and was fortunate enough to get out front after that caution," Estes said after tak­ing the checkers. "They were getting a little rough up front between Carmen and Jason (Batt). As aggressive as they were getting I thought something was going to happen. My car got loose and I al­most spun out, so I decided to sit back and hope I got my chance."
Shannon Dulock showed the IMCA Sunoco Hobby Stock field nothing but his rear bumper going flag to flag for the win.
Throughout most of the race Dulock had Andy Roller trying his best on the bottom. Roller would get along side Dulock in the corner, but momentum on the high side saw Dulock rocket past on the straights.
In the late stages, Jeremy Oliver got around Roller and tried the bottom himself. At the checkers it was Dulock, giving himself an early birthday present, in front of Oliver.
Unofficial Feature Results
Modifieds – 1. Dean Abbey; 2. Paul White; 3. Keith White; 4. Josh McGaha; 5. Sam Cox; 6. Jus­tin Radcliff; 7. Pat McGuire; 8. Cody Daniel; 9. Jerry Frydrych; 10. Chad Estes; 11. Joe Spillman; 12. Johnny Sheets; 13. Keith Green; 14. J.P. Dowell; 15. Jarrod Jennings; 16. Eric Tomlinson; 17. Nicholas Littlejohn; 18. Ronnie Warren; 19. Kevin Rutherford; 20. Glen Hibbard.
Southern SportMods – 1. Jake Upchurch; 2. Greg Frazer; 3. Chris Cogburn; 4. Jacob Pirkle; 5. Garett Rawls; 6. Sid Kiphen; 7. Johnny Torres; 8. Jeffrey Abbey; 9. Steve Hayes; 10. James Skin­ner; 11. Jeff Sheppard; 12. T.J. Green; 13. Justin Long; 14. Mark Patterson; 15. Albert McCall; 16. James Holder; 17. Jason Honey; 18. Timothy Cummings; 19. Brad Shirley; 20. J.C. Howell.
Stock Cars – 1. Chad Estes; 2. Dillon Smith; 3. Billy Wade; 4. Brandon Taylor; 5. Charles Co­sper; 6. Damon Hammond; 7. Dennis Bissonette; 8. Jason Batt; 9. Sam Sovey; 10. Robin Batt; 11. C.J. Gray; 12. Anthony Otken; 13. Jeff Bauser; 14. Joe O'Bryan; 15. Keith White; 16. Tristan Carmen; 17. John Frydrych; 18. Tony Hamil; 19. Chris Cockrell; 20. Brandon Hood; 21. Robert Black.
Hobby Stocks – 1. Shannon Dulock; 2. Jeremy Oliver; 3. Brandon Geurin; 4. Andy Roller; 5. A.J. Dancer; 6. Jamie Herring; 7. Ray Kemp Jr.; 8. April Phillips; 9. Westin Abbey; 10. Stacey Robi­nette; 11. Mark Geurin; 12. Ronnie Gregory; 13. Halie Brown; 14. Chad Bowman; 15. Chase Breese; 16. Jonathan Beard; 17. Tommy Phillips; 18. Richard Shields; 19. Corey Samford; 20. Jamie Haynes.