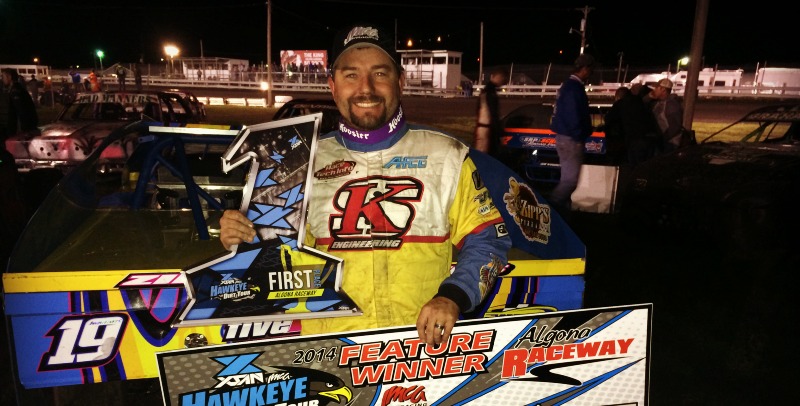 ALGONA, Iowa (July 1) – His IMCA Xtreme Motor Sports Modified foes have to be happy the XSAN Hawkeye Dirt Tour doesn't bring Jimmy Gustin to Algona Raceway more often.
Gustin ended a late Tuesday night show by regaining the lead on the final circuit for his second straight series win on the Kossuth County Fairgrounds dirt oval. The victory came during Algona's Sa­lute to Veterans Spectacular and paid $2,000.
"I've only been to Algona twice and I won twice," said the understandably happy Gustin, newly qualified for the Fast Shafts All-Star Invitational ballot. "It was a really exciting race. It all worked out great for us."
Forty-three IMCA Modifieds were on hand for the second stop of the 2014 tour. Mike Van Gen­deren was just a car length off the pace in second with Eric Dailey, Kelly Shryock and Adam Lar­son rounding out the top five.
Larson had led late before getting shuffled back. Dailey and Shryock both qualified from the first of three "B" features, with Shryock advancing 13 positions.
Mechanical issues during the parade lap sidelined the fifth starting Todd Shute allowing Gustin to move up a row for the initial start.
Tuesday night's checkers were also the Hawkeye Dirt Tour career second for Gustin.
Kyle Brown went home with the Farm Boy Barbeque Sauce pole starter award and Larson's fifth-place run netted him a set of three shock guard covers from Ricochet Race Components.
Video highlights are posted on the IMCA Facebook page, compliments of XSAN.
Feature results – 1. Jimmy Gustin, Marshalltown; 2. Mike Van Genderen, Newton; 3. Eric Dailey, Arm­strong; 4. Kelly Shryock, Fertile; 5. Adam Larson, Ankeny; 6. Jeremy Mills, Garner; 7. Tim Ward, Gilbert, Ariz.; 8. Tad Reutzel, Burt; 9. Jacob Murray, Hartford; 10. Kyle Brown, Kellogg; 11. Dustin Smith, Lake City; 12. Luke Wanninger, Minburn; 13. Jeff Joldersma, McClelland; 14. Richie Gustin, Gilman; 15. Levi Nielsen, Mason City; 16. Jeff Waterman, Quincy, Ill.; 17. Jesse Sobbing, Glenwood; 18. Austin Wolf, Wesley; 19. Cayden Carter, Oskaloosa; 20. Tyler Heetland, Bancroft; 21. J.J. Wise, Garner; 22. Jeff Larson, Lakefield; 23. Mike Jergens, Plover; 24. Todd Shute, Des Moines.
1st heat – 1. Carter; 2. Murray; 3. Dailey; 4. Joldersma; 5. Josh Ruby, Lakota; 6. Clayton Christen­sen, Spencer; 7. Ryan Watnem, Humboldt; 8. Jesse Hoeft, Forest City; 9. David Brown, Kellogg.
2nd heat – 1. Jimmy Gustin; 2. Heetland; 3. Jeff Larson; 4. Shryock; 5. Richie Gustin; 6. Ronn Lau­ritzen, Jesup; 7. Dakota Hayden, Rose Hill; 8. Rob Hughes, Humboldt; 9. Dustin Brown, Thornton.
3rd heat – 1. Wolf; 2. Kyle Brown; 3. Sobbing; 4. Jeremy Mills; 5. Nick Roberts, Des Moines; 6. Gerald Curry, LuVerne; 7. Mike Carlson, Algona; 8. Kurt Moeding, Mason City; 9. Stacey Mills, Webb.
4th heat – 1. Adam Larson; 2. Van Genderen; 3. Wise; 4. Smith; 5. Tad Reutzel, Burt; 6. Jergens; 7. Jay Noteboom, Hinton; 8. Dustin Larson, Worthington, Minn.
5th heat – 1. Ward; 2. Shute; 3. Waterman; 4. Wanninger; 5. Joel Bushore, Boone; 6. Mark Elliott, Web­ster City; 7. Jerry Wren, Howard Lake; 8. Nielsen.
1st "B" feature – 1. Dailey; 2. Wanninger; 3. Shryock; 4. Wise; 5. Christensen; 6. Hayden; 7. Da­vid Brown; 8. Jergens; 9. Roberts; 10. Moeding; 11. Wren.
2nd "B" feature – 1. Jeremy Mills; 2. Waterman; 3. Jeff Larson; 4. Reutzel; 5. Elliott; 6. Lauritzen; 7. Ruby; 8. Hoeft; 9. Dustin Larson; 10. Carlson; 11. Dustin Brown.
3rd "B" feature – 1. Sobbing; 2. Smith; 3. Joldersma; 4. Richie Gustin; 5. Nielsen; 6. Noteboom; 7. Curry; 8. Watnem; 9. Bushore; 10. Hughes; 11. Stacey Mills.