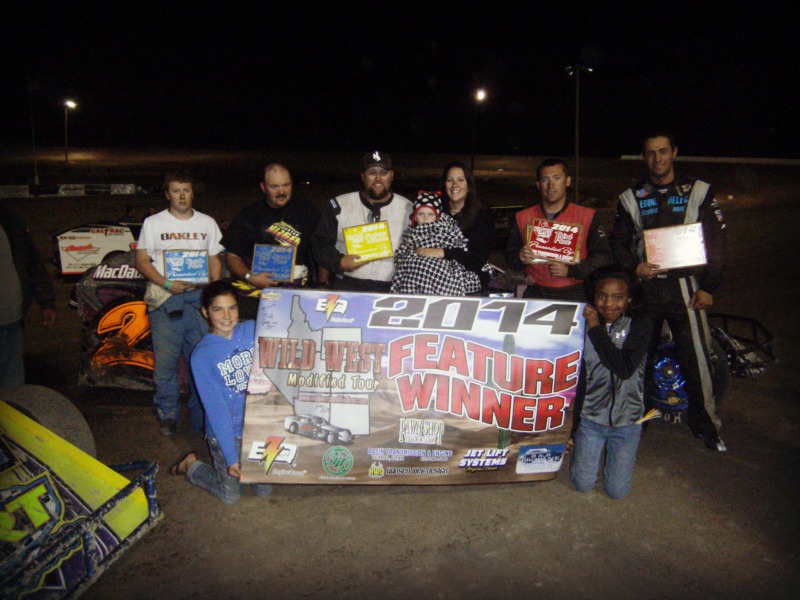 VERNAL, Utah (June 27-28) – Two veterans of the EQ Cylinder Heads Wild West Tour made long-awaited stops in victory lane when the series for IMCA Xtreme Motor Sports Modifieds visited Diamond Mountain Speedway.
Casey Delp won his first tour feature on Friday at Vernal. Chase Hansen accomplished the same feat on Saturday, also earning $1,000 and joining Delp as a new candidate on the Fast Shafts All-Star Invitational ballot.
Point leader Justen Yeager came into the series weekend with a three-race winning streak and ran second both nights.
Michael Hale, Jake Donnelly and Eddie Belec completed Friday's top five. Belec, Jeff Hunter and Bert Beech ended third, fourth and fifth, respectively, on Saturday.
Delp counted three runner-up showings in 36 career Wild West Tour starts coming into the weekend. He started sixth in Friday's 30-lapper, took the lead from Hale on the 14th circuit and held off three-time series champion Yeager for the checkers.
Yeager peeked inside as the front pair ran in lapped traffic the final four circuits.
"I went checkers or wreckers going into turn three on the last lap," Delp said. "I knew Justen was right there and I wasn't going to give it to him that easily."
"This win has been a long time coming. We've always been right there so it was due time. I'm pretty happy," added Delp, who has yet to finish outside the top seven in six WWMT starts this year. "This 2011 Victory still has a little speed in it. It's the most consistent car I've ever had."
Hansen is the iron man of the Wild West Tour. He's entered all 93 series events, qualified for 81 of the features and had half a dozen second-place finishes before racing to career win number one.
After swapping the lead early on with Belec, he moved to a higher line and led all the way to the night two checkers.
"It was a huge relief to finally win. It's been a long time to finally get it," Hansen admitted, "and it gives us a lot more confidence that we can win again."
The next EQ Cylinder Heads Wild West Tour doubleheader is Friday and Saturday, July 25 and 26 at Great Basin Raceway in Ely, Nev.
Feature Results
June 27 – 1. Casey Delp; 2. Justen Yeager; 3. Michael Hale; 4. Jake Donnelly; 5. Eddie Belec; 6. Chase Hansen; 7. Brian Ungaro; 8. Rick Fierro; 9. Bert Beech; 10. Jeff Hunter; 11. Zane DeVilbiss; 12. Kelly Smith; 13. Bryan Wordelman; 14. Reed Payne; 15. Ron Moser; 16. Chris Clark; 17. Heath Denney; 18. Mike Yost; 19. Mickey Stubbings; 20. Kevin Wright.
Heat winners were Delp, Hunter, Beech and Yeager.
June 28 – 1. Hansen; 2. Yeager; 3. Belec; 4. Hunter; 5. Beech; 6. Delp; 7. Hale; 8. Ungaro; 9. Donnelly; 10. Wordelman; 11. Wright; 12. Clark; 13. Payne; 14. Moser; 15. Smith; 16. Yost; 17. Denny; 18. Stubbings; 19. Dylan Hatch; 20. Fierro.
Heat winners were Yeager, Hunter, Hansen and Belec.