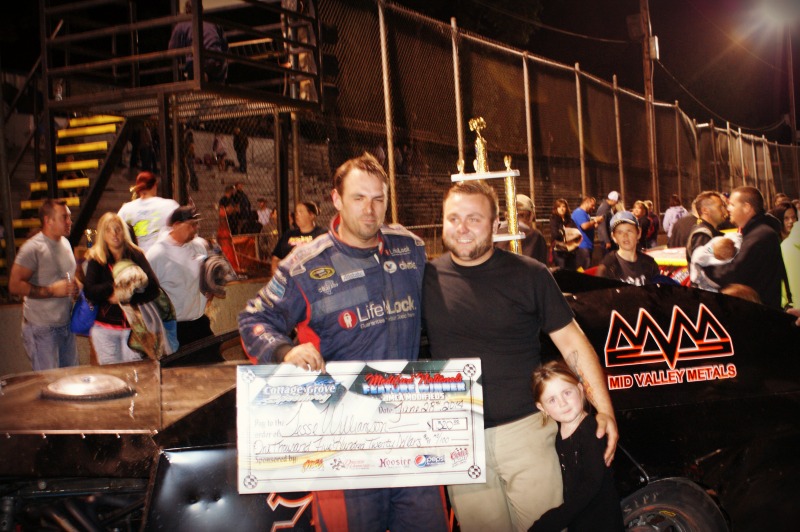 By Ben Deatherage
COTTAGE GROVE, Ore. (June 28) – Jesse Williamson added a career fourth Cottage Grove IMCA Xtreme Motor Sports Modified Nationals trophy to his collection Saturday night.
The victory paid $1,520 and came at the end of a 50-lap main event. Jeremy Shank, Nick Trench­ard, Kyle Casson and Braedon Hand rounded out the top five in the Pacific Northwest racing jewel.
Williamson was in the lead from the start and set a rapid pace but had to negotiate lapped traffic around the lap 17 mark. A lap 21 caution bunched up the field and a mandatory caution stopped the race at halfway.
The feature went green the rest of the way with Williamson in front with mounting pressure from contenders behind him as the laps continued to click away.
In the final 10 circuits Shank threw his name in the mix. Shank, who started 11th, operated on the bottom the track and closed the gap.
Shank contested for the win in the last laps but Williamson made clutch moves in traffic to keep his machine out in front. Williamson held on the rest of the way to add the 2014 Modified Nation­als trophy to hardware from 2008, 2010 and 2013.
Already on the ballot for the upcoming Fast Shafts All-Star Invitational, Williamson is now tied with Jon DeBennedetti for the most career Modified Nationals titles.
Friday's program at Cottage Grove was lost to inclement weather; 37 IMCA Modifieds contended on Saturday.
Feature results – 1. Jesse Williamson; 2. Jeremy Shank; 3. Nick Trenchard; 4. Kyle Casson; 5. Braedon Hand; 6. Mark Wauge; 7. Monte Bischoff; 8. Ricky Ashley; 9. Dane Smith; 10. Mark Car­rell; 11. Kreg Britton; 12. Craig Hanson; 13. Troy McElroy; 14. Craig Cassell; 15. Matthew Drager; 16. Curtis Towns; 17. Jesse Bailey; 18. David Schmidt; 19. Kelly Williamson; 20. Jeff Lovell
Race Of Champions – 1. Wauge; 2. McElroy; 3. Cassell; 4. Hand; 5. Bischoff; 6. Towns; 7. Shank; 8. Ashley; 9. Hanson; 10. Shane Mills; 11. Aaron Sheelar; 12. B.J. Wild; 13. Jason Kocks; 14. Mark Carrell; 15. Williamson; 16. Casson.