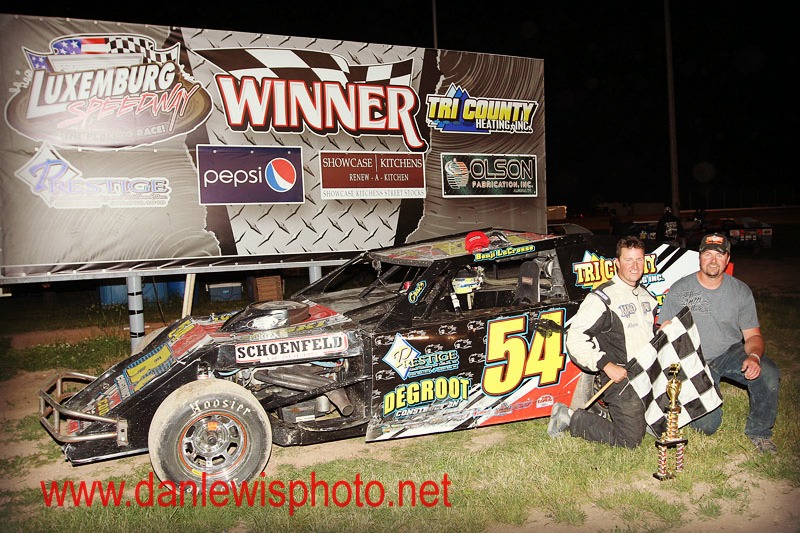 By Greg Aregoni
LUXEMBURG, Wis, (June 27) – Benji LaCrosse has won some big races and championships in his racing career. He added to those already illustrious accomplishments when he grabbed the $2,500 IMCA Xtreme Motor Sports Modified feature win Friday at Luxemburg Speedway.
LaCrosse started 20th in the field, drove through traffic and survived a late race scare for the win. Scott Drake, Jason Czarapata, Lance Arneson and Shawn Kilgore completed the top five.
Kilgore started up front in the main event and shot ahead of the 26-car field. By lap 10, Kilgore had a lead of about four car lengths on Jeff Taylor.
Taylor ran the extreme outside to track down Kilgore and take the lead on lap 12. LaCrosse, mean­while, was charging through the field and by lap 23 found himself in third.
A caution on lap 30 put Kilgore and LaCrosse on Taylor's back bumper. Both Kilgore and La­Crosse timed the restart perfectly and went three-wide with Taylor for a near full lap.
Taylor had bite on the top and reestablished the lead. The next four laps saw LaCrosse try every­thing possible to make the pass without touching the leader. LaCrosse threw his car in the corner and allowed Taylor enough room to keep his line.
Disaster struck with five laps left when Taylor's throttle stuck with and he slammed into the wall. LaCrosse had nowhere to go and made heavy contact with the leader.
LaCrosse was able to resume the race but Taylor was not as fortunate. LaCrosse restarted at the front and then checked out like he was at a grocery store. He extended his lead by a near straighta­way in the waning laps to take the win.
Drake made a late-race charge to finish second. Czarapata worked around Arneson for third and Kilgore fell to fifth at the end.
LaCrosse was already on the 2014 Fast Shafts All-Star Invitational ballot. The victory was his IMCA Modified career 91st.
Brandon Czarapata was the IMCA Sunoco Stock Car winner and Tracy Wassenberg ruled the Karl Chevrolet Northern SportMods.
Luxemburg Speedway is racing Thursday night, July 3, beginning at 7 p.m. There will be no rac­ing on Independence Day.
Feature results – 1. Benji LaCrosse; 2. Scott Drake; 3. Jason Czarapata; 4. Lance Arneson; 5. Shawn Kilgore; 6. Jared Siefert; 7. Todd Dart; 8. Darin Duffy; 9. Justin O'Brien; 10. Johnny Whit­man; 11. Tyler Wilson; 12. James Tebon; 13. Mike Jergens; 14. Kyle Strickler; 15. Brad Theys; 16. Brad Lautenbach; 17. Spencer Wilson; 18. Jeff Taylor; 19. Tony Wedelstadt; 20. Russ Rein­wald; 21. Eric Arneson; 22. Troy Jerovetz; 23. Cory Wray; 24. Jay Noteboom; 25. Tyler Hackett; 26. Hunter Marriott.
Heat winners were Dart, Siefert, Hackett, Kilgore, Drake and Arneson. "B" feature winners were Strickler and LaCrosse.