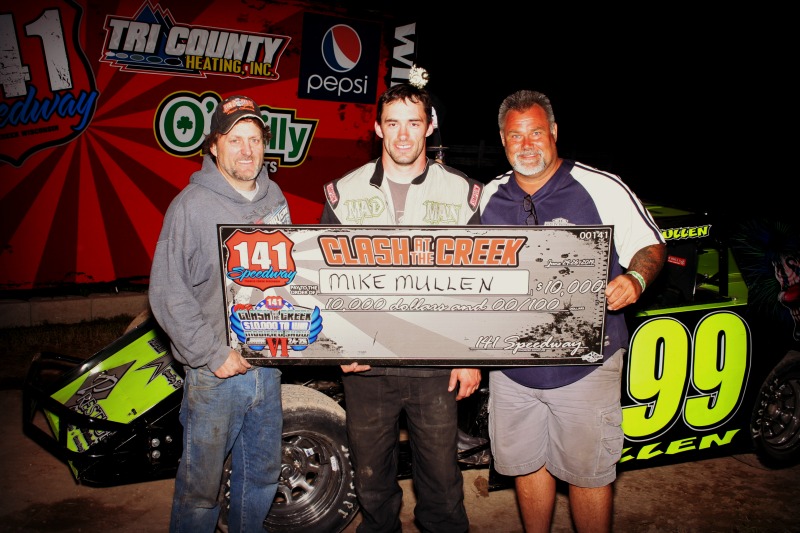 By Greg Aregoni
FRANCIS CREEK, Wis. (June 26) – Some guys never earn $10,000 in their career, let alone win that amount in one night.
That is exactly what Mike Mullen accomplished with his IMCA Xtreme Motor Sports Modified victory Thursday at 141 Speedway, leading all 50 laps of the Clash at the Creek.
Twenty-four of the best Modified drivers in the country were pared from 69 entries, from 10 states, for the sixth annual special and Mullen started on the pole by virtue of two heat wins on Wednes­day night.
Mullen opened up strong with a half straightaway lead by lap 10 over Darin Duffy. Jeff Taylor worked his way around Duffy by lap 20, right before the only caution of the race came out.
When the race restarted, Mullen again forged ahead with Taylor in tow. Josh Long had started 13th on the field and started knocking off cars as he ran a smooth race down low. Long made the trip to third by lap 30 but never got the caution he needed.
Mullen entered lapped traffic with 12 laps remaining and took his time, methodically working through two- and three-wide lapped cars before scoring the biggest win of his career along with a spot on the 2014 Fast Shafts All-Star Invitational ballot by leading wire to wire.
Taylor finished in the second spot with rookie driver Long in third. Duffy settled for fourth with James Tebon fifth.
Ten drivers qualified out of the Wednesday night heat races; last-chance qualifying Thursday added the final 14 cars to the main event field.
Luke Lemmens and Scott Boyea were $500 feature winners in the IMCA Sunoco Stock Car and Karl Chevrolet Northern SportMod divisions, respectively.
Lemmens drew the pole for the Stock Car 25-lapper. Seventh starting John Heinz quickly moved toward the front and got to Lemmens' back bumper when the only two cautions took place on lap 11.
With five laps remaining, Lemmens continuing to lead while led Heinz was pressure by Bret Koeh­ler and the 12th starting Rod Snellenberger. Heinz settled for the bridesmaid spot for the se­cond night in a row. Koehler beat Snellenberger to the line for third. Rob Waechter rounded out the top five.
Boyea was tested at length in the Northern Sportmod feature but proved up to the task. Boyea redrew the one pill and Boyea was quickly challenged by Andy Kleczka who tried several maneu­vers to get around the leader.
Brian Bruechert joined the duo for make it a three-car battle. A couple cautions mid-race kept the pack close. Bruechert timed two restarts perfectly but never found enough momentum like he did in winning the Wednesday feature.
With five laps left, Kleczka jumped a tire in a last-ditch effort to go for the win. Boyea stayed true and picked up the "W." Kleczka beat Bruechert for second. Cody Schroeder wound up fourth. Mike Dauphinais made a last corner pass for fifth.
Feature Results
Modifieds (top five) – 1. Mike Mullen, Suamico; 2. Jeff Taylor, Cave City, Ark.; 3. Josh Long, Little Suamico; 4. Darin Duffy, Urbana, Iowa; 5. James Tebon, Algoma; 6. Sean Jerovetz, Sobieski; 7. Johnny Whitman, DePere; 8. Shawn Kilgore, New Franken; 9. Troy Jerovetz, Green Bay; 10. Benji LaCrosse, Green Bay; 11. Dylan Smith, Osceola, Neb.; 12. Jared Siefert, Luxem­burg; 13. Scott Hogan, Vinton, Iowa; 14. Jeremy Christians, Horicon; 15. Eric Mahlik, Green Bay; 16. Troy Cordes, Dunkerton, Iowa; 17. Justin O'Brien, West Union, Iowa; 18. Kyle Strickler, Moores­ville, N.C.; 19. Kenny Wallace, Concord, N.C.; 20. Mike Wedelstadt, Fremont; 21. Jesse Sobbing, Glenwood, Iowa; 22. Todd Shute, Des Moines, Iowa; 23. Jon Snyder, Ames, Iowa; 24. R.M. Van Pay, Denmark.
Stock Cars (top five) – 1. Luke Lemmens, Kewaunee; 2. John Heinz, Green Bay; 3. Bret Koeh­ler, Two Rivers; 4. Rod Snellenberger, Pulaski; 5. Rob Waechter, Luxemburg.
Northern SportMods (top five) – 1. Scott Boyea, Abrams; 2. Andy Kleczka, Suamico; 3. Brian Bruechert, Kewaunee; 4. Cody Schroeder, Manitowoc; 5. Mike Dauphinais, Green Bay.