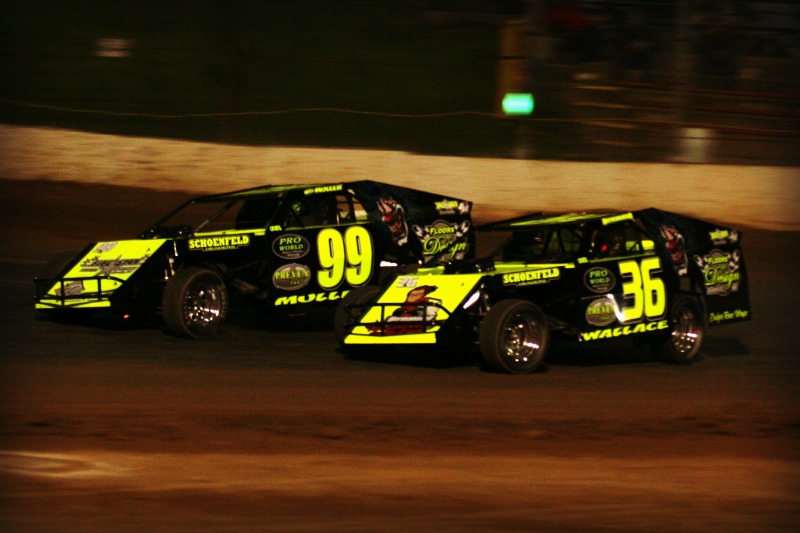 By Greg Aregoni
FRANCIS CREEK, Wis. (June 25) – Ten IMCA Xtreme Motor Sports Modified drivers have punched their tickets into Thursday's $10,000 to win main event at 141 Speedway's Clash at the Creek.
Mike Mullen of Suamico, Darin Duffy of Urbana, Iowa, Jeff Taylor of Cave City, Ark., Kyle Strickler of Mooresville, N.C., Scott Hogan of Vinton, Iowa, Eric Mahlik of Green Bay, James Tebon of Al­goma, Troy Cordes of Dunkerton, Iowa, Johnny Whitman of DePere and Sean Jerovetz of Sobieski are locked into the show by virtue of their top 10 in the standings.
Last chance races will be held Thursday to add the final 14 drivers to the main event field.
Modifieds ran two Wednesday heats with the same starters in each; the second heat was run with a completely inverted start. Drivers again received points based on their finish and passing points. The 10 drivers with the high­est point totals were locked into the main event grid.
Sixty-nine Modified drivers from 10 states competed on opening night at Francis Creek. The Clash at the Creek is sanctioned by IMCA for the first time this year. The 50-lap main event pays a minimum of $750 to start.
Justin Temeyer and Brian Bruechert both became $500 richer for their race wins Wednesday night at 141.
Independence, Iowa's Temeyer fended off the Wisconsinites who were hot on his trail to pick up the win in the IMCA Sunoco Stock Car feature.
Bruechert, from Kewaunee, showed why he is the man to beat in the Karl Chevrolet Northern SportMods at 141 after picking up the win in that division.
It took two starts to get the Stock Car main underway. Larry Karcz ran in front his one and only lap up until Temeyer used a slide job to pick up the lead.
A couple cautions halted the race early, allowing Rod Snellenberger and John Heinz to get to Temeyer's back bumper. Snellenberger had the first crack at the leader but couldn't find the right lane. Heinz waited his turn and pounced when Snellenberger opened the door for second.
Heinz grabbed the spot and tracked down Temeyer as he entered lapped traffic with six laps to go. Temeyer had to slow when he got behind the slower cars, allowing Heinz to lead a lap with five to go.
Temeyer then worked back to the top and grabbed the lead for good with four laps left. Heinz ran the leader hard but came up short. Temeyer won $500 in his first event at the speed­way. Snellenberger finished third. Bret Koehler moved from his 14th starting spot to finish fourth. Jay Schmidt ran to a top five finish.
Hunter Parsons led the opening lap of the Northern SportMod feature before Greg Wichman drove like a man on a mission to the front. Wichman set the pace over the only two yellow flags of the event.
The final 20 laps went caution-free with passing up and down the field. Bruechert started seventh and moved forward early. He tried his racer down low but the car didn't have the forward bite he needed. Bruechert went back to the top and knocked off a car a lap to get to the front.
Bruechert caught Wichman with 10 laps to go and picked up the lead the next circuit. Bruechert set sail but not before he had one last battle. Andy Kleczka worked his way around Wichman and into the runner-up position with five laps remaining.
Kleczka was able to make a charge at Bruechert late but ran short. Bruechert picked up $500 for his efforts in front of Kleczka. Wichman finished third and J.J. Anderson won the late-race battle over Parsons for fourth.
Stock Cars and Northern SportMods will be running complete shows and gunning for $500 to win again on Thursday.
Modified Heat Results (top two)
No. 1 – 1. Hunter Marriot, Brookfield, Mo.; 2. Mike Wedelstadt, Fremont.
No. 2 – 1. Troy Jerovetz, Green Bay; 2. Marcus Yarie, Wausau.
No. 3 – 1. Scott Hogan, Vinton, Iowa; 2. Matt Rechek, Beaver Dam.
No. 4 – 1. Troy Cordes, Dunkerton, Iowa; 2. Jeff Taylor, Cave City, Ark.
No. 5 – 1. Darin Duffy, Urbana, Iowa; 2. Kyle Strickler, Mooresville, N.C.
No. 6 – 1. Mike Mullen, Suamico; 2. Todd Dart, Algoma.
No. 7 – 1. Jay Noteboom, Hinton, Iowa; 2. Scott Drake, Joplin, Mo.
No. 8 – 1. Sean Jerovetz, Sobieski; 2. William Gould, Calera, OK
No. 9 – 1. Tim Czarneski, Denmark; 2. Russ Reinwald, Juneau.
No. 10 – 1. Dylan Smith, Osceola, Neb.; 2. Eric Mahlik, Green Bay.
Heats 11-20 were the same groups of drivers. Starting order was inverted.
No. 11 – 1. Benji LaCrosse, Green Bay; 2. Jared Siefert, Luxemburg.
No. 12 – 1. Brian Mullen. Seymour; 2. Shawn Kilgore, New Franken.
No. 13 – 1. Tony Wedelstadt, Fremont; 2. Hogan.
No. 14 – 1. Taylor; 2. Josh Long, Little Suamico.
No. 15 – 1. Strickler; 2. Duffy.
No. 16 – 1. Mike Mullen; 2. Kenny Wallace, St. Louis, Mo.
No. 17 – 1. James Tebon, Algoma; 2. Eric Arneson, Oconto Falls.
No. 18 – 1. Johnny Whitman, DePere; 2. Eddie Muenster, Green Bay.
No. 19 – 1. Jesse Sobbing, Glenwood, Iowa; 2. Jason Czarapata, Pulaski.
No. 20 – 1. Mahlik; 2. Justin O'Brien, West Union, Iowa.

Stock Car Feature (top five)
1. Justin Temeyer, Independence, Iowa; 2. John Heinz, Green Bay; 3. Rod Snellenberger, Pu­laski; 4. Bret Koehler, Two Rivers; 5. Jay Schmidt, Tama, Iowa.
Northern Sportmod Feature (top five)
1. Brian Bruechert, Kewaunee; 2. Andy Kleczka, Suamico; 3. Greg Wichman, Bonduel; 4. J.J. Anderson; 5. Hunter Parsons, Green bay.
30