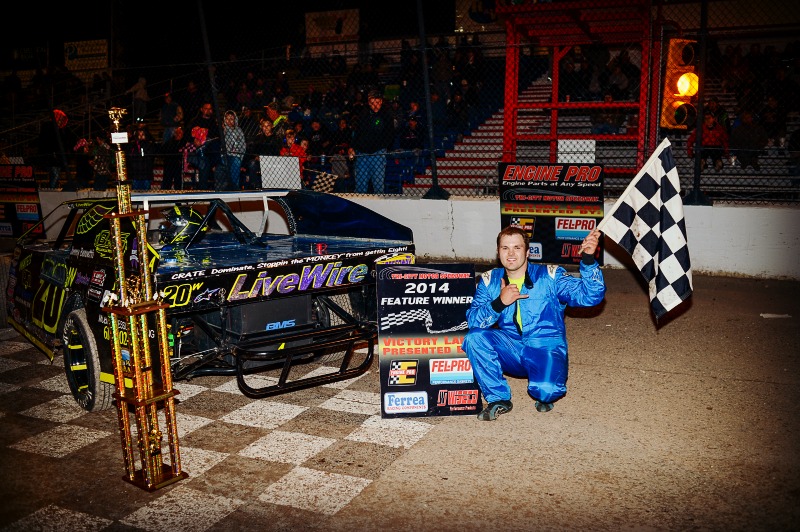 AUBURN, Mich. (June 13) – After finding his way through lapped traffic, A.J. Ward found himself in victory lane Friday night at Tri-City Motor Speedway.
Ward repeated as winner of Tri-City's Greased Pig special for IMCA Xtreme Motor Sports Modi­fieds. The 4.0 version of the event put $1,014 in his pocket.
Fourth starting Craig Vance dominated the first 20 laps of the event while Ward moved his way through traffic toward the front.
Ward completed his pass for the lead on the 21st circuit; Vance attempted to make an inside pass in turn three but his car caught a rut and sent him into one of the track tires. Vance barrel-rolled twice before coming to a stop on his wheels. He walked away unhurt but the car did not fare so well.
The incident bunched up the field for the final 10 laps. Ward seemed to be well on his way to an­other win but on the final lap, the caution came out again and put the pack together one more time.
Rookie Brenten DeYoung took the lead out of the second turn. Ward dived into turn three and back into the lead on the final turn.
DeYoung settled for second. Joey Fowler, Todd Matheson and Ken Zeigler completed the top five.
Ward was already on the Fast Shafts All-Star Invitational ballot, as the Allstar Performance Michi­gan state champion.
The Greased Pig 4.0 was held in recognition of the four years since Tri-City re-opened.
Feature results – 1. A.J. Ward; 2. Brenten DeYoung; 3. Joe Fowler; 4. Todd Matheson; 5. Rusty Zeigler; 6. Chaz Pray; 7. Toby Steele; 8. Ken Zeigler; 9. Scott Dann; 10. Vern Buskirk; 11. Thomas Sova; 12. Tanner Pray; 13. John Taylor; 14. Armond Holley Jr.; 15. Craig Vance; 16. Rich Young; 17. Derick Neitling; 18. Jimmy Hale Jr.; 19. Lucas Small; 20. Myron DeYoung.