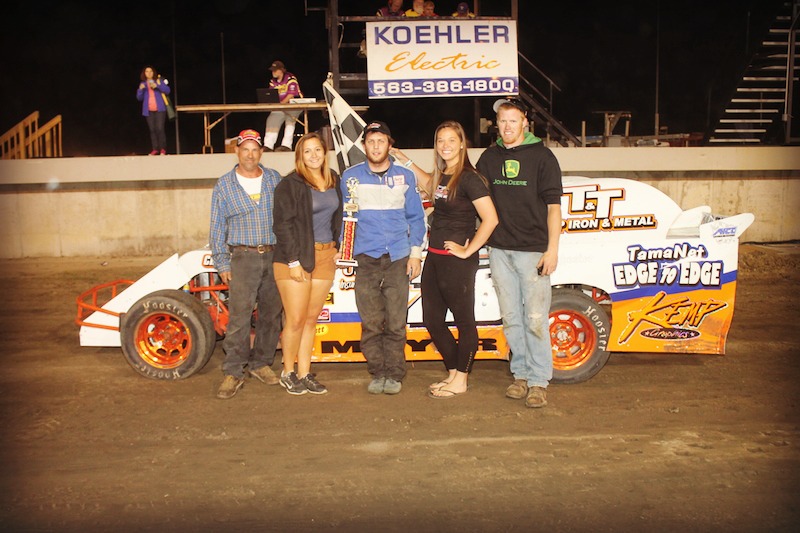 By Mike McGuire
DAVENPORT, Iowa (June 13) – Austin Moyer took home the $2,000 top prize in Friday's Karl Chevrolet Northern SportMod Challenge at Davenport Speedway.
Moyer led 41 of the 50 laps en route to the highest-paying victory of his career.
He started fifth and took the lead from Greg Wichman on lap ten. Once in front, Moyer's only serious challenge came from Dan Mohr, who three-wheeled his racecar around the high side the entire race.
"It was a long race and I was glad when it was over," admitted Moyer. "I couldn't have been any happier."
Mohr had to settle for second, six car lengths off the pace, with Carter VanDenBerg a distant third. Tony Olson started deep in the field and drove to a fourth place finish while Jenae Gustin completed the top five.
"I stayed in the middle following a restart around lap 15. We had another restart at midway and I could hear Mohr coming so I moved up higher on the track," Moyer said. "We were in lapped traffic with about 15 to go and picked our way through as well as we could."
Feature results – 1. Austin Moyer; 2. Dan Mohr; 3. Carter VanDenBerg; 4. Tony Olson; 5. Jenae Gustin; 6. Bryce Garnhart; 7. Jake Waterman; 8. Brett Lowry; 9. Greg Wichman; 10. Jacob Ellithorpe; 11. Dustin Crear; 12. Doug Burkhead; 13. Jayme Duinink; 14. Jared Miller; 15. David Norton; 16. Jake Morris; 17. Henry Carson; 18. Matt Short; 19. John Irwin; 20. Jacob Arp; 21. Gary Rentfro.
Heat winners were VanDenBerg, Moyer and Mohr.