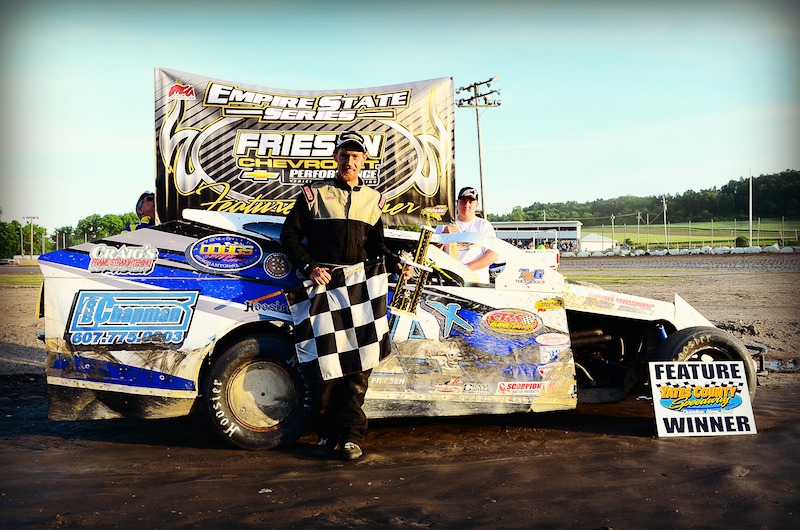 DUNDEE, N.Y. (June 15) – Matt Cole might have himself a new favorite track.
Cole made his first visit to Yates County Speedway on Sunday and came away with his career-first Friesen Chevrolet Empire State Series victory.
"It's a fun little track," said the third-year IMCA Xtreme Motor Sports Modified driver. "My luck at new tracks has been pretty good so far this season. Hopefully that's something we can continue."
Keith Lamphere led much of the way before giving up the lead to Cole in the late going and finish­ing second.
Rich Karlnoski, Bumps Scutt and Mike Griffin completed the top five.
Gary Smith and Lamphere led the pack to green with Smith grabbing the early lead. Lamphere took over briefly before relinquishing the lead to Chris Fleming.
Fleming and Lamphere went side-by-side for several laps. Their battle ended following a lap 14 restart, however, when the rear locked up on Fleming's car and sidelined him for the balance.
Cole then entered the picture, hounding Lamphere until finally making his move to the front on the 22nd of 25 laps.
"I ran the bottom early and watched Lamphere up top," said Cole. "I moved up there with seven or eight laps to go and the car just came to life."
Feature results – 1. Matt Cole; 2. Keith Lamphere; 3. Rich Karlnoski; 4. Bumps Scutt; 5. Mark Griffin; 6. Bruce Tinsley; 7. Gary Smith; 8. Jared Spalding; 9. Tyler Stoddard; 10. Mike Stoddard; 11. Ken Buck; 12. James Cornell; 13. Will Ward; 14. Billy Ward; 15. Mike Butler; 16. Brian Stei­gerwald; 17. Todd Stone; 18. Scott Sebring; 19. Gary Roberts; 20. Chris Fleming; 21. Brad Smith; 22. Bruce Kinner.