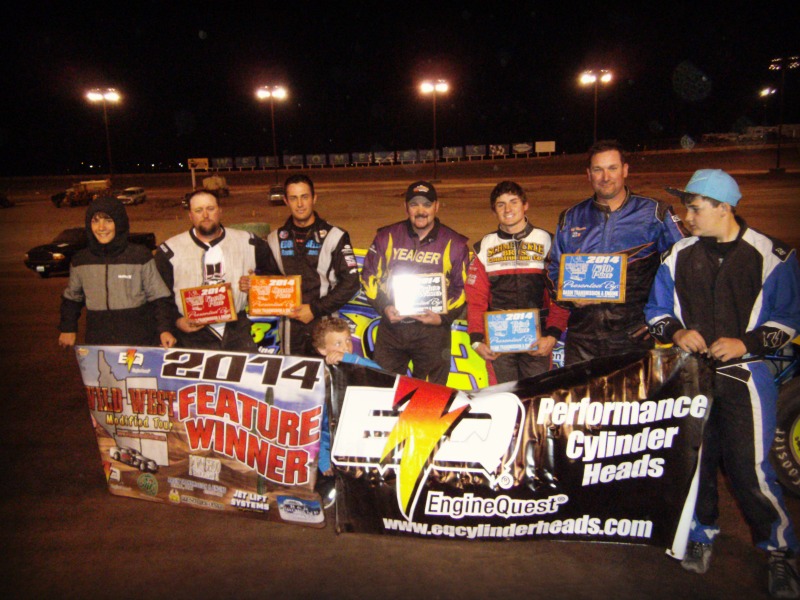 ROCK SPRINGS, Wyo. (May 30-31) – He's always been consistent, but it's been a while since Justen Yeager put together an EQ Cylinder Heads Wild West Tour winning streak.
He's hoping the current trend continues.
Yeager swept IMCA Xtreme Motor Sports Modified series events at Sweetwater Speedway, earning $1,000 for each of his Friday, May 30 and Saturday, May 31 victories.
"It's always good to win at home," said the three-time tour champion, who took the opening night checkers ahead of Eddie Belec and Jeremy Frenier, then topped the Saturday show ahead of Belec and Jeff Hunter. "It was nice to have those Colorado guys come up here. They're all really good drivers and it's fun to race with them."
After starting 12th on Friday, Yeager used higher and lower lines to catch up with Jeremy Frenier. He moved to the middle groove to pass for the lead on the ninth of 30 circuits.
"You could race every inch of that track," said Yeager, pressured by Belec and Frenier while the three ran with lapped traffic late in the contest.
Better luck with the draw put him inside row two for the initial start on Saturday. Yeager caught Bert Beech for the lead on the second lap.
He found himself eyeball to eyeball with Hunter following a restart with six to go, then pulled ahead to win by three car lengths.
"The track was awesome again," he said. "You could race all over that thing."
Yeager also won three straight series races in 2008 and 2009. He last won both weekend events at the same track in 2011 during a successful visit to Fairgrounds Speedway.
Casey Delp and Hunter completed Friday's top five. David Karst was fourth and Delp ran fifth on Saturday.
Already on the Fast Shafts All-Star Invitational ballot, Yeager was the hard charger on Friday. Those honors went Saturday to Tim Dower, who finished 10th after starting 23rd.
Next on the EQ Cylinder Heads Wild West Tour schedule is the June 27-28 doubleheader at Diamond Mountain Speedway in Vernal, Utah.
Feature Results
May 30 – 1. Justen Yeager; 2. Eddie Belec; 3. Jeremy Frenier; 4. Casey Delp; 5. Jeff Hunter; 6. Kevin Wright; 7. Jake Donnelly; 8. Bert Beech; 9. Michael Hale; 10. Chase Hansen; 11. Jesse Taylor; 12. Brian Ungaro; 13. David Karst; 14. Greg Gustus; 15. Kelly Smith; 16. Mickey Stubbings; 17. Butch Vernon; 18. Heath Denney; 19. Charles Kersey; 20. Bryan Wordelman; 21. Mike Yost; 22. Ronnie Roy; 23. Dan Waldemar; 24. Jim Shoemaker.
Heat winners were Delp, Frenier, Karst and Yeager. Hunter won the "B" feature.
May 31 – 1. Yeager; 2. Belec; 3. Hunter; 4. Karst; 5. Delp; 6. Hale; 7. Donnelly; 8. Frenier; 9. Hansen; 10. Tim Dower; 11. Gustus; 12. Ungaro; 13. Taylor; 14. George Ashby; 15. Don Robertson; 16. Beech; 17. Kersey; 18. Rick Fierro; 19. Kelly Smith; 20. Ghery Smith; 21. Stubbings; 22. Dan Waldemar; 23. Wright; 24. Don Baisch.
Heat winners were Baisch, Belec, Yeager and Taylor. "B" feature winners were Donnelly and Fierro.