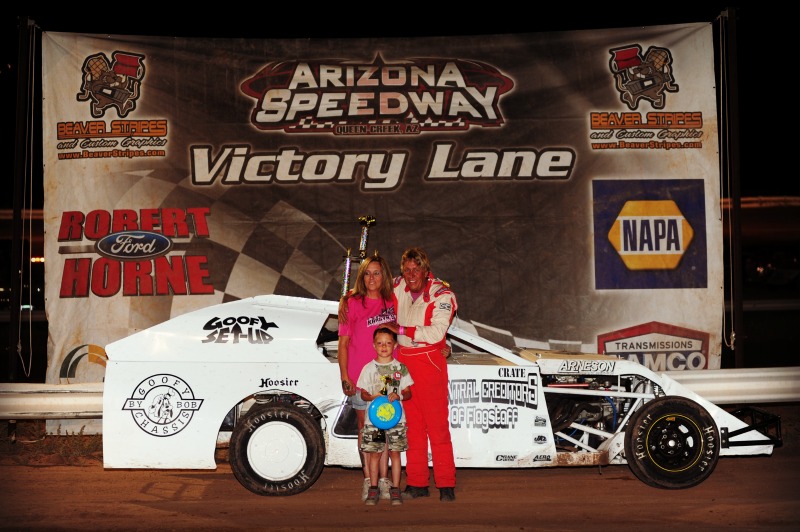 APACHE JUNCTION, Ariz. (May 24-25) – Eric Center outran his nephew while Brian Schultz raced from worst to first.
Both earned $1,000 for Memorial Weekend IMCA Xtreme Motor Sports Modified feature wins at Arizona Speedway's John Morris Classic and earned berths on the Fast Shafts All-Star Invitational ballot.
Center collected the first win of his 31st racing season on opening night at Apache Junction. He'd started fifth in the Saturday show, was up to third before a lap five yellow and spent most of the 20-lapper running alone in the bottom groove with Guy Norton higher up on the oval.
His nephew Cody Center made a late charge from 13th starting to second. Norton, Cody Graham and Anthony Madrid rounded out the top five.
"This was a good race for the fans," said Center, 51. "I competed with John and if his son didn't win it I was honored that I could."
The ying of Schultz's "ying and yang" weekend came early in Saturday's feature when he lost his driveshaft while running in the top four.
"Luckily everything went back together. We came back the next night and got it done," Schultz said after winning the Sunday show. "This is the first time we've made the All-Star ballot. That's cool."
After drawing the outside pole start, Schultz took the lead coming out of turn four on the first lap. He led to the checkers, winning most of a straightaway in front of Madrid while Zane DeVilbiss was a distant third.
John Morris Jr. was fourth and Norman Uptain ran fifth.
The victory was the fourth of the season for Schultz, all of them coming at Arizona Speedway.
A record 36 cars competed on opening night.
Feature Results
May 24 – 1. Eric Center; 2. Cody Center; 3. Guy Norton; 4. Cody Graham; 5. Anthony Madrid; 6. Jeremy Thornton; 7. John Morris Jr.; 8. Chaz Baca Jr.; 9. Norman Uptain; 10. Tyler Mecl; 11. James Webster; 12. Cody Miller; 13. Nate Warren; 14. Kenny Hawkins; 15. Steve Stultz; 16. Duane Rogers; 17. Nick Gann; 18. Shelby Frye; 19. Heath McEuen; 20. Mike Martin; 21. Keith Krenklis; 22. George Fronsman; 23. Dan Radcliffe Jr.; 24. Brian Schultz.
May 25 – 1. Schultz; 2. Madrid; 3. Zane DeVilbiss; 4. Morris; 5. Upton; 6. Graham; 7. Thornton; 8. Rogers; 9. Don Earven; 10. Mecl; 11. Baca; 12. Miller; 13. Brad Whitfield; 14. Denny Arcas; 15. Hawkins; 16. Martin; 17. Wes Meek; 18. Frye; 19. Webster; 20. Eric Center; 21. Warren; 22. Cody Center; 23. Ryan Roath; 24. Gann.