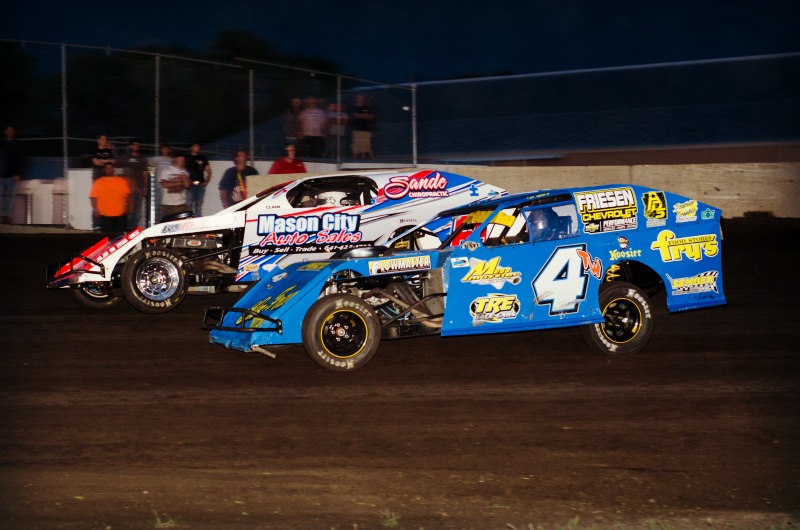 MASON CITY, Iowa (May 26) – A driver from Arizona who won a state championship in Nebraska found success in Iowa Monday night.
Tim Ward led most of the XSAN Hawkeye Dirt Tour main event at I-35 Speedway. He'd gotten the front spot back from J.J. Wise before rain forced the IMCA Xtreme Motor Sports Modified feature to be called after 16 of the scheduled 25 laps.
"The car was really good. We were really fast," said Ward, racing out of Laurens and teammate of 2010 series champion Mike Jergens this season. "I got a good starting spot but I think I could have started further back and still had a chance to get to the front."
Two cautions interrupted the series-opening night contest. Ward slipped under Wise following the second restart to regain the lead.
The victory paid $1,000. Ward was already on the Fast Shafts All-Star Invitational ballot, having won the Allstar Performance Nebraska State crown last season.
Wise, Jesse Sobbing, Ryan Ruter and Jergens rounded out the top five. Ruter and Jergens both qualified from "B" features.
Ward returned to the Midwest in March. His Memorial Day win at Mason City was his first of the season; he'd finished sixth and second in a pair of weekly starts, then broke while running fifth late in Sunday's Skip Rose Memorial at I-35.
Forty IMCA Modifieds saw action Monday.
Feature results – 1. Tim Ward, Gilbert, Ariz.; 2. J.J. Wise, Garner; 3. Jesse Sobbing, Glenwood; 4. Ryan Ruter, Kanawha; 5. Mike Jergens, Plover; 6. Mike Van Genderen, Newton; 7. Levi Nielsen, Mason City; 8. Tyler Heetland, Bancroft; 9. Jacob Murray, Hartford; 10. Cayden Carter, Oskaloosa; 11. Ronn Lauritzen, Jesup; 12. Troy Cordes, Dunkerton; 13. Clayton Christensen, Spencer; 14. Cory Wray, Jamesport, Mo.; 15. Zach Less, Hopkinton; 16. Jeff Joldersma, McClelland; 17. Jeff Waterman, Quincy, Ill.; 18. Alex Hanson, Northwood; 19. Mark Elliott, Webster City; 20. Kyle Brown, Kellogg; 21. Jeremy Mills, Garner; 22. Hunter Marriott, Brookfield, Mo.; 23. Richie Gustin Jr., Gilman; 24. Rob Rose, West Des Moines.
1st heat – 1. Wise; 2. Sobbing; 3. Kyle Brown; 4. Carter; 5. Ruter; 6. Jeff Ignaszewski, Wells, Minn.; 7. Waterman; 8. Logan Brown, Clear Lake.
2nd heat – 1. Rose; 2. Joldersma; 3. Christensen; 4. Jergens; 5. Less; 6. Wray; 7. Coty Albers, Wellsburg; 8. Ed Thomas, Waterloo.
3rd heat – 1. Gustin; 2. Mills; 3. Elliott; 4. Van Genderen; 5. Lauritzen; 6. Josh Rogotzke, Sanborn, Minn.; 7. Dustin Brown, Thornton; 8. Murray.
4th heat – 1. Hanson; 2. Heetland; 3. Nielsen; 4. Marriott; 5. Casey Greubel, Lacona; 6. Kurt Moeding, Mason City; 7. Joel Rust, Grundy Center; 8. Scott Olson, Blairsburg.
5th heat – 1. Cordes; 2. Ward; 3. Ryan Watnem, Humboldt; 4. David Brown, Kellogg; 5. Jamie Anderson, Mason City; 6. Kyle Krampe, Baxter; 7. Nick Roberts, Des Moines; 8. Josh Ruby, Lakota.
1st "B" feature – 1. Nielsen; 2. Jergens; 3. Lauritzen; 4. Kyle Brown; 5. Roberts; 6. Murray; 7. Ignaszewski; 8. Moeding; 9. Albers; 10. David Brown.
2nd "B" feature – 1. Ruter; 2. Christensen; 3. Van Genderen; 4. Wray; 5. Watnem; 6. Greubel; 7. Krampe; 8. Logan Brown; 9. Dustin Brown; 10. Olson.
3rd "B" feature – 1. Elliott; 2. Carter; 3. Less; 4. Marriott; 5. Waterman; 6. Ruby; 7. Rust; 8. Anderson; 9. Rogotzke; 10. Thomas.