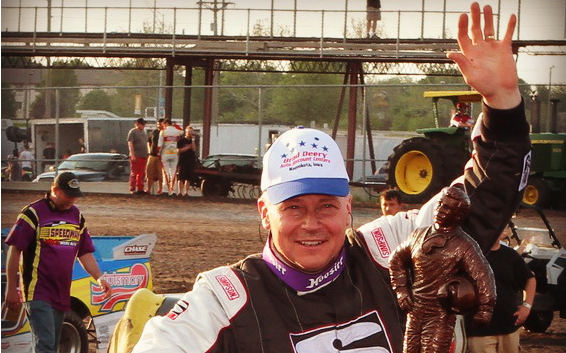 BOONE, Iowa (May 26) – After enjoying a long run at the front early on, Ray Guss Jr. needed to pass Jason Rauen twice in the last two laps to win the Memorial Day Deery Brothers Summer Series feature at Boone Speedway.
Guss started on the pole and led the first 30 of 40 laps in the IMCA Late Model tour main event Monday evening.
Rauen caught up in traffic however and made his move to the front when Guss was slowed by a lapped car on the lower line on the 31st circuit.
The yellow light came on as the Rauen and Guss were coming to the white flag. They'd swap the lead after the restart before a slight bobble by Rauen opened the door again for Guss on the final lap.
Once in front, Guss went to the higher line and sped to the $3,000 checkers. Four of his 30 career se­ries wins have now come at Boone.
The fifth different winner in as many Deery events this season, Guss was chased across the stripe by Rauen, Joel Callahan, Andy Eckrich and Terry Neal. Point leader Justin Kay was sixth.
Matt Ryan won the $250 Sunoco Race Fuels feature qualifier drawing. Also winning Memorial Day features at Boone were David Smith in the IMCA Sunoco Stock Cars, Ben Kates in the Karl Chevrolet Northern SportMods and Randy Embrey in the IMCA Sunoco Hobby Stocks.
Both the Deery Series and the XSAN Hawkeye Dirt Tour for IMCA Xtreme Motor Sports Modifieds are at Hamilton County Speedway in Webster City for a Tuesday, June 3 doubleheader.
Feature results – 1. Ray Guss Jr., Milan, Ill.; 2. Jason Rauen, Farley; 3. Joel Callahan, Dubuque; 4. Andy Eckrich, Oxford; 5. Terry Neal, Ely; 6. Justin Kay, Wheatland; 7. Jeff Aikey, Cedar Falls; 8. Ryan Dolan, Lisbon; 9. Spencer Diercks, Davenport; 10. Ryan Giles, Grimes; 11. Brian Harris, Davenport; 12. Darrel DeFrance, Marshalltown; 13. Randy Foote, Stanton; 14. Curt Schroeder, Ames; 15. John Emerson, Waterloo; 16. Scott Fitzpatrick, Long Grove; 17. Paul Conrad, Colo; 18. Bobby Penney, Excelsior Springs, Mo.; 19. Chad Simpson, Mount Vernon; 20. Jeremy Grady, Story City; 21. Charlie McKenna, Clear Lake; 22. Jason Hahne, Webster City; 23. Dean Wagner, Evansdale; 24. Matt Ryan, Davenport; 25. Tyler Bruening, Decorah.
1st heat – 1. Guss; 2. Rauen; 3. McKenna; 4. Aikey; 5. Eckrich; 6. Fitzpatrick; 7. Grady; 8. Giles; 9. Penney.
2nd heat – 1. Harris; 2. Diercks; 3. Simpson; 4. Bruening; 5. Emerson; 6. Dolan; 7. Foote; 8. Con­rad.
3rd heat – 1. Neal; 2. DeFrance; 3. Ryan; 4. Kay; 5. Hahne; 6. Callahan; 7. Wagner; 8. Schroeder.