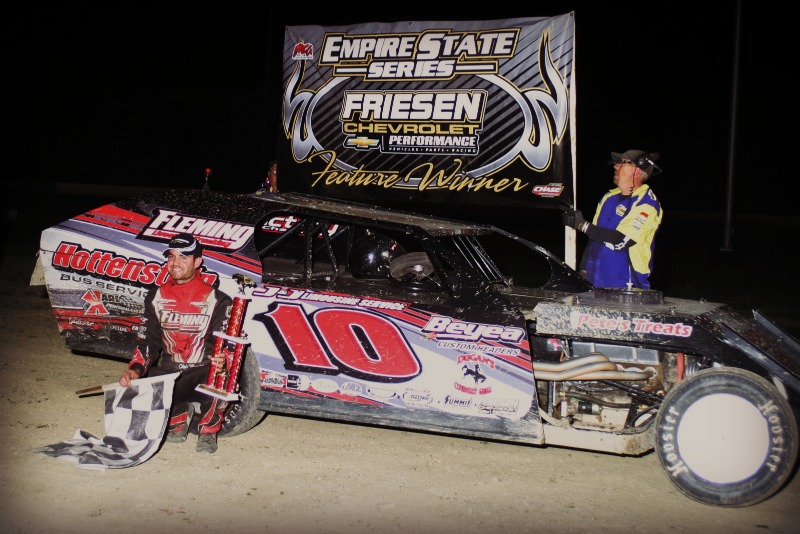 CORTLAND, N.Y. (May 25) – Sunday's Friesen Chevrolet Empire State Series feature saw Chris Fleming complete a holiday weekend sweep of at Skyline Raceway.
Already the winner of Saturday's IMCA Xtreme Motor Sports Modified feature at Cortland, Fleming held off Gary Roberts and hard-charging Bumps Scutt for the tour victory, his career third.
Gary Smith and James Cornell completed the top five.
The early stages of the feature saw Fleming work his way forward from deep in the field. A series of cautions kept the field bunched up and by the time the 10th lap went up on the board, Fleming had made his way to the lead.
Most of the race was run off a few laps at a time as a series of minor spins and mishaps led to numerous cautions. The final yellow came with four laps remaining and set up a four-lap dash to the finish between Fleming and Roberts.
Fleming controlled the restart and held off Roberts over the final laps to score the win. Scutt drove from his 18th starting position to finish third and earn the Predator Race Cars hard charger award.
The third stop for the 2014 Friesen Chevrolet Empire State Series is Sunday, June 15 at Yates County Speedway in Dundee, N.Y.
Feature results – 1. Chris Fleming; 2. Gary Roberts 3. Bumps Scutt; 4. Gary Smith; 5. James Cornell; 6. Keith Lamphere; 7. Jarred Spalding; 8. Will Ward; 9. Matt Jones; 10. Mike Butler; 11. Matt Cole
; 12. Johnny Bell; 13. Billy Ward; 14. Dan Searls; 15. Rob Compton; 16. Rodney Morgan; 17. Tyler Stoddard; 18. Mike Stoddard; 19. Brad Smith; 20. Craig Ward; 21. Brian Steigerwald
; 22. Carman Vona Jr.; 23. Doug McKane.