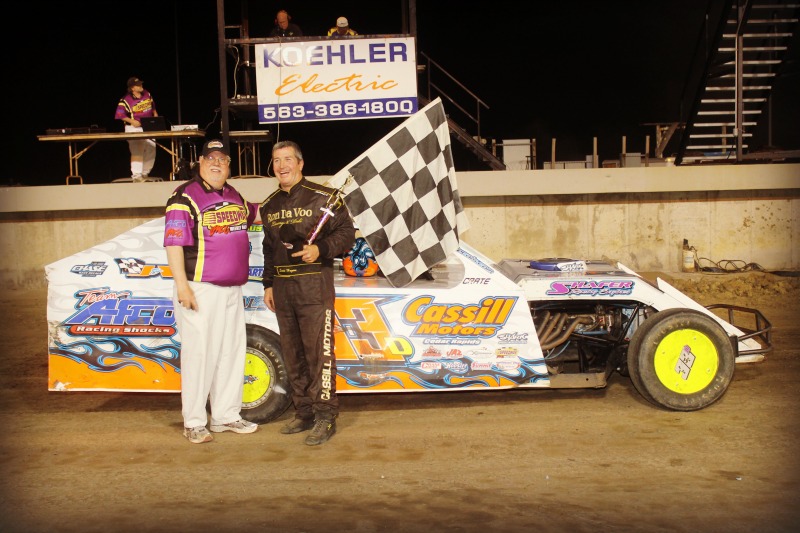 By Mike McGuire
DAVENPORT, Iowa (May 23) – A very long green flag run ended with Scott Hogan in victory lane Friday night at Davenport Speedway.
Hogan caught race-long leader Darin Duffy with three circuits left in the 50-lapper and held on to the checkers in the $2,000 to win IMCA Xtreme Motor Sports Modified Madness feature.
The green light stayed on for the last 34 laps and the main event had the look of its first repeat winner in Duffy. He started on the pole and led the first 47 laps before the third-starting Hogan charged by coming to the flagstand.
"Fifty laps is a long time and there were just two yellows. It got really dicey there for a while," admitted Hogan, already on the Fast Shafts All-Star Invitational ballot. "(Doug) Crampton was right there, too, but we got through the lapped traffic OK and then got spread out again."
Duffy was higher up on the oval when Hogan used the middle line to complete the pass for the lead. He'd go on to take the win by a couple car lengths just before catching up with more lapped cars.
Duffy, "B" winner Crampton, Richie Gustin and Chris Zogg completed the top five.
Forty-three IMCA Modifieds were in the pits Friday at Davenport.
Feature results – 1. Scott Hogan; 2. Darin Duffy; 3. Doug Crampton; 4. Richie Gustin; 5. Chris Zogg; 6. Mitch Morris; 7. Dean McGee; 8. Tim Current; 9. Kurt Kile; 10. Ray Cox Jr.; 11. Eric Barnes; 12. Jake Bowman; 13. Kelly Meyer; 14. Dan Klatt; 15. Brian Mullen; 16. Bob Dominacki; 17. Josh Starr; 18. Jason Masengarb; 19. Tony VonDresky; 20. Doug Nigh.
Heat winners were Kile, Gustin, Zogg, Bowman and Cox. "B" feature winners were Crampton and Dominacki.