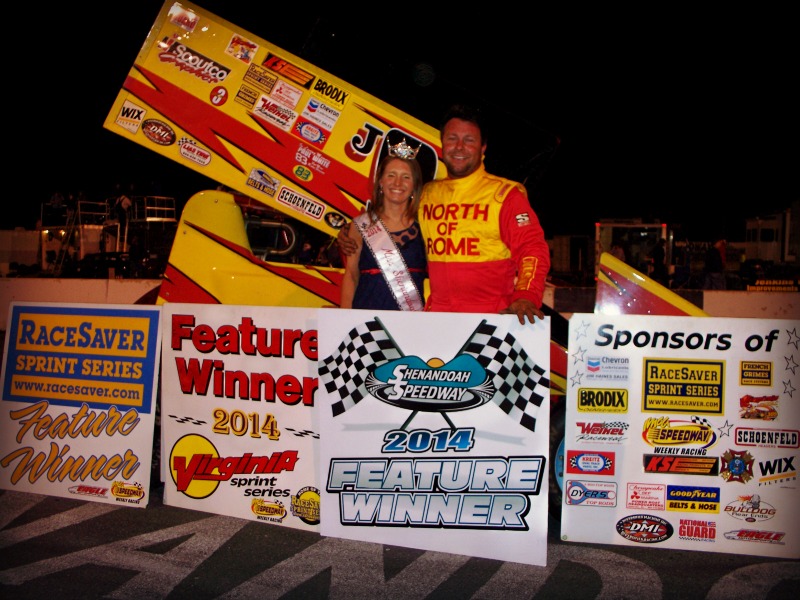 By Jim Haines
SHENANDOAH, Va. (May 24) – Jerald Harris got to the front to be the fastest when it counted, taking his second Virginia Sprint Series win of the year Saturday at Shenandoah Speedway.
The first repeat winner in the series for IMCA Eagle Motorsports RaceSaver Sprint Cars – he also topped the April 12 opener at Shenandoah – Harris passed Brian Lawson for the lead with seven laps left.
The feature line had Chris and Charlie Ware on the front row when the green waved. Chris Ware rocketed out to the lead with Anthony Linkenhoker and Lawson in tow.
Lawson made his way to the front on lap five with Harris stalking him on every lap. Tom Humphries and French Grimes were working their way up as well as the non-stop feature went by fast.
Lawson seemed to be struggling after halfway and the field was closing in. Harris was on him with seven laps to go and powered by with Humphries getting to second two laps later. Harris was smooth out front and kept Humphries at a safe distance to flash under the checkered flag.
The next Virginia Sprint Series race will be back on the dirt at Natural Bridge, Va., Speedway in on Saturday, June 7.
Feature results – 1. Jerald Harris; 2. Tom Humphries; 3. Brian Lawson; 4. French Grimes; 5. Tony Harris; 6. Anthony Linkenhoker; 7. Chris Ware; 8. Bill Rice; 9. Ron Moyers; 10. Charlie Ware.