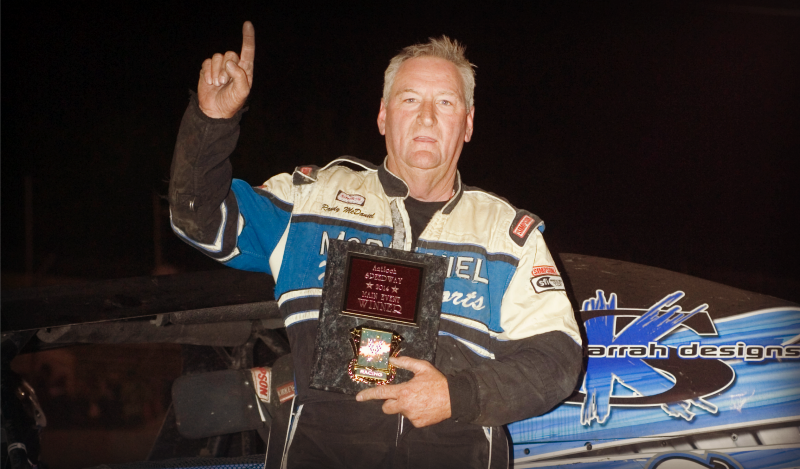 ANTIOCH, Calif. (May 10) – It wasn't a pretty win but Randy McDaniel's run to the $1,000 Saturday checkers at Antioch Speedway put him on the ballot for the upcoming Fast Shafts All-Star Invitational.
McDaniel survived a crash-filled IMCA Xtreme Motor Sports Modified main event in the latest installment of the Nor-Cal Challenge Series.
He made a pit stop to repair damage early in the race, managed to re-enter the track without losing a lap and found himself in the lead on the final restart, with Troy Foulger chasing him in a very battered car.
Third place finisher Tom Purcell was the happiest of the drivers afterwards.
A full-time engineering student at the University of Nevada, Reno, had never raced at Antioch Speedway before. It was just the third time out for his new car.
"I tried to stay out of the trouble. I came from all the way in the back to third place," he said. "I'm very happy with my third place finish, even though the car is damaged. I'll take third place any day."
Feature results – 1. Randy McDaniel; 2. Troy Foulger; 3. Tom Purcell; 4. Jake Dewsbury; 5. Brian Cass; 6. Chris Elbert; 7. Nick DeCarlo; 8. Ryan McDaniel; 9. Carl Berendsen; 10. Dave Duste Jr.; 11. Richard Papenhausen; 12. Kellen Chadwick; 13. Aaron Crowell; 14. Joe Carr; 15. Brian Azevedo; 16. Danny Dozier; 17. Chester Kniss; 18. Bill Egleston; 19. Anthony Slaney.