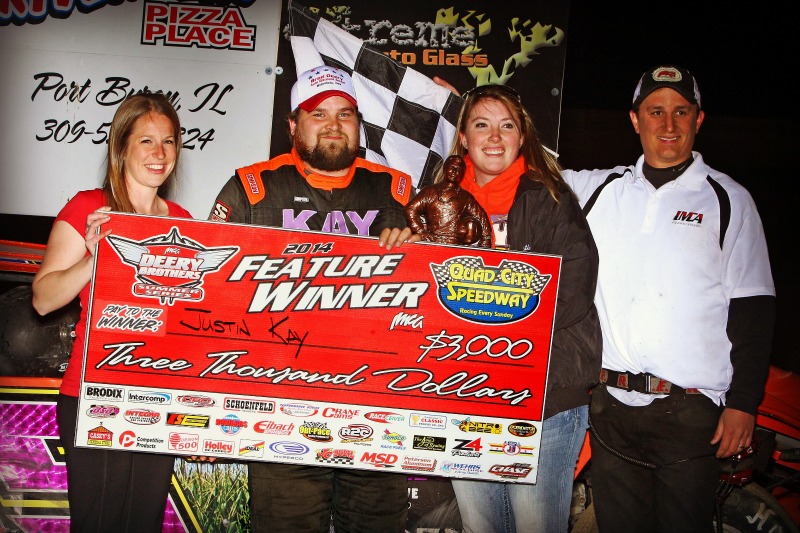 EAST MOLINE, Ill. (May 4) – Justin Kay was challenged but never caught in Sunday's Hershel Roberts Memorial Deery Brothers Summer Series feature at Quad City Speedway.
Kay started on the pole and led all 58 laps of the IMCA Late Model tour event, held in memory of the popular East Moline driver and car owner.
Sticking to the lower line all around the oval, the tour point leader took the $3,000 checkers in front of a very full grandstand and ahead of Jeff Aikey, hard charger Joel Callahan, Mike Murphy Jr. and defending series champion Brian Harris.
Jason Rauen nipped at Kay's heels before falling back. Aikey came from 12th starting and Callahan from 17th to join Murphy and Harris in their pursuit of the leader.
Restarts gave each the opportunity to challenge Kay but none could catch up after the green flag came back out.
Tyler Bruening took a provisional and also advanced 14 spots, to eighth. Aikey won the $250 Sunoco Race Fuels feature qualifier drawing.
Random tire samples were taken following the race and results remain unofficial; samples will be taken periodically throughout the season, Tour Director Kevin Yoder noted.
Sunday's feature marked the 300th occasion Aikey and Darrel DeFrance were both on the starting grid for a Deery Series feature.
DeFrance finished 15th while extending his perfect tour attendance mark to 424 consecutive events.
Next up on the Deery Brother Summer Series schedule is the Memorial Day program at Boone Speedway. IMCA Sunoco Stock Cars, Karl Chevrolet Northern SportMods, IMCA Sunoco Hobby Stocks and mod lites are also on the Monday, May 26 card.
Racing starts at 5 p.m.
Kay became the fourth different winner in as many tour events so far this season on Sunday. The victory was also his career fourth.
Fifty-eight was the number of the car Roberts drove. Greg Durbin was the IMCA Xtreme Motor Sports Modified winner at East Moline.
Feature results – 1. Justin Kay, Wheatland, Iowa; 2. Jeff Aikey, Cedar Falls, Iowa; 3. Joel Callahan, Dubuque, Iowa; 4. Mike Murphy Jr., Colona; 5. Brian Harris, Davenport, Iowa; 6. Mike Zemo Jr., Davenport, Iowa; 7. Todd Malmstrom, Silvis; 8. Tyler Bruening, Decorah, Iowa; 9. Andy Eckrich, Oxford, Iowa; 10. Matt Ryan, Davenport, Iowa; 11. Ray Guss Jr., Milan; 12. Tommy Elston, Keokuk, Iowa; 13. Mike Cothron, Moline; 14. Scott Fitzpatrick, Urbandale, Iowa; 15. Darrel DeFrance, Marshalltown, Iowa; 16. Jay Johnson, West Burlington, Iowa; 17. Mike Garland, Morrison; 18. Andy Nezworski, Buffalo, Iowa; 19. Milo Veloz, Colona; 20. Dean Wagner, Evansdale, Iowa; 21. Jason Rauen, Farley, Iowa; 22. Rob Toland, Colona; 23. Travis Denning, Sterling; 24. Ryan Dolan, Lisbon, Iowa.
1st heat (top three) – 1. Zemo; 2. Rauen; 3. Elston; 4. Veloz; 5. Joe Zrostlik, Long Grove, Iowa; 6. Ron Klein, Sherrill, Iowa; 7. Callahan; 8. Ryan Claeys, Morrison.
2nd heat – 1. Kay; 2. Dolan; 3. Harris; 4. Ryan; 5. Nate Beuseling, Silvis; 6. Wagner; 7. Kyle Neels, Freeport; 8. Garland.
3rd heat – 1. Malmstrom; 2. Murphy; 3. Guss; 4. Toland; 5. Nezworski; 6. Gary Webb, Blue Grass, Iowa; 7. Kory Peterson, Silvis; 8. Cothron.
4th heat – 1. Aikey; 2. Eckrich; 3. Denning; 4. Johnson; 5. Fitzpatrick; 6. DeFrance; 7. Bruening.
1st "B" feature (top four) – 1. Toland; 2. Veloz; 3. Callahan; 4. Nezworski; 5. Webb; 6. Cothron; 7. Peterson; 8. Zrostlik; 9. Klein; 10. Claeys.
2nd "B" feature – 1. Ryan; 2. Fitzpatrick; 3. Johnson; 4. Garland; 5. Wagner; 6. Neels; 7. Bruening; 8. DeFrance; 9. Beuseling.
Hard charger was Cothron. Point provisionals – Bruening, DeFrance and Wagner.