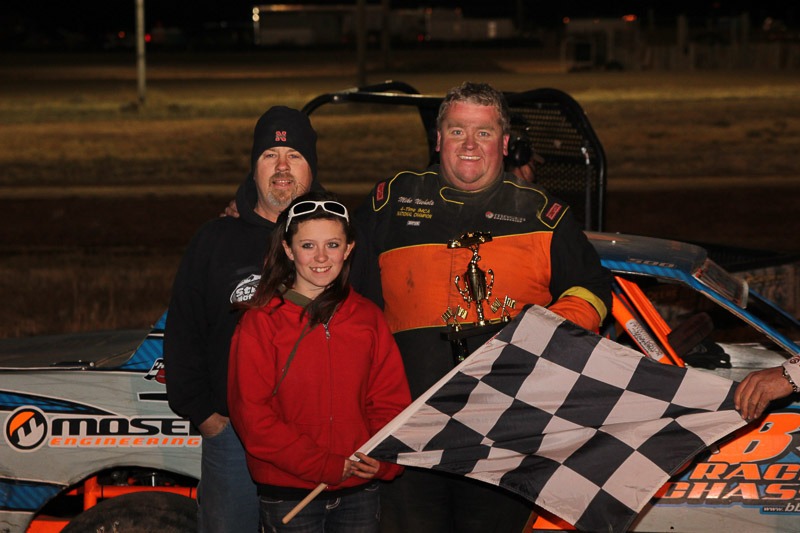 HUGOTON, Kan. (April 18) – Using a high line that got faster as the laps counted down, Mike Nichols raced from last to first in winning his fourth straight Dirt Track Central Jax Sports Grille Great Plains Series event.
Nichols had drawn the 11th starting spot for Friday's IMCA Sunoco Stock Car tour headliner at Dirtona Raceway. Just five laps into the feature he had to check up when two cars ahead of him got crossed up in the corner.
Contact from another car got Nichols sideways and when the caution came out, he was restarting at the back of the 20-car field.
Staying on the high side, Nichols took the lead from pole starter Nick Tubbs with four to go, bringing Perry Misner along with him.
Jason Rogers, Angel Munoz and Tubbs rounded out the top five in a three-wide finish. Nichols' win paid $750.
Feature results – 1. Mike Nichols; 2. Perry Misner; 3. Jason Rogers; 4. Angel Munoz; 5. Nick Tubbs; 6. Kyle Clough; 7. Ron Hartman; 8. Randy Dowell; 9. Michael Pepper; 10. Casey Woken; 11. Brandon Fisher; 12. Shane Matile; 13. Justin Temeyer; 14. Brian LaBonte; 15. Billy Phelps; 16. Ron Rich; 17. Marlin Hogie; 18. Rich Wadel; 19. Jason Taylor; 20. Cody Orth.
Heat winners were Temyer, Taylor, Nichols and Hartman.