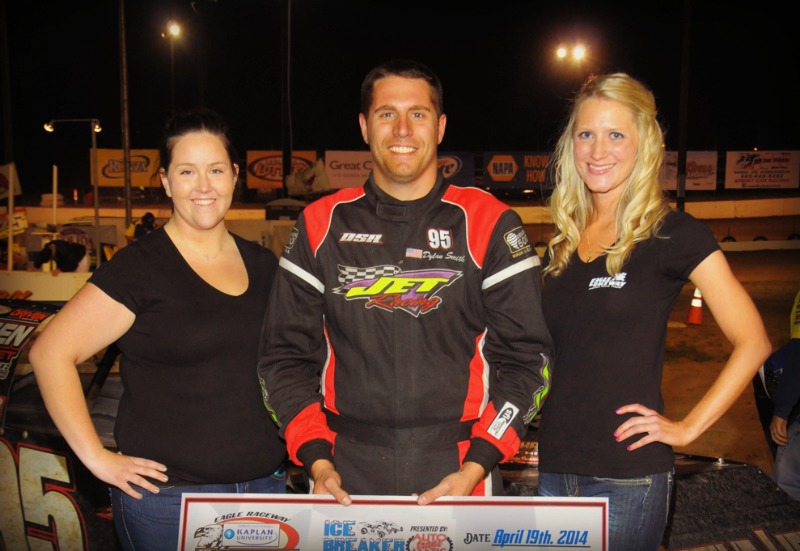 By Greg Soukup
EAGLE, Neb. (April 19) – Eagle Raceway saved the very best for last Saturday night.
In what was arguably the best race of the Ice Breaker Challenge Weekend, Dylan Smith raced from 12th starting to win the IMCA Xtreme Motor Sports Modified finale, chasing down Chris Abelson for the $2,000 checkers.
"That was pretty good after starting 12th. I made some good passes early and kept pushing," said Smith, already on the ballot for September's Fast Shafts All-Star Invitational. "I'm sure glad that the Sprints widened out the track for our feature. With all of the beating and banging I decided to move up top. I wasn't sure I could hang up there for the last three laps, but it worked."
Mike Mullen, Mike Densberger and Johnny Saathoff rounded out the top five.
Abelson had taken the lead early on with Mike Mullen, Densberger and Brian Mullen close behind. Densberger passed Mike Mullen on the restart to take second after a lap five restart.
Smith cracked the top four on lap seven, took third on the next circuit, then lost the position to Friday winner Jesse Sobbing on lap 17, putting Sobbing third and Smith fourth.
Sobbing and then Densberger headed the pursuit of Abelson. The final caution came with three to go and Smith took over second on the restart to set up the run to the finish. He came home with the win in turns three and of the final lap as Ableson went high.
Jason Martin earned $1,000 for his IMCA Eagle Motorsports RaceSaver Sprint Car victory while Benji Legg topped the Karl Chevrolet Northern SportMod main and Chad Fegley was first in the IMCA Sunoco Hobby Stock feature. Those races both paid $500 to win.
Martin got out front quickly in the Sprint Car main and while there was plenty of swapping spots behind him, nobody could get past. Joey Danley, Doug Lovegrove and Adam Guillion were scored second through fourth.
Legg made his way to the front of the Northern SportMod field on lap two while Gary Saathoff moved up to second with eight to go. Legg, Saathoff, Shawn Harker and Rick Rohr were the lead four at the checkers.
Fegley had his hands full with Thom Marsh at the start of the Hobby Stock feature before Randall Macku moved up to challenge. Macku did his best to get around Fegley, even getting his nose out front a couple of times, but at the finish the top four were Fegley, Macku, Jesse VanLaningham and Mark McKinney.
More than 150 cars took to the track Saturday at Eagle.
Feature Results
Modifieds – 1. Dylan Smith, Osceola; 2. Chris Abelson, Sioux City, Iowa; 3. Mike Mullen, Seymour, Wis.; 4. Mike Densberger, Lincoln; 5. Johnny Saathoff, Beatrice; 6. Jeff Joldersma, McClelland, Iowa; 7. Eddie Belec, Lakewood, Colo.; 8. Shane Hiatt, Rising City; 9. Chris Alcorn, Lincoln; 10. Jay Noteboom, Hinton, Iowa; 11. Chad Andersen, Omaha; 12. Clint Homan, Bellevue; 13. Jesse Sobbing, Glenwood, Iowa; 14. Ricky Stephan, South Sioux City; 15. Brian Cudly, Lincoln; 16. Josh Blumer, Marysville, Kan.; 17. Brian Mullen, Seymour, Wis.; 18. Rik Gropp, Lincoln; 19. Bob Zoubek, Dorchester; 20. Matthew Kiner, Aurora.
Heat winners were Sobbing, Abelson and Hiatt. Alcorn won the "B" feature.
Sprint Cars – 1. Jason Martin, Lincoln; 2. Joey Danley, Lincoln; 3. Doug Lovegrove, Waverly; 4. Adam Gullion, Lincoln; 5. Terry Richards, Denton; 6. Brian Herbert, Dodge City, Kan.; 7. Clint Benson, Papillion; 8. Shayle Bade, Lincoln; 9. Lee Bowes, Lincoln; 10. Tony Rost, Utica; 11. Toby Chapman, Panama; 12. Gregg Bolte, Fremont; 13. Dan Satriano, Papillion; 14. Gene Ackland, Martell; 15. Eric Reichwaldt, Plattsmouth; 16. Doug Roth, Axtell; 17. Bill Garrow, Lincoln; 18. Mark Vanderheiden, Papillion; 19. T.J. Artz, Lincoln; 20. Jake Bubak, Arvada, Colo.
Heat winners were Martin, Bade, Benson and Herbert. Chapman won the "B" feature.
Hobby Stocks ­– 1. Chad Fegley, Eagle; 2. Randall Macku, Lincoln; 3. Jesse VanLaningham, Beatrice; 4. Mark McKinney, Omaha; 5. Mike Hansen, Weeping Water; 6. Joe Wollenhaupt, Neola, Iowa; 7. Corey Madden, Avoca; 8. Jason Kohl, Missouri Valley, Iowa; 9. Jay Poessnecker, Ames; 10. Tim LaPointe, Lincoln; 11. Ben Becher, Lincoln; 12. Dan Noonan, Lincoln; 13. Nick Lindblad, Beatrice; 14. Brandon Wergin, Milford; 15. John Bruegman, Elkhorn; 16. James Hadorn, Beatrice; 17. Joe Copeland, Omaha; 18. Thom Marsh, Lincoln; 19. Troy Dowty, Fremont; 20. Jamie Songer, Ankeny, Iowa.
Heat winners were Marsh, Hadorn, Madden, Copeland and Songer. Wollenhaupt won the "B" feature and Adam Armstrong of Beatrice won the "C" feature.
Northern SportMods – 1. Benji Legg, Beatrice; 2. Gary Saathoff, Beatrice; 3. Shawn Harker, Nebraska City; 4. Rick Rohr, Pickrell; 5. Adam Vrbka, Eagle; 6. Jeff Brunssen, Le Mars, Iowa; 7. Mike Morton Jr., Waterloo; 8. Bob Ruisinger, Bennet; 9. Kevin Anderson, Lincoln; 10. Josh Pfeifer, Spencer; 11. Cameron Meyer, Ohiowa; 12. Joe Feyen, Plattsmouth; 13. Eddie Schwope Jr., St. Joseph, Mo.; 14. Nate Thompson, Fremont; 15. Jared Cote, Lincoln; 16. Sean Manning, Firth; 17. Chris Langdale, Beatrice; 18. Eddie Schwope III, St Joseph, Mo.; 19. Jason Trent, Omaha; 20. Greg Metz, Washington, Kan.
Heat winners were Harker, Legg, Metz and Brunssen. Rohr won the "B" feature and Dion Kovar of Rising City won the "C" feature.