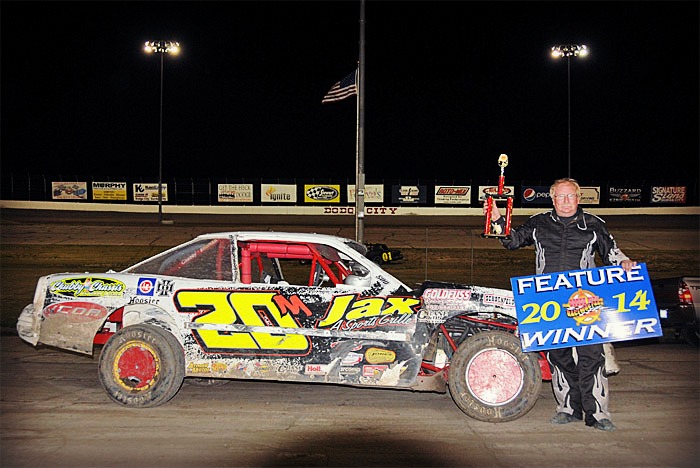 By Lonnie Wheatley
DODGE CITY, Kan. (April 19) – Perry Misner raced from deep in the field to take the $750 winner's share in Saturday's 25-lap Dirt Track Central Jax Sports Grille Great Plains Series feature event for IMCA Sunoco Stock Cars at Dodge City Raceway Park.
After struggling with a tight car in his heat race, the former track champion won the "B" feature and then raced from seven rows deep to take command midway through to the added money win.
"I really had to work for that one," the Garden City racer commented afterward.
Indeed he did, capitalizing on a tremendous lap eight restart and then fending off strong challenges from Jason Rogers over the final rounds.
While Misner took the green flag from the lucky 13th starting position, Michael Pepper jumped into the lead from the front row outside and paced the initial handful of circuits until seventh starter Rogers emerged from a three-wide scrum for the lead.
With Rogers leading Nick Tubbs and Pepper when the caution flew after lap eight, Misner restarted eighth in the Delaware-style restart and charged all the way up to second behind Rogers within one lap.
Misner went to work on Rogers before finally surging into the lead exiting turn four on the 13th lap. Rogers persisted though, keeping the pressure on throughout with Misner weathering a caution with seven laps to go and then one final interruption with two laps to go.
With Rogers knocking on his rear bumper, Misner held on to take the checkered flag by just two car lengths with Rogers in second. Pepper assumed the show position when apparent third-place finisher Tubbs failed to pass tech, with 11th-starter Mike Nichols and Kyle Clough rounding out the top five.
While Misner took the big money in the Stock Car event, Clay Sellard snagged his first IMCA Xtreme Motor Sports Modified feature win and Jeff Kaup made a late move to snare IMCA SportMod laurels.
Feature Results
Stock Cars – 1. Perry Misner; 2. Jason Rogers; 3. Michael Pepper; 4. Mike Nichols; 5. 1Kyle Clough; 6. Casey Woken; 7. Dusty Witthuhn; 8. Randy Dowell; 9. Brett Copeland; 10. Justin Temeyer; 11. Brian Labonte; 12. Marlin Hogie; 13. Shane Tillery; 14. Reagan Sellard; 15. Angel Munoz; 16. Michael Meyer; 17. Rod Wadel; 18. Brandon Fisher; 19. Ron Hartman.
Heat winners were Rogers, Clough and Munoz.Misner won the "B" feature.
Modifieds – 1. Clay Sellard; 2. Mike Petersilie; 3. Brendon Gemmill; 4. Mike Wadel; 5. Kale Beavers; 6. Austin Allen; 7. Cole Traugott; 8. Ryan Heger; 9. Nick Link; 10. Beau Davis; 11. Kevin Gray; 12. Casey Jo Gemmill; 13. Mike Lunow; 14. Jesse Richter; 15. Trent Gray; 16. Chadd Brown; 17. Jack Kirchoff; 18. Tracy Link; 19. Jesse Smith; 20. Cody Gearhart.
SportMods – 1. Jeff Kaup; 2. Toby Witthuhn; 3. Josh Appel; 4. Clay Money; 5. Randle McRoberts; 6. Nate Ginest; 7. Bart Baker; 8. Jason Lunow; 9. Jeremy Sigler; 10. Raymond Blackburn; 11. Kevin Tabor; 12. Brian Harkness; 13. Donald Strecker; 14. Austin Walker; 15. Daniel Gottschalk; 16. Tristen Barton; 17. Kameron Gruber; 18. Brandon Clough; 19. Brendon Damon