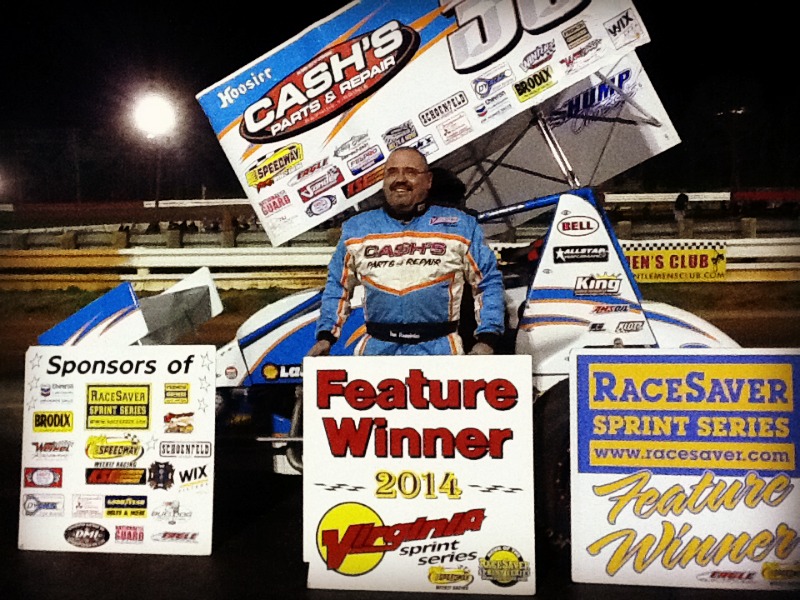 By Jim Haines
WAYNESBORO, Va. (April 18) – Defending tour champion Tom Humphries proved the fastest in the first of four Fast Friday Virginia Sprint Series events of the season at Eastside Speedway.
Humphries had to reel in Chad Worrell, taking advantage and the lead when Worrell got too high and then holding off Jerald Harris for the IMCA Eagle Motorsports RaceSaver Sprint Car feature victory.
Completing the top five were French Grimes, Worrell and Tony Harris.
Charlie Ware and Chris Ware paced the field to green but Worrell found his way to the front on lap three. He stayed smooth up top and traffic was no problem as the laps clicked off but the bottom was slowly getting better and both Humphries and Jerald Harris began reeling him in.
After a caution for a stalled car, Worrell's advantage was gone but he hung tough until he went a little too high. Humphries went into first and left Worrell to deal with Jerald Harris and Grimes, both up from the back.
Humphries still led by a couple car lengths over Jerald Harris as Grimes raced by Worrell but the laps were quickly gone and Humphries went under the checkered flag for his first win of the year.
Shenandoah Speedway will be the next stop for the tour, on Saturday, May 3.
Feature results – 1. Tom Humphries; 2. Jerald Harris; 3. French Grimes; 4. Chad Worrell; 5. Tony Harris; 6. Anthony Linkenhoker; 7. Brian Lawson; 8. Chris Ware; 9. Charlie Ware; 10. Carl Simmons; 11. Mike Leraas; 12. Mattie Feldman; 13. Elliah Omwake; 14. Glenn Worrell; 15. Ron Moyers; 16. Ryan Price; 17. Micheal Keeton.