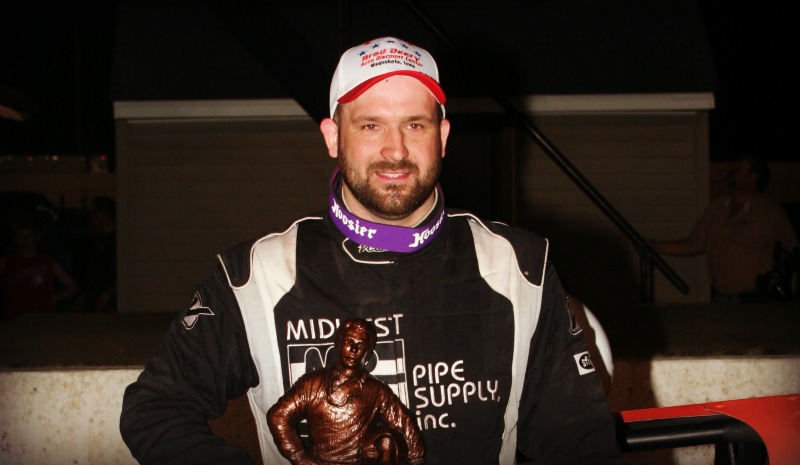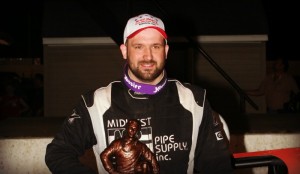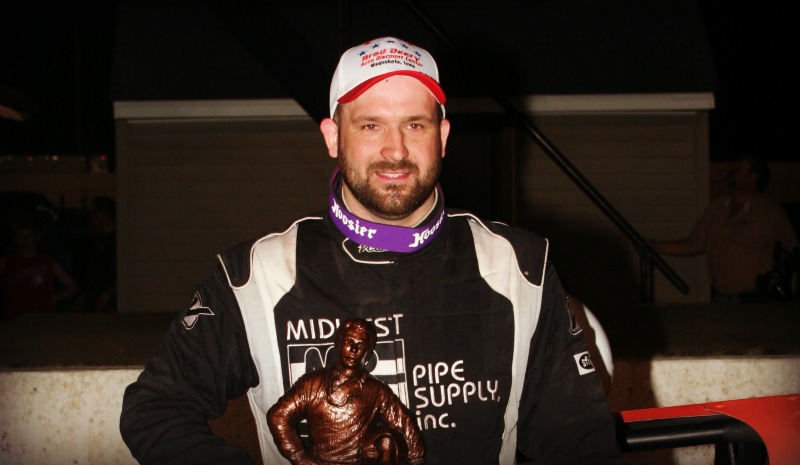 WEST LIBERTY, Iowa (April 12) – With a thunderstorm in the forecast, Colby Springsteen proved lightning-fast on the track Saturday night at West Liberty Raceway.
Springsteen caught Nick Marolf in traffic on the 10th circuit, then ran away with the win in the Deery Brothers Summer Series main event, leading the last 30 laps and taking the checkers nearly half a straightaway in front of Jeff Aikey.
The IMCA Late Model tour feature was slowed by caution just once, on lap 12. Aikey and early leader Marolf swapped second following the restart; Aikey got the spot for good with 10 laps left but couldn't muster a challenge to Springsteen, who earned $3,000 for the victory.
Marolf, "B" qualifier Justin Kay and Jason Rauen completed the top five. Opening night winner Andy Eckrich ran 11th.
Springsteen drew the pole but it was Marolf who set the fast pace from outside row one. Springsteen was quick to take advantage when Marolf got slowed by a lapped car and shot to a lead he'd never relinquish.
Kay was the hard charger, passing 12 cars to finish fourth. He also won the $250 Sunoco Race Fuels feature qualifier drawing.
The win was Springsteen's Deery career second. His first came at the IMCA Speedway Motors Super Nationals fueled by Casey's in 2011.
Up next for the Deery Series are dates Friday, April 18 at Farley Speedway and Saturday, April 19 at Jackson County Speedway in Maquoketa.
Feature results – 1. Colby Springsteen, Wapello; 2. Jeff Aikey, Cedar Falls; 3. Nick Marolf, Moscow; 4. Justin Kay, Wheatland; 5. Jason Rauen, Farley; 6. Denny Eckrich, Tiffin; 7. Ryan Dolan, Lisbon; 8. Ray Guss Jr., Milan, Ill.; 9. Tyler Bruening, Decorah; 10. Tommy Elston, Keokuk; 11. Andy Eckrich, Oxford; 12. Kevin Kile, West Liberty; 13. Scott Fitzpatrick, Urbandale; 14. Rob Moss, Iowa City; 15. Joel Callahan, Dubuque; 16. Kyle Hinrichs, Swisher; 17. Jay Johnson, West Burlington; 18. Darrel DeFrance, Marshalltown; 19. Jay Chenoweth, Wapello; 20. Nate Beuseling, Silvis, Ill.; 21. Matt Ryan, Davenport; 22. Spencer Diercks, Davenport; 23. Jon Merfeld, Dubuque; 24. Brian Harris, Davenport.
1st heat (top three) – 1. Hinrichs; 2. Ryan; 3. Moss; 4. Harris; 5. Bruening; 6. Callahan; 7. Curt Schroeder, Ames; 8. Jonathan Brauns, Muscatine.
2nd heat – 1. Diercks; 2. Aikey; 3. Marolf; 4. DeFrance; 5. Kile; 6. Johnson; 7. Chenoweth; 8. Jeremy Grady, Story City.
3rd heat – 1. Denny Eckrich; 2. Andy Eckrich; 3. Rauen; 4. Merfeld; 5. Fitzpatrick; 6. Beuseling; 7. Ron Klein, Sherrill; 8. Jerry King, Waterloo.
4th heat – 1. Dolan; 2. Springsteen; 3. Guss; 4. Elston; 5. Kay; 6. John Emerson, Waterloo; 7. Curt Marks, Dubuque.
1st "B" feature (top six) – 1. Harris; 2. Callahan; 3. Bruening; 4. Merfeld; 5. Beuseling; 6. Fitzpatrick; 7. Klein; 8. King; 9. Schroeder; 10. Brauns.
2nd "B" feature – 1. Elston; 2. Kay; 3. Kile; 4. DeFrance; 5. Johnson; 6. Chenoweth; 7. Grady; 8. Emerson; 9. Marks.