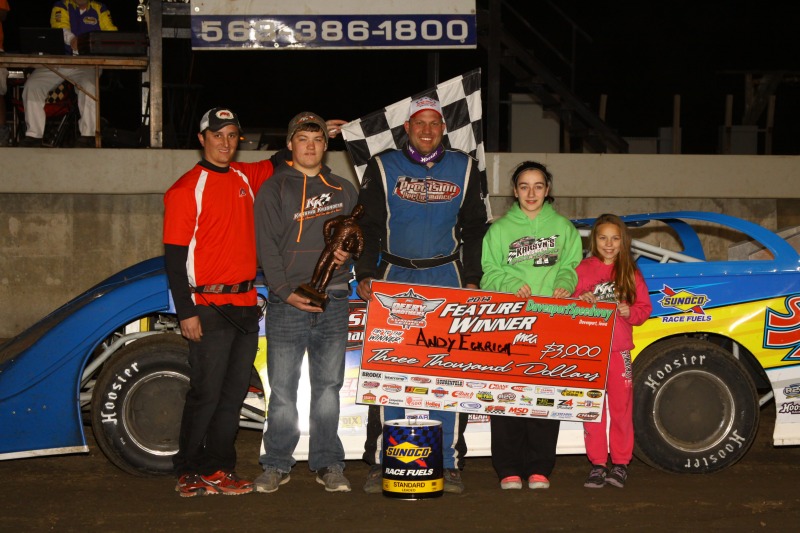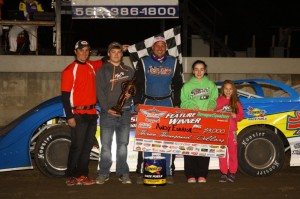 DAVENPORT, Iowa (April 11) – Andy Eckrich couldn't have asked for a better opening night finish when the Deery Brothers Summer Series took to the track at Davenport Speedway Friday evening.
Eckrich raced from 17th starting to win the IMCA Late Model tour lidlifter, reeling in Matt Ryan midway through the 40-lapper and then holding off Justin Kay in a closer than comfortable final circuit.
The victory paid $3,000 and was Eckrich's Deery career seventh checkers. Kay, Ryan, Colby Springsteen and Tyler Bruening completed the top five while defending series champion Brian Harris was sixth.
Outside pole starter Ray Guss Jr. was pulling away from the rest of the field before a lap five yellow. After his car came to a stop, Guss needed a push to restart and lined up at the back of the pack.
That put Ryan at the front while Eckrich was into second by lap seven. Ryan held on 13 more laps before Eckrich drove by and then led the rest of the way.
Kay, who'd gotten together with Joel Callahan in an early incident that sent both drivers to the tail, was on Eckrich's back bumper in the final set of turns but came up just short.
Also winner of the second "B" feature and the $250 Sunoco Race Fuels feature qualifier drawing, Eckrich had plenty of company in the quest for hard charger honors.
Kay had originally started 12th. Bruening advanced 16 places to fifth, Harris was a plus 13 in sixth, Callahan ended in seventh and Denny Eckrich drove from 20th starting to 10th.
Night two of the series' season-opening doubleheader is Saturday, April 12 at West Liberty Raceway.
Pit gates open at 4:30 p.m. and the grandstand opens at 5 p.m. Hot laps are at 6:30 p.m. with racing to follow.
Feature results – 1. Andy Eckrich, Oxford; 2. Justin Kay, Wheatland; 3. Matt Ryan, Davenport; 4. Colby Springsteen, Wapello; 5. Tyler Bruening, Decorah; 6. Brian Harris, Davenport; 7. Joel Callahan, Dubuque; 8. Ryan Dolan, Lisbon; 9. Ray Guss Jr., Milan, Ill.; 10. Denny Eckrich, Tiffin; 11. Andy Nezworski, Buffalo; 12. Tommy Elston, Keokuk; 13. Terry Neal, Ely; 14. Jason Rauen, Farley; 15. Darrel DeFrance, Marshalltown; 16. Jeremy Grady, Story City; 17. Jon Poll, Delmar; 18. Todd Malmstrom, Silvis, Ill.;19. Milo Veloz, Colona, Ill.; 20. Joe Ross, Thomson, Ill.; 21. Mike Cothron, Moline, Ill.; 22. Mike Zemo Jr., Davenport; 23. Jon Merfeld, Dubuque; 24. Jay Johnson, West Burlington.
1st heat (top three) – 1. Nezworski; 2. Springsteen; 3. Elston; 4. DeFrance; 5. Harris; 6. Luke Merfeld, Dubuque; 7. Jerry King, Waterloo; 8. Ryan Claeys, Morrison, Ill.; 9. Kory Peterson, Silvis, Ill.
2nd heat – 1. Poll; 2. Cothron; 3. Dolan; 4. Bruening; 5. Brunson Behning, Calamus; 6. Neal; 7. Nate Beuseling, Silvis, Ill.; 8. Curt Marks, Dubuque.
3rd heat – 1. Guss; 2. Ryan; 3. Kay; 4. Grady; 5. Spencer Diercks, Davenport; 6. Rob Moss, Iowa City; 7. Mike Garland, Morrison, Ill.; 8. Ron Klein, Sherrill.
4th heat – 1. Merfeld; 2. Malmstrom;3. Callahan; 4. Andy Eckrich; 5. Denny Eckrich; 6. Travis Denning, Sterling, Ill.; 7. Curt Schroeder, Ames; 8. Scott Fitzpatrick, Urbandale.
5th heat – 1. Veloz; 2. Zemo; 3. Rauen; 4. Johnson; 5. Ross; 6. Kyle Hinrichs, Swisher; 7. John Emerson, Waterloo; 8. Jeff Aikey, Cedar Falls.
1st "B" feature (top four) – 1. Grady; 2. DeFrance; 3. Denny Eckrich; 4. Johnson; 5. Ross; 6. Beuseling; 7. Moss; 8. Klein; 9. Behning; 10. Emerson; 11. Schroeder; 12. Claeys; 13. Merfeld.
2nd "B" feature – 1. Andy Eckrich; 2. Harris; 3. Bruening; 4. Neal; 5. Diercks; 6. Denning; 7. Fitzpatrick; 8. Aikey; 9. King; 10. Peterson; 11. Marks; 12. Garland; 13. Hinrichs.
Hard charger was Ross.